House Prices: Sensible Asking Prices are Key to a Swift Sale, Rightmove Reports
House prices which accurately reflect a home's value are twice as likely to find a buyer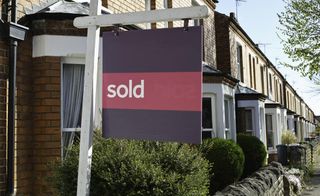 (Image credit: Getty Images)
Sensibly-listed house prices lead to sellers finding buyers in half the time, compared to when asking prices are overinflated, research shows.
The new findings from Rightmove also found that homes are twice as likely to find a buyer if an offer is accepted on the first-listed asking price. 
The study warns against aggressive strategies designed to drive up asking prices, which can result in homeowners pricing themselves out of selling their homes.
The findings are particularly notable following an unpredictable year for house prices, which has caused instability for prospective first-time buyers and those looking to buy before renovating a house.
This week, Rightmove's House Price Index found that house prices increased by 0.2% in September, compensating for a similar drop in prices in August. 
(MORE: How the recession could affect house prices)
Overly-High House Prices Cause Selling Delays
Rightmove analysed the progress of 300,000 homes put up for sale between mid-May (when the housing market reopened), and the end of July. It found that by the start of September, only one third of homes had found a buyer where the price had to be reduced.
"If sellers are serious about selling, then starting with too high an asking price can cause unnecessary delays, and also make it a lot less likely they will actually find a buyer in the end," said Tim Bannister, Rightmove's director of property data.
Homes which had not undergone a price trim had a 63% chance of being sold, compared with 32% of homes that went on to be sold after reducing the price.
Price trims also affected the length of time a home took to sell. Homes without price reductions took 21 days to find a buyer, on average, rising to 47 days for homes with reductions.
Why House Prices Become Inflated
There's all sorts of reasons that houses can be overpriced, including market shifts, agents' involvement and inaccuracies from homeowners when judging the value of a home. 
Another reason for overpricing can be when a home requires significant renovating, such as rewiring and new heating systems. 
Rightmove reports that, as a result, reductions are a common feature of property sales in the UK. One in six properties on Rightmove have had at least one reduction since May, and in London, one in five homes put up for sale since May has had its price dropped by an average of 5%. 
Simon Waller, sales manager of Winkworth estate agents, said of the importance of correct pricing: "You'll get a flurry of activity in the first few weeks, and you can end up with a couple of people even vying for the property. You will see a quicker and healthier transaction. If you have to cut your price you have lost your shiny new instruction appeal."
Homebuilding & Renovating Newsletter
Get the latest news, expert advice and product inspiration straight to your inbox.
Thank you for signing up to Homebuilding. You will receive a verification email shortly.
There was a problem. Please refresh the page and try again.