House Prices: 300% Increase Reported in Past 20 Years
House prices have trebled in the UK on average since 1999, highlighting the problems facing first-time buyers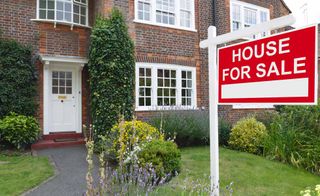 (Image credit: Getty Images)
House prices in the UK have increased by roughly 300% on average in the past 20 years, according to new research. 
Coulters Property reports that in 1999 the average house price was just £77,961. Now buying a house in the UK costs £230,735, on average.
While average income has too increased, from £17,803 per year to £30,353, this is only an increase of 70%, compared to the 300% increase in house prices. 
Aspiring homeowners in 1999 buying a house with a 10% deposit would have been using 43.8% of their annual salary, whereas this figure has now risen to around 76%.
Mike Fitzgerald, executive chairman, at Coulters Property, said: "More than ever, there is a disparity between personal income and property prices, which these stats reiterate.
"Buying a home in the UK is a defining tradition and a goal for many young people. Although being a first-time buyer is exciting, over recent years, the affordability gap has stretched and continued to do so every year, making it difficult to make the first step onto the property ladder."
House Prices: A Turbulent 20 Years
These findings reflect the financial problems facing first-time buyers in the UK, and how it is clearly more difficult to buy your first home now.
With the Covid-19 pandemic leading to a turbulent first half of 2020 for house prices, it remains to be seen how volatile the housing market could be throughout the year. 
(MORE: House Prices: First Annual Drop Reported Since 2012)
A recent Nationwide study revealed an annual drop in house prices, but experts have predicted that house prices could rise as much as 30% by the end of the year because of the coronavirus crisis, although this is considered a worst-case scenario. 
"It's important to seek all the information you can when considering getting a foot on the property ladder. There is so much support and often a price bracket to meet first-time buyers' needs," added Coulter.  
Homebuilding & Renovating Newsletter
Get the latest news, expert advice and product inspiration straight to your inbox.
Thank you for signing up to Homebuilding. You will receive a verification email shortly.
There was a problem. Please refresh the page and try again.