Heat Pumps Rollout Welcomed But Poses Huge Infrastructure Issue, Expert Warns
By Jack Woodfield published
600,000 heat pumps will be installed in our homes every year by 2028, the government has pledged, but there are fears about supply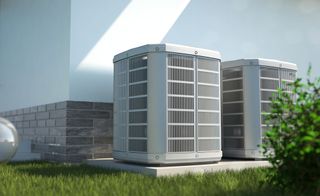 (Image credit: Getty Images)
The rollout of heat pumps will be accelerated as we move towards a greener future, but the scale of the proposed rollout poses a huge infrastructure issue, according to industry experts.
As part of Boris Johnson's 10-point plan to drive a new Green Industrial Revolution this week, the government pledged to install 600,000 heat pumps every year by 2028.
Heat pumps are a renewable heating source, and can have comparatively low running costs when compared with direct electric heating.
As part of the pledge, heat pumps will first be installed in homes off the gas grid, while the government also pledged its commitment to hydrogen heating, which could significantly reduce carbon emissions from the 85% of existing homes in England currently using natural gas to heat their homes.
Heat Pump Supply Issues
Reports suggest that gas-only boilers will be banned in all new homes from 2023, a target brought forward from 2025 (the ban was initially reported in the 10-point plan but The Times says it was removed shortly after its launch), with heat pumps proposed as the main low-carbon heating alternative in new homes.
But only 27,000 are currently being installed each year, and the government has an annual target to build 300,000 new homes each year, which could pose a significant supply issue.
David Hilton, director of Heat and Energy Ltd and a contributor to Homebuilding & Renovating, welcomed both announcements, but expressed concern about the practicalities of the rollout of heat pumps.
"There's a huge infrastructure challenge, and huge questions to be answered," said Hilton. "Who's going to manufacture them? Do we have enough electricity to supply all these pumps to begin with? Can the industry support that level of rollout?
"I welcome the announcement, but in order for it to work we'll need huge support for manufacturers, so it is easier for them to be installed."
Balancing electricity supply and demand will be key to delivering this rollout, according to Kensa Heat Pumps. Kensa is a UK company currently working on a smart city scheme called Energy Superhub Oxford (ESO), which is replacing high-carbon night storage heaters with Kensa's ground source heat pumps.
The ESO is aiming to decarbonise the UK's electricity supply, and according to Matthew Trewhella, managing Director of Kensa Contracting, ESO is "creating a mini ecosystem, a vision of what the whole energy system could look like if it was completely decarbonised."
Rollout Must be Achievable
Hilton believes the rollout is a positive move for a greener future, but adds that the scale needs to be achievable.
"This shows a very clear intention that heat pumps are on the government's radar. But If new homes can't use the gas grid by 2023, how many new homes will be built each year?
"And if these homes can't use the gas grid, what can they do? There likely won't be enough for supply for heat pumps. And where will you put them? If you have a row of houses with air source heat pumps in the back of every garden, there's a noise element to that. Especially if you have noisier models installed."
Julie Hirigoyen, chief executive of the UK Green Building Council, called on the government to clarify the details behind the pledge. She said: "A target on the number of heat pumps is a good start, but we'll also need money and incentives to back it up."
A Greener Future
Ultimately, Hilton says, the direction the government is taking regarding the heating of our homes is a positive one.
"Off-grid, heat pumps are the way forward, without doubt, and they do need to be rolled out. We're looking at a greener future; green is the way forward."
It was also confirmed this week that the Green Homes Grant, which enables homeowners to apply for up to £5,000 towards the installation of a heat pump, will be extended until 2022.
Jack has worked in journalism for 11 years and is the News Editor for Homebuilding & Renovating, a role he has had since 2019. He strives to break the most relevant and beneficial stories for self builders, extenders and renovators, including the latest news on the construction materials shortage and hydrogen heating. In 2021 he appeared on BBC's The World at One to discuss the government's planning reforms.
He enjoys testing new tools and gadgets, and having bought his first home in 2013, he has renovated every room and recently finished a garden renovation.
Homebuilding & Renovating Newsletter
Get the latest news, reviews and product advice straight to your inbox.
Thank you for signing up to Homebuilding. You will receive a verification email shortly.
There was a problem. Please refresh the page and try again.