Heat Pumps Are a 'Financially Irrational' Investment, Says Trade Body
By Jack Woodfield published
Heat pumps will save on carbon emissions but they are not a good financial purchase for homeowners, new research suggests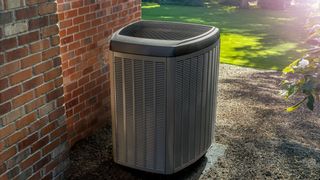 (Image credit: Getty Images)
Buying a heat pump is a 'financially irrational' investment, according to a new study from a not-for-profit trade body.
Air source heat pumps (ASHPs) and ground source heat pumps (GSHPs) are widely considered to have a huge role to play in lowering carbon emissions from homes, but they can be expensive to install.
Installing an ASHP typically costs £10,000-£11,000, with running costs of £703 a year for a four-bedroom house, according to energy expert and Homebuilding & Renovating contributor Tim Pullen. GSHPs meanwhile typically cost £15,000-£16,000 to install, with running costs of £500 a year for a four-bedroom house.
A new study from the Energy and Utilities Alliance (EUA) sought to combine both the upfront installation costs for heat pumps compared to a new gas boiler, with annual running costs for a heat pump with a range of efficiencies.
The research concluded that while heat pumps do save carbon compared to gas boilers, they are not a good financial purchase for homeowners.
Mike Foster, CEO of the EUA said: "Heat pumps save carbon but cost you more. It's really that simple. All too often, heat pumps are being suggested as a way to save money. They don't. In fact, it is financially irrational to invest in a heat pump if your motive is to save cash.
"This study confirms how financially illiterate it is for consumers living in homes with solid walls to consider a heat pump rather than a gas boiler, with additional insulation measures making an already bad idea, even worse."
How Was This Finding Reached?
The Energy and Utilities Alliance report, titled 'Domestic heating appliances: A critical investment appraisal', used a range of techniques to come to this conclusion. One such example was 'traditional payback', where a calculation is made on how long it takes for the outflow of investment to be 'paid back' by positive cash inflows over the lifetime of the appliance.
The research also accounted for the forthcoming Boiler Upgrade Scheme, which launches in April and will provide grants of £5,000 for homeowners to have ASHPs installed, and £6,000 for GSHPs.
"The Boiler Upgrade Scheme makes the investment more palatable but it still fails the test set by modern capital investment appraisal techniques. It is merely a cash handout to those who were already considering buying a heat pump to save carbon," added Foster.
Furthermore, the EUA has accounted for the recent Spring Statement announcement that VAT on retrofit measures will be cut to 0% from April.
"The recent Spring Statement reduces the cost to the consumer by £500, due to zero VAT rating on heat pumps. This makes no significant difference to the financial outcome using critical investment appraisal techniques," it said.
But Heat Pump Costs Could Come Down
This EUA study is just one of many investigating the costs of installing and running heat pumps.
In February, the Regulatory Assistance Project (RAP), a Brussels-based non-profit specialising in the environmental impact of natural gas and power, said that homeowners who switch from a gas boiler to a very efficient heat pump could save £261 per year.
And in his article comparing heat pumps vs. gas boilers, energy expert and Homebuilding & Renovating contributor David Hilton said: "At the moment the switch from gas to a heat pump may not make financial sense, but as the energy cost gap closes, the numbers will certainly become more favourable for heat pumps."
Jack has worked in journalism for 11 years and is the News Editor for Homebuilding & Renovating, a role he has had since 2019. He strives to break the most relevant and beneficial stories for self builders, extenders and renovators, including the latest news on the construction materials shortage and hydrogen heating. In 2021 he appeared on BBC's The World at One to discuss the government's planning reforms.
He enjoys testing new tools and gadgets, and having bought his first home in 2013, he has renovated every room and recently finished a garden renovation.
Homebuilding & Renovating Newsletter
Get the latest news, reviews and product advice straight to your inbox.
Thank you for signing up to Homebuilding. You will receive a verification email shortly.
There was a problem. Please refresh the page and try again.