Gas Boilers Key to Decarbonisation Despite Green Homes Grant Snub, Says Expert
By Jack Woodfield published
The omission of gas boilers from the Green Homes Grant was a missed opportunity according to an industry expert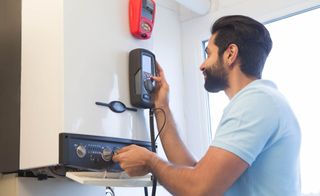 (Image credit: Getty Images)
Gas boilers have a key role to play in the future of eco-friendly heating despite being omitted from the Green Homes Grant, an industry expert says.
David Holmes, founder of Boiler Guide, says he was surprised and disappointed to learn that gas boilers were not one of the eligible improvements permitted under the Green Homes Grant.
Instead the Green Homes Grant (which launches this month) will prioritise the installation of insulation and heat pumps to help make homes more energy efficient, but Holmes says the omission of boilers is a missed opportunity.
"Heat pumps aren't necessarily the panacea for the decarbonisation of all our homes. They are not suitable for some houses, such as small terraced houses and flats, because of the space required for the pump," Holmes told Homebuilding & Renovating.
"Boilers have had a lot of bad press recently, but it's important to understand that it isn't the system that carries the carbon, it's the fuel."
Holmes highlights that of the 24 million boilers in the UK, up to six million are non-condensing, which means they only achieve a maximum efficiency of around 75%.
Condensing boilers, conversely, are more efficient because they can recover the latent heat contained in waste gases. Condensing boilers reach efficiencies over 90%, and they're suitable for all homes, helping to lower energy bills and emit freer carbon emissions.
"For those with non-condensing boilers, replacing this with a condensing boiler is a big step in the right direction if you cannot get a heat pump. I was therefore very surprised, and disappointed, that boilers were not included in the grant."
I Have a Gas Boiler, How Can I Use the Green Homes Grant?
"The first thing to do is get new insulation," said Holmes. Insulation (such as loft, cavity wall or floor insulation) falls within the primary category of the Green Homes Grant.
Secondly, Holmes recommends reviewing your boiler's weather compensation - a communication system between your boiler and an outside temperature sensor which tells the boiler to adjust the temperature of radiators to ensure you are not wasting heat - providing your boiler has this system.
Additionally, Holmes says that replacing your radiators is a cheaper way of increasing your energy efficiency.
Homeowners with non-condensing gas boilers will not be able to replace them with condensing boilers using the Green Homes Grant, but the Energy Company Obligation Scheme (ECO3) entitles homeowners on certain benefits to a grant that can cover the entire cost of a new boiler.
A Hydrogen Future?
Holmes says the rise of hydrogen as a highly efficient fuel is a primary reason why boilers have a huge role to play in the UK's low-carbon future.
Earlier this year, Worcester Bosch unveiled a boiler prototype that can run on 100% hydrogen gas and won't produce any carbon emissions when burned. Moreover, the hydrogen boiler also runs effectively on natural gas, meaning the prospective transference to hydrogen gas in the future will be easy for those with a 'hydrogen-ready' boiler, which can convert to hydrogen without the need for an entirely new heating system.
"A blend of only 20% hydrogen with natural gas could potentially save as much as six million tonnes of carbon from being emitted into the atmosphere annually," said Holmes. "And there's growing support for all boilers installed from 2025 to be hydrogen-ready.
"It's important the government starts to mandate hydrogen-ready boilers now so that in 20 years' time when we go 100% hydrogen, those boilers are ready to be ready to accept that hydrogen without having to change them."
Jack has worked in journalism for 11 years and is the News Editor for Homebuilding & Renovating, a role he has had since 2019. He strives to break the most relevant and beneficial stories for self builders, extenders and renovators, including the latest news on the construction materials shortage and hydrogen heating. In 2021 he appeared on BBC's The World at One to discuss the government's planning reforms.
He enjoys testing new tools and gadgets, and having bought his first home in 2013, he has renovated every room and recently finished a garden renovation.
Homebuilding & Renovating Newsletter
Get the latest news, reviews and product advice straight to your inbox.
Thank you for signing up to Homebuilding. You will receive a verification email shortly.
There was a problem. Please refresh the page and try again.