Advertisement Feature
Choosing a Contemporary Kitchen Worktop
By Sponsored Content published
A good worktop can make or break a modern kitchen design, so take a look at these ideas when planning a new kitchen or an update of an existing one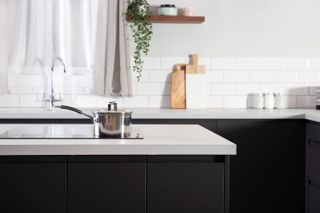 (Image credit: Worktop Express)
Content supplied by Worktop Express
When designing a kitchen to suit a modern lifestyle, one of the most essential factors to get right is the worktop.
Used every day for all sorts of demands, worktops also tie together the overall style or design, so putting a good amount of thought into the material before purchasing will make all the difference.
Contemporary kitchen styles in particular are all about clean lines and sleek finishes but when choosing a surface, it's important to look for one with resilient characteristics, like scratch or stain resistance.
Here, we've outlined essential aspects of Worktop Express' FENIX NTM® range to consider before you buy.
A Characterful and Contemporary Kitchen
Kitchens are the heart of the home and contemporary kitchens have moved from sterile styles towards a warm and tactile environment.
While high-gloss and high-shine cabinets look the part in a new kitchen, adding in a worktop with a matt finish is as practical as it is striking.
Low-light reflectivity and soft-touch finishes are cutting-edge developments in FENIX NTM® worktops which should be top of the list when choosing a matt surface.
FENIX NTM is made using proprietary technology that creates a surface that is soft to the touch and anti-fingerprint, providing a luxurious centrepiece for your kitchen.
Modern Kitchens Need a Low-maintenance Worktop for Busy Lifestyles
Surfaces that require re-oiling or an intensive cleaning routine can work in many households, but opting for a simpler way of life will mean your kitchen remains a joy to interact in, rather than a job to maintain.
Many choices offer stain or heat resistance (such as quartz or engineered stone) but new developments in materials for contemporary spaces have led not just to simple scratch-resistant worktops, but thermal healing of superficial micro-scratches.
Getting the Right Finish for a Contemporary Style
Top Tips and Design Ideas
Consider colour matching sinks and accessories to a worktop for the ultimate contemporary kitchen finish. For inspiration, take a look at at the Worktop Express website or on social media:
Facebook - @worktopexpress
Twitter - @worktopexpress
Instagram - @worktopexpress
YouTube - @worktopexpress
On the face of it, modern kitchens are quite easy to design: minimal fuss, stylish colours and a luxurious finish.
However, the small details of kitchen design can turn a simple plan into a well-functioning and beautiful place to cook, interact and entertain.
The thin profile edges of FENIX NTM worktops blend seamlessly with handleless units, while offering a cutting-edge appearance that won't go out of style.
Plus, they are available in a wonderful range of colours so there's a kitchen out there for every taste.
Homebuilding & Renovating Newsletter
Get the latest news, reviews and product advice straight to your inbox.
Thank you for signing up to Homebuilding. You will receive a verification email shortly.
There was a problem. Please refresh the page and try again.