How Much Will the VAT Cut on Energy-Efficient Improvements Save Homeowners?
By David Hilton published
Energy expert David Hilton examines the cost implications of the VAT reduction on installing heat pumps and solar panels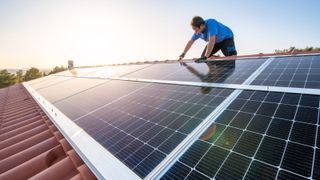 (Image credit: Getty Images)
Certain energy-saving home improvements will now be zero-rated for VAT, and while this initially looks like a boost in the right direction, do the benefits actually stack up? And what is really in it for homeowners?
Chancellor Rishi Sunak confirmed the move in the Spring Statement last month, whereby homeowners will now pay 0% VAT for eligible Energy Saving Materials (ESMs) such as air source heat pumps, insulation and solar panels.
The zero rate will be available for five years and will return to 5% on 1 April 2027, providing no further government legislation is introduced to extend it.
As for what this means in terms of real-term savings for homeowners, these are the key factors to consider if you're exploring installing an ESM in your home.
The Key Points
If you are planning or in the midst of a self build then there are no benefits other than a slight cash flow benefit because your materials are zero rated for VAT anyway. So the cut will exclusively benefit existing homes.
Previously there was a VAT reduction for homeowners installing certain ESM products if you were aged over 60 and passed the 60% rule, or if your property had been unoccupied for at least two years prior to purchase, and you made the changes within one year of the sale completion.
But in the changes implemented from 1 April 2022, the social policy conditions and the 60% rule no longer apply. Moreover, certain products such as wind turbines and hydro turbines have been added to the list of eligible products which already included insulation, solar panels and heat pumps.
How Much Could You Save?
Before we examine the cost-saving, an important caveat to address is that you cannot save installation costs by fitting the products yourself - no matter how DIY savvy you are. They must be supplied and installed by a suitably qualified, competent tradesperson.
A good outline to consider is that if you spend £10,000 on ESM products, then you save £500 through the VAT cut. That is a welcome saving, but it still requires the initial investment which makes it out of reach for many homes.
The next complication is that not all products that you may require for the installation of an ESM will be covered, which is particularly pertinent when it comes to heat pumps.
Heat Pump Costs Breakdown
If you decide to install a heat pump as an ESM you may be able to receive £5,000 or £6,000 towards the cost of the installation via the Boiler Upgrade Scheme. But because a heat pump runs at a much lower flow temperature than a gas boiler, you may need to change your radiators and upgrade your pipework. This may cause some disruption to the finishes in the home and you might need to replaster and retile certain areas. You might also decide to add new energy-saving heating controls (which is included as an ESM measure) so that you have full zone control in each room.
So as a rough guide, the heat pump installation may cost around £7,000. On top of that, upgrading your radiators and pipework could set you back £6,000. New heating controls could cost roughly £800, and redecorating could add £2,000 to your costs.
Therefore, your savings would be a reduction in VAT on the £7,000 and the £800, saving you £390.
For the rest you will pay 20% VAT. This means that you are initially paying £7,000 for the heat pump installation + £6,000 for the radiators and pipework (+VAT = £7,200) + £800 for the heating controls + £2,000 for redecorating (+VAT unless you use a non-VAT registered decorator). Then you'd take off the £5,000 via the Boiler Upgrade Scheme. That is a total of £12,000 to pay and the VAT saving is £390.
Labour is included in all of these figures, but it may be very complex to prove which proportion of the labour element was solely spent on the ESM.
What About Solar Panels?
The cost of electricity has recently had a very steep increase and as such there may be those looking to install solar panels, which are eligible for the VAT reduction.
An important note to consider, however, is that you'll need to make sure that your home improvement is solely specified to be the installation of the panels.
The cost of installing photovoltaic (PV) panels ranges from around £5,000 to £12,000, so a windfall of between £250 and £600 on VAT can boost the payback period.
The Feed-in-Tariff is long gone, but there are still a few energy companies that will pay you for your excess energy generation, so that too will help when you cannot use all the yield.
How Effective is This New Measure?
The chancellor is still looking at trying to make it work in order to boost the uptake of ESM and there are many tweaks in the background to iron out the anomalies and loopholes.
The rules are fairly complicated and the eligibility criteria for many complementary materials is also complex; there is a high risk that many contractors will simply not know exactly how the rules work. The VAT reduction needs to be charged at the point of sale as it is not like new builds where you can claim the value back when the project is complete.
This could potentially be a good measure and it is very positive to see that it is a five-year scheme, but I'm not convinced that that will encourage a rapid uptake of ESM but for those that were going to make the changes anyway.
David is a renewables and ventilation installer, with over 35 years experience, and is a long-standing contributor to Homebuilding and Renovating magazine. He is a member of the Gas Safe Register, has a Masters degree in Sustainable Architecture, and is an authority in sustainable building and energy efficiency, with extensive knowledge in building fabrics, heat recovery ventilation, renewables, and also conventional heating systems. He is also a speaker at the Homebuilding & Renovating Show.
Passionate about healthy, efficient homes, he is director of Heat and Energy Ltd. He works with architects, builders, self builders and renovators, and designs and project manages the installation of ventilation and heating systems to achieve the most energy efficient and cost effective outcome for every home.
Homebuilding & Renovating Newsletter
Get the latest news, reviews and product advice straight to your inbox.
Thank you for signing up to Homebuilding. You will receive a verification email shortly.
There was a problem. Please refresh the page and try again.