The Government's Off-Grid Heating Plans Won't be Cheap, so Who Will Pay?
By David Hilton published
Plans for off-grid homes to adopt low-carbon heating systems could plunge homeowners into fuel poverty without financial support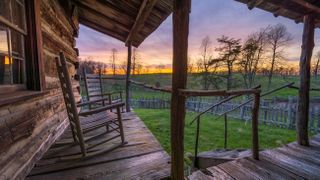 (Image credit: Getty Images)
Homeowners living off the grid could be affected by government plans to replace oil-fired heating systems with heat pumps from 2026 - plans which could be described as controversial, at the very least.
The potential costs facing these homeowners to install low-carbon heating systems such as air source heat pumps is an issue which has sparked grave concern.
Of the four million households in Britain that are off-grid, roughly half of these are in rural areas, where poverty rates are highest, according to the Energy Saving Trust. And only one in 20 of the rural homes affected would be able to afford the installation of heat pumps without government assistance.
The Rural Services Network described the plans as "grossly unfair", while the charity National Energy Action has warned that "without adequate and accessible funding streams, the poorest households could be left in the cold and won't be able to install a replacement heating system."
Here's my take on what's been proposed, which homeowners could be affected, and what happens next regarding the government's plans.
What's Been Proposed?
Having been announced alongside the Heat and Buildings Strategy in October, the government ended a consultation on 12 January 2022 on phasing out fossil fuel heating in homes off the gas grid by 2026.
The result of the consultation has been promised by the end of the year, but there are already many worried homeowners and a number of responses that have been published.
Under the proposal, off-grid homes with oil or LPG boilers which break down beyond repair will be required to install a low-carbon heating system from 2026. This date is significant because it is nine years sooner than the proposed date to phase out the installation of boilers on the gas grid in on-grid homes from 2035. Homeowners on the gas grid will still be able to replace like-for-like until 2035.
The government's preferred replacement technology is currently air source heat pumps but where it is not practical then the government will "find an alternative" for homeowners that is "consistent with the government's net zero carbon ambitions", the consultation says.
Which Homes Will be Affected?
The plans will affect an estimated 1.1m homes in England which use fossil fuel heating and aren't connected to the gas grid. Around 78% of these homes are heated with oil; 13% with a liquified petroleum Gas (LPG) boiler; and 9% with coal.
There is no mention of what would happen when a building is listed or in a conservation area, Area of Outstanding Natural Beauty, or has any other legislated restrictions, and the upgrades required to make the home 'heat pump compatible' are simply not permitted.
There are also many holiday homes and static caravans that have low levels of insulation and are lived in almost, if not completely, permanently and currently use LPG to heat the water and central heating. So what is the 'alternative' for them?
What's the Reaction Been?
Several responses have criticised the proposal because many of these homes are not suitable for heat pump installation. This is the view of the Country Land and Business Association (CLA), which is lobbying for reform of Energy Performance Certificates (EPCs) so they're more accurate for older buildings, and would help to identify more cost-effective, appropriate interventions.
The cost to improve the efficiency of the fabric of the building, add underfloor heating or upgrade the specification of the radiators would be very expensive, especially given the infancy of the market and the nature of many of these buildings.
Further responses include the opinion that many homeowners will see this as a major hurdle and find alternative ways around it, such as buying a new boiler just before the deadline and keeping it as spare or continuing to get the boiler repaired even when it should really be replaced.
And additional concerns include the question of who is going to be accountable for the performance of a heating system that has been 'enforced' if it ends up costing the homeowner much more every year in heating bills, potentially pushing them into fuel poverty.
Are Financial Grants Available?
Currently, this is unclear. The government confirmed in its consultation that it will allocate £1.1bn to the Home Upgrade Grant, which will provide up to £25,000 for low-income off-grid homes to make home improvements, ranging from Energy Performance Certificate Bands D to G, early in 2022.
But delivery of the scheme will take place from early 2022 to March 2025, so if your boiler breaks down after 2026, this won't be available to homeowners, as things stand.
The situation is similar regarding the Boiler Upgrade Scheme, which launches in April and will make grants of £5,000 for air source heat pumps and £6,000 for ground source heat pumps available for eligible properties - before it closes in April 2025.
The estimates for retrofitting heat pumps on existing homes are on average around £12,000, but range from around £5,000 for fairly straightforward changes to over £30,000 where significant work may be required.
In order for heat pumps to be fitted there may need to be a more robust electrical supply than is already in the home. The insulation and airtightness would probably also need to be improved significantly, and the radiators would most likely need to be upgraded to larger capacity ones. Moreover, parts of the radiator pipework might need to be replaced, alongside the installation of room-by-room thermostats.
As you can imagine, the combined cost of these improvements wouldn't be cheap.
What Happens Next?
As previously mentioned, the results of the consultation are due to be published by the end of the year so nothing has been decided yet, and hopefully there will be some constructive proposals on how to implement the changes.
I will certainly be keeping a keen eye on this and look forward to seeing it all unfold. Something does need to be done to improve energy efficiency, that I think we can all agree on, but the solution needs to be well-installed: a complete solution, feasible, affordable and phased in in a manageable way that is fair to the environment, but also to homeowners.
David is a renewables and ventilation installer, with over 35 years experience, and is a long-standing contributor to Homebuilding and Renovating magazine. He is a member of the Gas Safe Register, has a Masters degree in Sustainable Architecture, and is an authority in sustainable building and energy efficiency, with extensive knowledge in building fabrics, heat recovery ventilation, renewables, and also conventional heating systems. He is also a speaker at the Homebuilding & Renovating Show.
Passionate about healthy, efficient homes, he is director of Heat and Energy Ltd. He works with architects, builders, self builders and renovators, and designs and project manages the installation of ventilation and heating systems to achieve the most energy efficient and cost effective outcome for every home.
Homebuilding & Renovating Newsletter
Get the latest news, reviews and product advice straight to your inbox.
Thank you for signing up to Homebuilding. You will receive a verification email shortly.
There was a problem. Please refresh the page and try again.