The 5 Best Portable Air Conditioners to Efficiently Cool Your Home
By Jack Woodfield published
Grab yourself one of the best portable air conditioners and keep your house breezy during the summer heat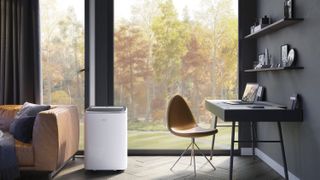 (Image credit: AEG)
Owning one of the best portable air conditioners is a necessity during the warm summer weather. Not only will they help you keep cool, but because they're portable you can easily move them from room to room, and they're generally cheaper than built-in or split systems.
Whether you need to cool your home office, living room or bedroom, there are portable air conditioners which prevent overheating and provide the long-term cooling efficiency you require.
Most models will also dehumidify the air and feature impressive energy efficiency, so you won't see a large increase in your energy bills.
We've assessed the best portable air conditioners available now, which can improve the air quality in your home and keep your home cool.
Best Portable Air Conditioners
1. electriQ Ecosilent Portable Air Conditioner
Best portable air conditioner for the bedroom
Specifications
Dimensions:
(W)36.4 x (H)68.9 x (D)34.8cm
Max room size:
up to 20m2
Reasons to buy
+
Compact
+
Sleep mode
+
Energy efficient
Reasons to avoid
-
Not suited for larger rooms
A 3-in-1 unit comprising an air conditioner, fan and dehumidifier, the electriQ Ecosilent is essentially like buying three appliances for the price of one.
It's our top pick for bedroom use because it doesn't take up too much room, cools room sizes up to 20sqm and is super quiet - achieved through a 5-speed DC fan.
It also comes with a Sleep Mode, which turns off operation lights and reduces the fan speed to its quietest setting. And the Smart Cooling Mode lets you adjust the fan speed based on the amount of cooling required for the set temperature.
It's energy efficient too - it has an A energy rating which means it will cost you less than 12 pence per hour to run. Overall it's very good value for money.
---
2. Delonghi Pinguino PACEX100 Silent Portable Air Conditioner
One of the best systems for energy efficiency
Specifications
Dimensions:
(W)44 x (H)80.6 x (D)38.7cm
Max room size:
up to 23m2
Reasons to buy
+
Design triumph
+
High energy efficiency
+
Easy to use
The first thing you may notice about the Delonghi Pinguino PACEX100 Silent is its somewhat surprisingly stylish design (at least compared to the other air con units on this list), sporting a white front with black display inlay. But there's more to this machine than meets the eye.
It's incredibly energy efficient, with an A++ energy rating (the highest on this list) that won't add significantly to your energy costs. This is because the PAC EX100 Silent uses a natural high efficiency gas, propane R290, which releases no greenhouse emissions.
It's easy to use too, enhanced by an intuitive frontal LED display which gives clear and consistent updates on room temperature. It's great for living spaces and other similar room sizes up to 23sqm.
It's on the premium end of the price scale, but this is a high-quality machine that might just be worth the investment. However, while it's certainly quieter than other machines, it's still notably noisier than the 'silent' product title suggests.
---
3. JML Chillmax Air
The best budget pick for personal cooling
Specifications
Dimensions:
(W)16.25 x (H)17 x (D)14.5cm
Max room size:
Personal use
Reasons to buy
+
Very affordable
+
Humidifies the air
If you only need a portable air conditioner for personal use, then the JML Chillmax Air is a must-have.
Available for under £50, this small desktop-size unit offers much more than a regular fan. It is equipped with an evaporator that uses water from a 610ml reservoir to create a chilled, moist breeze from several feet away. One fill lasts around 10 hours.
The antimicrobial sponge filter is resistant to mould and mildew, and you can put it in the dishwasher to clean and sterilise. You could be using this for years with minimal fuss.
It has a built-in soft-glow LED light for use as a night light.
---
4. AEG Chillflex Pro
The best for cooling large rooms
Specifications
Dimensions:
(W)47.6 x (H)71 x (D)38.5 cm
Max room size:
up to 30m2
Cooling power:
12,000 BTU
Reasons to buy
+
Remote control operated
+
Cools larger rooms
+
Easy to transport and store
The AEG Chillflex Pro is one of the better premium machines around, providing air coverage of room sizes up to 30sqm, making it effective at cooling larger rooms.
There are three settings to choose from to help you find the ideal conditions for your room, and it runs on sustainable gas for improved energy efficiency (it has an A rating). It also has a dehumidifier mode to remove damp and excess moisture.
Handily, you can control it via remote control too, so there's no need to leave the comfort of your couch to adjust the settings. And the side handles and wheels make for easy movement and added convenience when you need store it away in the winter.
It's pricey, however, and while this is nitpicking, for the money you might expect slightly wider room cooling coverage.
---
5. EcoAir Apollo Heat Pump Portable Air Conditioner
Can be used as a heater in the winter
Specifications
Dimensions:
(W)39 x (H)82 x (D)40.5 cm
Max room size:
up to 22m2
Cooling power:
12,000 BTU
Reasons to buy
+
Heater setting
+
Improves air quality
+
Remote control operated
The EcoAir Apollo is great for cooling a home office or conservatory, and it comes with dehumidify and sleep modes, three fan speeds and a sleep function. But what sets it apart from the others on this list is that it can also be used as a heater in the winter, making it a very worthwhile investment.
It's advertised as being able to cool down rooms up to 22sqm, although the Amazon blurb suggests it can even be used in rooms up to 30sqm. While its 12,000 BTU (the joint-highest on this list), suggests that this may be possible, it might be better to opt for the AEG Chillflex Pro if you're actively searching for a system to heat larger rooms.
It can be controlled by remote control, and there's a top-mounted LED display which is easy to use. It also offers an air filtration system which improves air quality by reducing dust particles.
How to Buy The Best Portable Air Conditioner
Consider these factors before you commit to a purchase, as this will help to ensure you buy the best portable air conditioner for your home.
Room size
Look out for the BTU (this stands for British Thermal Units) of an air con system, as it will tell you how much cool air it will emit. It is a useful way of working out whether or not a particular air conditioner is the right size for your room.
As a reference point, a machine with 10,000 BTU will cool a room of around 41sqm while a 5,000 BTU unit is suitable for a 14sqm room.
Noise
Portable AC units can be noisy, although not as noisy as built-in machines, but if you want your air con unit to cool your bedroom at night, for example, then you'll want your machine to be quiet.
Units which generate more than 60dB will be hard to sleep next to. The quieter units generally tend to generate less than 55dB even on the highest speed setting.
Energy use
The higher a unit's energy efficiency, the less you'll have to pay for using it. Keep a look out for energy ratings and whether a machine runs on sustainable, environmentally-friendly gases to help ensure you find a suitably efficient machine.
How to Set up a Portable Air Conditioner
Most portable air conditioners tend to come with an installation kit for a fast set-up, and they're often ready to use straight out of the packaging.
You'll need to set the unit up with the exhaust hose in the correct position, and ideally the exhaust hose should be vented, either through window (the easiest option) or through a hole in the wall or ceiling.
They're not the easiest pieces of kit to install though, especially if you're looking to vent through a wall, but most professional engineers will be able to assist with this.
How to Look After Your Portable Air Conditioner
To ensure your machine's longevity it's advised to empty the water collected inside a bucket in the machine every few weeks. This builds up because air conditioners typically produce water when cooling down a room.
It's also important to regularly clean the filters, which pick up a lot of microfibres and dust and can get stuck in the unit. If the filters are too clogged, the unit won't cool as efficiently.
How We're Testing the Best Portable Air Conditioners
There's a lot to consider when buying one of the best portable air conditioners, and the Homebuilding & Renovating team is getting hands-on experience with the products in this buying guide to help you feel confident in choosing the right product for you.
In our ongoing independent reviews we are testing the cooling power and how a model fares in varying room sizes to gauge each product's efficacy, and assessing key factors including minimum noise level and value for money. We're also reviewing everything in-between from included features, such as remote controls, to which households will most benefit from buying a specific portable air conditioner.
Our team is passionate about DIY and home improvement (which probably won't be a surprise) so we already have detailed knowledge about the brands that make these products. Moreover, we have taken into account user reviews when compiling this buying guide, and gleaned key information from our sister sites such as Real Homes and Ideal Home to help you find the best portable air conditioner for your home.
Jack has worked in journalism for 11 years and is the News Editor for Homebuilding & Renovating, a role he has had since 2019. He strives to break the most relevant and beneficial stories for self builders, extenders and renovators, including the latest news on the construction materials shortage and hydrogen heating. In 2021 he appeared on BBC's The World at One to discuss the government's planning reforms.
He enjoys testing new tools and gadgets, and having bought his first home in 2013, he has renovated every room and recently finished a garden renovation.
Homebuilding & Renovating Newsletter
Get the latest news, reviews and product advice straight to your inbox.
Thank you for signing up to Homebuilding. You will receive a verification email shortly.
There was a problem. Please refresh the page and try again.