Advertisement Feature
What Material Should I Choose for my Doors and Windows?
By Sponsored Content published
The material you choose for your doors and windows can make or break your home's kerb appeal, so the decision should be thought through carefully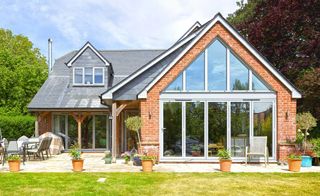 (Image credit: Kloeber)
CONTENT SUPPLIED BY KLOEBER
Your doors (opens in new tab) and windows can account for a significant portion of your total build costs whether you are self building, renovating or extending so it is essential to choose wisely. Your doors and windows will not only affect the look of your home, but will also affect its security, thermal performance and energy efficiency.
When it comes to choosing a material (opens in new tab) for your doors and windows, there are various options available to you.
Engineered Timber
Engineered timber (opens in new tab) offers a characterful and warm appearance and is a great choice for traditional and contemporary homes. Softwoods like pine are suitable choices for those on a tight budget (especially if you opt to finish them on site) and can be painted or stained to suit your home's design. Engineered timber windows are low-maintenance although you may need to repaint or restain the wood every few years to keep it looking fresh.
At the premium end of the price range sits hardwoods like oak or meranti. These timbers are more durable than softwoods and offer an authenticity that is especially suited to period homes.
Given its low U-value (opens in new tab) (a measure of thermal transmittance), timber is a great sustainable and energy efficient choice for new builds and eco homes, and you should make sure your supplier uses timber certified by the Forest Stewardship Council.
Aluminium
If you're after something to suit a contemporary style home, then aluminium is a great choice. Aluminium windows (opens in new tab) and doors are popular for their slim sightlines which means maximum glazing and uninterrupted views which is a popular must-have on many homeowners wishlists. As a material, aluminium is strong, durable and is virtually maintenance free. It is also 100% recyclable.
Most manufacturers can offer the aluminium frames (opens in new tab) in a flexible range of RAL colours to suit any design, with different finishes available for the interior-facing part of the frame.
Composite
Composite, or alu-clad, windows and doors are made up of two different materials, one finish on the inside and one on the outside, so are the perfect solution for those who want to make sure their windows and doors sit harmoniously with their interior and exterior design schemes.
Alu-clad windows (opens in new tab) and doors combine the low maintenance exterior of aluminium and the warmth and low U-value of timber on the interior, giving homeowners the best of both worlds. Particularly suited to contemporary-style homes, composite designs are often used with triple glazing due to their ability to withstand harsh climates.
For more information on choosing the right window and door material for your home, contact Kloeber.
Homebuilding & Renovating Newsletter
Get the latest news, reviews and product advice straight to your inbox.
Thank you for signing up to Homebuilding. You will receive a verification email shortly.
There was a problem. Please refresh the page and try again.