What is a Heat Pump Tumble Dryer and Could it Save You Money?
By Amy Willis published
What is a heat pump tumble dryer is a question some may be asking when looking to upgrade their appliances. We explain the technology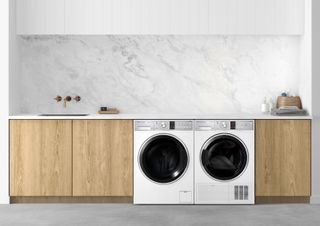 (Image credit: Fisher & Paykel)
For those asking what is a heat pump tumble dryer, the answer boils down to energy usage — or rather re-usage.
While a conventional vented or condenser tumble dryer generates heat and releases it into the machine to dry clothing, a heat pump tumble dryer will instead recycle heat continuously to extract moisture.
Heat pump tumble dryers are becoming a popular choice among homeowners for their utility rooms despite typically being more expensive to purchase than conventional dryers.
The reason is due to their impressive energy efficiency as well as smart technology. And with energy prices continuing to escalate, this important detail can save you money in the long term.
In our guide we explain the technology behind heat pump tumble dryers, why this can save on your energy bills and the pros and cons of making the switch.
What is a Heat Pump Tumble Dryer?
Despite heat pump tumble dryers being a relatively new addition to UK households, they've actually been around for over a decade in countries like Switzerland and Germany.
The technology inside a heat pump tumble dryer revolves around recycling hot air to draw moisture out of clothing. This moisture is then condensed into an internal reservoir or water tank that typically needs to be emptied. This is known as a "closed loop" because the air never leaves the dryer, it is simply reheated as it circulates back around.
A heat pump tumble dryer will usually operate at a maximum 50°C temperature, which is far lower than the 70-75°C used by a vented or condenser tumble dryer.
This lower temperature is better for both clothing and energy consumption although each cycle will take longer.
Manufacturers are also adding other innovations to heat pump dryers. Siemens for example has added wifi connectivity so you can control your dryer with your smartphone. Other innovations include a fluff sensor and a 'less iron' option.
"[Siemens'] standout features include sensor drying whereby sensors in the drum monitor the residual moisture in the laundry to detect when the load has reached the selected drying level," says Gaelle Thibaud, Group Marketing Manager, BSH Home Appliances. "At this point, the tumble dryer moves into the final cool-down programme."
How Much Money Can I Save With a Heat Pump Dryer?
Consumer magazine Which? tested the different types of tumble dryer last year and found that conventional vented and condenser tumble dryers cost households an average £85 per year to run. Heat pump tumble dryers meanwhile cost an average £37 per year to run. This is because the average heat pump tumble dryer uses half the amount of energy. As such, switching to one could be a good energy saving tip.
Vivien Fodor, Whirlpool's Category Manager for Laundry in the UK & Ireland, explains: "Due to the more advanced technology, heat pump dryers can cost more than vented and condenser models, but the savings in energy and care for clothes make up for the initial cost."
Beko estimates that an average B-rated condenser dryer uses 0.59kW.h for every 1kg load while its A++ heat pump tumble dryer uses 0.24kWh for every 1kg load, despite taking five minutes longer to dry.
Given the recent hikes in energy costs, this cost difference is likely to be far higher than the difference estimated by Which? in 2021. The amount of energy used for every 1kg load will give you a good idea though, depending on the electric rates you pay for your home.
What are the Pros and Cons of Heat Pump Tumble Dryers?
The main benefit of a heat pump tumble dryer is using less energy to dry clothing and thus saving you money on your electricity bills — especially where you've also switched to off-peak electricity times.
"It's important for manufacturers to create appliances that ensure efficient resource consumption, reducing running costs and in turn helping consumers to care for the environment," explains Whirlpool's Vivien Fodor.
In fact, some manufacturers like Miele GB, are so impressed with their efficiency, they've ditched conventional dryers entirely.
"In early 2021, Miele GB made the decision that all its tumble dryers would use heat pump technology. [It] uses substantially less energy and is gentler on clothes compared to a regular tumble dryer," Alastair Cooke, laundry category manager for Miele GB, tells Homebuilding.co.uk.
Another huge pro is being gentler to your clothing due to lower temperatures, which we touched on briefly earlier. This lower temperature can significantly increase the lifespan of your clothing as higher temperatures can cause small holes in your fabric to appear, wearing them out faster.
And of course, lower temperatures also mean the chance of accidentally shrinking clothing is reduced, a huge bonus for those who haven't time to sift through delicates before throwing them in the dryer.
Not needing to plumb in or vent heat pump tumble dryers is another plus too, meaning they can easily slot into wherever you have space in your home.
There are however a few downsides to heat pump dryers. The main one is speed. Due to operating at a lower temperature, you can't toss something into a heat pump tumble dryer last minute and expect it to dry quickly. You'll need to be organised with your washing and drying habits.
To put a figure on it, consumer website Washgeek (opens in new tab) estimates that a full 8kg drum will need two-and-a-half hours to dry in a heat pump dryer, while a conventional dryer will only take one-and-a-half to two hours. Reduce that to a 5kg drum and it will still take at least two hours to dry in a heat pump tumble dryer.
Heat pump tumble dryers are also still a few hundred pounds more expensive to purchase than your typical conventional vented or condenser tumble dryer.
Do I Need a Vent For a Heat Pump Tumble Dryer?
A conventional vented tumble dryer requires a vent to release moisture into the air from heating wet clothing inside the drum.
This means either having to stick an unsightly pipe out of an open window every time you use the machine, or have the dryer properly plumbed into your piping.
A heat pump tumble dryer meanwhile has a condenser built in and this is why it doesn't need a vent. Moisture instead collects inside a reservoir inside the machine so it can simply be plugged into a power socket and started straight up.
The water tank in a heat pump tumble dryer will however usually need manually emptying into a sink before a new load of washing is put into the machine to dry.
The lint filter usually also needs cleaning out every cycle on a heat pump tumble dryer.
How do Heat Pump Dryers Differ From Condenser Dryers?
While a heat pump tumble dryer has a condenser to collect water from wet clothing, a condenser dryer is not as energy efficient.
A condenser dryer will still only generate heat to dry clothing rather than re-using any heat it generates. A condenser dryer will also operate at higher, inefficient temperatures of up to 75°C rather than the lower heat pump tumble dryer temperature of 50°C that can save you money.
What About Space-Saving Washer Dryers?
And finally, a brief mention for those who love a washer-dryer. A combined washer-dryer has always been the solution for those with limited space in either their kitchen or utility room.
This is still possible with heat pump technology. AEG has a line of heat pump washer-dryer appliances available in their new WD 9000 series (opens in new tab).
Amy is in the middle of the renovation of a period property in rural Suffolk. She's taken a hands-on DIY approach to the project, knocking down walls, restoring oak beams and laying slabs herself with the help of family members to save costs.
Homebuilding & Renovating Newsletter
Get the latest news, reviews and product advice straight to your inbox.
Thank you for signing up to Homebuilding. You will receive a verification email shortly.
There was a problem. Please refresh the page and try again.