5 Things All Self Builders Need Before Breaking Ground
By Jason Orme published
There's a lot of preparation needed before you start on the site of your new home - here are the five absolute essentials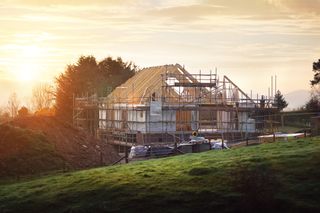 (Image credit: getty images)
Effective preparation is key to the success of your homebuilding project. While your focus may be pulled towards securing planning permission or finalising your choice of construction system or firming up the design, but there are five equally important tasks that should not be ignored.
Getting these essentials lined up before you break ground will not only help you to make sure that your project is completed on time and on budget, but will also give you peace of mind by ensuring the project runs smoothly.
Here are five essentials that you should get in place early.
1. Estimate Costs Based on Your Specific Plans
JOIN THE PLANNING HUB
The Planning Hub is a new online resource that will help you understand how to get to grips with complex planning rules. Join today for access to easy-to-read guides which will provide you with key information to help you secure planning permission.
The fear of going over budget is by far the biggest worry for people taking on a build project. While ultimately the only arbiter of the final build cost is the builder or project manager, having a good detailed estimate of the costs based on your specific plans can be a good way to manage expectations.
You can either employ a Quantity Survey to carry out a full bespoke report (with recommendations on where to save or potential alternatives) or you can use one of the fixed price estimating services provided by the likes of Build Aviator or Estimators Limited.
(MORE: Use our free Build Cost Calculator)
2. Get a Specialist Insurance Policy in Place
Building your own home is likely to be the biggest expenditure you'll ever undertake – and in most cases you're doing it for the first time.
A building site is a uniquely dangerous place, and so adequate insurance is critical to protect your investment.
You'll need public liability insurance, employer's insurance and insurance to cover the valuable materials and tools on site. These individual elements are often combined into a comprehensive self build insurance policy.
3. Surround Yourself with the Best Expert Advice
Independent expert advice on your project is not only expensive but also difficult to come by. Designers, builders, materials suppliers all have varying degrees of bias in terms of the recommendations they give.
A subscription to Homebuilding & Renovating magazine, Britain's best selling magazine for people building or renovating their own home, gives you access to the analysis and insight supplied by Britain's leading independent self build experts.
In addition to impartial expert advice, you'll also get access to the latest and best design ideas and the inspirational final results from self builders who have been there and have the house to prove it!
(MORE: Check out our latest subscription offer)
4. Take Out a Structural Warranty
If you're buying a new home from a developer, your solicitor and lender will insist on it being bought with a structural warranty provided by the developer. If you're building your own home, any lender on the project will insist on one too. Even if you're not borrowing money to fund the build, if you were to sell the house, the purchaser's solicitor would insist on one.
There are plenty of options and it usually costs around 1% of the total build cost. The warranty inspector will visit the site in stages to ensure structural integrity.
5. A Site Survey is Essential to Keep a Handle on Costs
The groundworks is really the only element of a build project which is a significant unknown quantity – and it's where a contingency fund is vital. With everything else in the build totally controllable, the more you can understand about the potential foundations solution required (how deep or, possibly, what type of specialist system you will need to employ) the more you'll have foresight of potential costs.
A high quality site survey will give you this, digging trial holes across the site to enable you to work out what the ground consists of and how far solid ground actually is below the surface (some garden plots, for instance, will consist of topsoil/made up ground).
The former Editor of Homebuilding & Renovating magazine, Jason is an experienced self builder and has recently finished renovating his 1960s home. Jason is now Managing Director of Future PLC's Homes' portfolio, which includes UK-leading titles such as Ideal Homes, Livingetc and Homes & Gardens. He is also the author of The Self Build Dream. You can catch Jason in the seminar theatres and Advice Centre at many of the Homebuilding & Renovating Shows across the UK.
Homebuilding & Renovating Newsletter
Get the latest news, reviews and product advice straight to your inbox.
Thank you for signing up to Homebuilding. You will receive a verification email shortly.
There was a problem. Please refresh the page and try again.