Installing Solar Panels: How to, Costs and Timescales
By David Hilton Contributions from Amy Reeves published
Find out everything you need to know about installing solar panels from start to finish with our energy efficiency expert's guidance and advice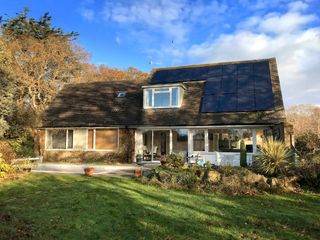 (Image credit: Getty Images)
Installing solar panels is a great idea to increase your home's capacity for renewable energy, and possibly save money on your energy bills. While existing homes may need to be assessed to see if a solar panel installation is a worthwhile endeavour (based on size and orientation of the roof), new builds can be designed with this renewable tech in mind.
There has been much debate in recent years about whether solar panels are actually worth the initial investment, but we're seeing an increase in interest as a result of energy bills rising.
"When the very generous Feed-in Tariff was introduced on 1 April 2010 there was a massive uptake of the technology and we started seeing them appear on many homes across the country. This high incentive got the industry to a flying start but was not sustainable and as the incentives reduced, until they finally ended on 1 April 2019, so we also saw the reduction in the number of installations," says energy efficiency expert David Hilton.
Now that the cost of energy has rapidly increased and the cost of solar installations has levelled out, the return on investment is once again potentially very good. Here we explore what's involved in installing both solar thermal and solar PV panels.
Is My Home Suitable for Installing Solar Panels?
The answer to this question depends on a number of factors, including the type of solar panel being installed, and the orientation and pitch of the roof.
"Solar PV (photovoltaic) panels generate electricity from sunlight and will normally be installed on the roof of the building facing in the most south direction. The panels should also face as much south as possible. If you faced east, or west, then expect a yield of around 20% less generation annually" explains David Hilton.
Pitch is also an important factor. "Depending on where you are in the country the average pitch of the roof is optimised at around 30º towards the south of the country and closer to 40º in the north. The panels should also face as much south as possible."
For solar thermal panels (with cells that use the sun's heat to warm water in a house) things are a little different. "The preferred orientation is a south-facing roof with panels at a 30º angle to the horizontal (up to 65º will still work in the UK)," adds John Gilham, group technical manager at Green Building Renewables (opens in new tab).
"However, it is not just south-facing roofs that can be utilised; considerable gain can be made from east- and west-facing roofs. Ideally, you should keep the panels away from shadows, e.g. trees, buildings, chimneys, etc. You should also consider the additional weight on your roof. As well as flat and sloped roofs, if you have the land, solar thermal can also be installed on the ground."
Not sure how your panels will look with your homes aesthetic? Get inspired with these great project with solar panels which seamlessly integrate solar panel installation with their home design.
How Many Solar Panels do I Need to Install to Power my House?
"For an average 4kWp (kiloWatt peak — the amount of power generated on a peak hot day) you are looking at 10 PV panels on the roof to power the average house," advises David Hilton.
This is fewer panels than would be have been installed some years ago. "This is because the panels, or modules, have improved in capacity in the past few years and we are now commonly seeing panels up to, and even over, 400W per panel.
"This means that each panel is about 1.75m tall by 1m wide and can be placed on the roof in portrait or landscape orientation. Remember to leave a margin of around 300mm to 500mm around the whole array."
If you're interested in living off-grid and asking 'can you run a house on solar power?', take a look at out guide to find out more.
How Do You Install Solar Panels?
"When you have decided that you would like solar panels fitted, a desktop survey and quote is done," explains David. "This should not take more than about an hour or so to prepare. You may want to get two or three quotes from different installers to compare quotes and service. "
After this, you should establish whether the installation will fall under Permitted Development, or if you need a planning permission application (more on which below).
"Once you have accepted a quote the roof, space for inverters, cables routes and outside access space will need to be checked and confirmed that everything will fit," David continues. "This survey takes around an hour on site depending on access and obstructions.
"In most cases the installers will supply the materials and install the system. This way you know that the system will fit and that the warranty sits with one supplier."
"The solar panels will need to be mounted on the roof by installers who understand roofing and will need some scaffold decks to safely get the panels to the roof. Roof hooks will need to be secured to the roof and tiles may need to be moved and partially trimmed so that they sit back down and don't let dust, wind or rain in. Different types of roof covering will need different fixing solutions.
"Not all solar installations are the same:
"Some panels will be mounted on the roof, where the tiles are still in situ and there is a two to three inch gap between the tiles and the panels.
"Other panels can be installed in line with the roof tiles. The tiles are removed and the panels are either fitted over a new backing tray or have waterproof strips between the panels to form the roof cladding.
"The installers will be responsible for designing the system to make sure that the panels fit on the roof with adequate margins around them and that everything is secure and correctly installed and signed off. The panels should last more than 25 years so it is important to be sure that the fixings will also last longer than that.
"If you are installing the PV system in a new build then the panels may need to go on as the roof is being clad and the remaining system elements such as cables, isolators and inverter at later stages in the build. Discuss this with the installer as you may be able to make savings as the scaffolding is already there and the installer may be able to work with your roofer. By engaging early you will be able to negotiate these things in."
How Do You Install Solar Tiles?
"If you are removing or replacing the tiles you may choose to use solar tiles," says David. "The solar cells are built into the tiles or slates and mounted on the roof as if they were normal tiles or slates. Although not completely invisible these solar solutions can be much better aesthetically than the larger panels.
"Solar tiles replace the existing tiles or slates so need to be compatible with the tiles that will be used on the rest of the roof. There are no roof hooks or rails to be installed but the panels themselves are considerably smaller than standard on-roof panels in that they are around the same size as 4 tiles or slates in a row.
"Tiles are also more expensive as they are not mass produced so the material cost is a bit higher and the installation complexity can also add to the installation cost. Depending on the installation details if you budget around 50% more than a standard panel installation you won't be too far off the mark."
How Long Does it Take to Install Solar Panels?
"Once everything is confirmed, an installation date will be arranged and the full installation (say 10 panels) should not take more than a day, possibly two in more challenging circumstances," explains David Hilton.
How to Install Solar Panels: A Step-by-Step Summary
1. Fill out a desktop survey and obtain three quotes from different suppliers. This would be a good point to get the roof surveyed for structural stability and if any maintenance is needed before installation
2. Choose a supplier and establish if the installation will fall under Permitted Development or if full planning permission is required
3. Make space for the solar panel accessories (solar inverter, cables and solar batteries, if desired), for instance in a plant room
4. Plan a day for installation
5. Erect the scaffolding (this can be done by your supplier or by a company you organise)
6. The solar panel mounts will be installed
7. The professionals will install the solar panels
8. The solar panels will then be wired in (the house's electricity will be turned off at this point)
9. The solar panels will be connected to the solar inverter and solar batteries (optional)
10. The solar inverter will be connected to the consumer unit/grid
You're now ready to start and test your solar panels. Many suppliers provide a way to monitor the efficiency of your panels
How Much Will Installing Solar Panels Cost?
"Naturally the cost of installation will depend a lot on the quality of the panels, inverters and roof fixing materials, but most of all the cost can be massively influenced by the type of roof, type of roof cladding and the access to the roof, both for getting the panels onto the roof but also for getting the wiring from the distribution board and inverter position to the roof as well," explains David.
Various solar panel grants and tariffs made investing in the renewable technology more palatable, but the Feed-in Tariff and Renewable Heat Incentive both ending years ago.
"The Feed in Tariff originally paid an incentive of over 40p per generated kilowatt hour (kWh) when the cost to buy electricity was only around 8p/kWh," Davis adds.
Do I Need Planning Permission to Install Solar Panels
"Solar panels are usually installed under General Permitted Development Order (GPDO) which means that you would not need a separate planning permission application," David says. "
"That said, it is up to you as the homeowner to be sure that you do indeed have GPDO rights on your property and that the installation will comply. If in doubt it is worth checking the GPDO rules on the Planning Portal (opens in new tab) and having a word with your local planning department if possible."
Can Your Install Solar Panels on Your Own?
"Installing solar PV panels is not a DIY job," David Hilton warns. "It is possible to buy your own materials and ask an installer to put it all in but that will be your risk if it does not fit. You will also need to pay the installer extra if they need additional visits for remedial materials or to take the materials off if you ever need to make a warranty claim on them."
"What's more, in the case of PV, all the wiring must be done by suitably qualified installers who are familiar with the workings of PV installations as they will be working with Alternating Current (AC) as well as high voltage Direct Current (DC) from the panels."
David is a renewables and ventilation installer, with over 35 years experience, and is a long-standing contributor to Homebuilding and Renovating magazine. He is a member of the Gas Safe Register, has a Masters degree in Sustainable Architecture, and is an authority in sustainable building and energy efficiency, with extensive knowledge in building fabrics, heat recovery ventilation, renewables, and also conventional heating systems. He is also a speaker at the Homebuilding & Renovating Show.
Passionate about healthy, efficient homes, he is director of Heat and Energy Ltd. He works with architects, builders, self builders and renovators, and designs and project manages the installation of ventilation and heating systems to achieve the most energy efficient and cost effective outcome for every home.
With contributions from
Homebuilding & Renovating Newsletter
Get the latest news, reviews and product advice straight to your inbox.
Thank you for signing up to Homebuilding. You will receive a verification email shortly.
There was a problem. Please refresh the page and try again.