How to Get the Best Staircase For Your Budget
By Sponsored Content published
Richard McLane, Design Director of Bisca, explains how using specialist help to create your staircase can save you money and ensure no design details are overlooked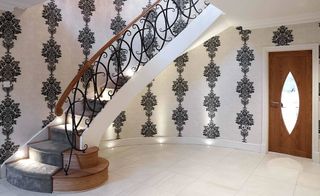 (Image credit: Bisca)
CONTENT SUPPLIED BY BISCA
People naturally want the best staircase possible for their budget but the way to achieve this may come as a surprise. Quantity Surveyors (QS) frequently split out component parts to get the lowest price possible on paper. Taking this approach with your staircase can actually end up costing you more, not to mention having to make some serious compromises.
When planning, and budgeting for a staircase you should think of the space as a whole from start to finish. Only 60% of a design is about the staircase, 40% is about how it interfaces with, and integrates into, the property. A common mistake is to hand an architects drawing to a builder from which to construct the staircase or its foundations. At this stage, the staircase is not "detailed" in terms of materials, finishes or interfaces and you should not leave it to your builder to consider these points before he starts building. A common mistake found by staircase specialists is that the balustrade is overlooked.
If the design and the build of the staircase is not thought of cohesively, the outcome is sure to be unsatisfactory, regardless of how much money you throw at it. In the case of a forgotten balustrade, it will always end up looking like the after-thought it actually was. Another rather simplistic way of looking at is like buying the chassis of a van, then trying to build a 2-seater sports car on it.
When QS compare costs on paper, a staircase constructed by a builder may appear attractive compared to the price submitted by a staircase specialist. In reality, however, this can be a very different story.
A QS can undoubtedly add value to some elements of a build but the staircase is not one of them. You should consider your staircase as part of the fabric of the building and a far superior result will be achieved in terms of quality design and finish if a staircase specialist is engaged during the design of the house.
The synergy between an architect and a specialist working together on a project is of greater value to the client than either one working independently. An architect may work on perhaps five staircases a year, whilst a staircase specialist design 50 plus bespoke ones. Anything other than a standard staircase ideally needs a staircase specialist.
Every bespoke staircase design involves a significant amount of CAD work to ensure interfaces, aesthetics, fixings, materials, specifications, loadings, head heights, going, rise, etc. are resolved before materials are procured, and certainly before a build begins.
Case study: Abandoning Plans for a Concrete Staircase
A good example of this scenario is a couple who contacted Bisca (opens in new tab) recently to design a balustrade for their new concrete staircase.
On this occasion the quality of the concrete staircase was actually satisfactory but when Bisca surveyed the structure it quickly became apparent the clients could not have the balustrade they had set their heart on for a number of reasons:-
the architects layout drawing did not consider the design of the staircase and balustrade as a whole or how it connected either technically or aesthetically
the balustrade design was only an outline concept and not based on actual dimensional details or structural possibilities
no allowance had been made for depth of floor finishes, interface connections between property staircase or balustrade
architects design was far too complex to retrofit a concrete staircase and would have only been possible with a steel stair structure, in a workshop, where the structure could have been used as a jig
drilling into reinforced concrete in situ is dangerous due to hidden reinforcing steels which, if drilled into, can weaken structural elements within the staircase and the safety of the staircase itself
the side fix design of the balustrade drawn by the architect was not physically possible because the builder had positioned the staircase touching the wall at various points
Facing the choice of increasing their budget to remove the concrete staircase and replace it with a steel structure and their chosen balustrade design or making a big compromise on design, they reluctantly chose the latter.
The sad part about this story is that at the outset our clients had actually allocated enough of their budget to enable them to get the staircase of their dreams. Instead, their QS took them down the "perceived" cost effective route and split out elements of the staircase between suppliers without consideration for final finish.
Top tips for getting the perfect staircase for your budget
Engage with a staircase specialist on design/cost options before allocating budget for the staircase within the overall project budget
Consider engaging a staircase specialist at the beginning of the project – it's much easier to move walls and doors on paper than when they've been built
Do not divorce the staircase and balustrade in either budget, design or build – satisfactory reconciliation will not be achieved
Understand the implications of including the staircase in the remit of your QS
Understand the limitations of concrete stairs if this is what you are considering
When obtaining quotations ensure you are comparing like for like.
Homebuilding & Renovating Newsletter
Get the latest news, reviews and product advice straight to your inbox.
Thank you for signing up to Homebuilding. You will receive a verification email shortly.
There was a problem. Please refresh the page and try again.