How to Build a Home on a Garden Plot
By David Snell published
There are many advantages to building a new home in the garden of your existing house — a free plot for one. But there are also a few key points to consider, and pitfalls to avoid. Plotfinding expert David Snell explains all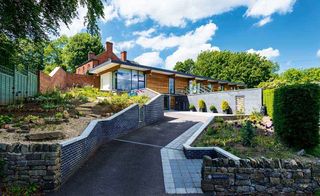 (Image credit: Jeremy Phillips)
Without doubt, the greatest number of single plots, and by definition, those that are of the most interest to potential self builders, are carved from existing properties. These are the garden plots, created by fencing off land at the side or by allowing a driveway to grant access to 'spare' land at the rear, or perhaps the front.
Many would-be self builders spend months, and sometimes years, looking for a plot (opens in new tab). And yet, for some, a plot is already within their ownership in the form of the garden that has become too large for their requirements. Building a new home in the garden is, therefore, a terrific way to obtain a plot. But there are considerations and potential pitfalls that do need to be taken into account.
The Advantages of Building in Your Garden
If the right procedures and precautions are taken, there are countless advantages to building a new home on your own garden land:
You typically have somewhere to live while building.
As such, you can keep an eye on progress and security.
You may have existing space to safely store building materials, allowing you to shop in bulk as well as take advantage of bargains in advance of the build as they crop up.
You can ensure that the design doesn't detrimentally affect your existing home and that the new home is, similarly, protected from any adverse effects from the old house.
You don't have to pay for the plot and can therefore concentrate all of your resources into the new dwelling.
You can often utilise the existing services, particularly connections to mains sewers, removing the expense of opening up roads to connect to services.
You retain the environment and the neighbourhood you have become familiar with.
The last Labour Government designated garden land as brownfield, with a presumption in favour of development. It was thought to be a godsend for self builders, but it fell out of favour because so many gardens were being developed as multiple occupation buildings, fundamentally changing the nature of many neighbourhoods. It also fell foul of a completely separate government aspiration for higher-density development, which meant that many potential self builders and developers wishing to build a single home were, instead, required to build more than one dwelling.
Subsequent governments removed the brownfield status from garden land, heralding the end of 'garden grabbing'. But nothing has really changed, except that it became necessary for applicants to demonstrate the advisability and desirability of development. This often means that single dwellings will find more favour when it comes to gaining planning permission.
Large gardens, where it can be demonstrated that thoughtful development can take place without detriment to the nature of the area and the streetscene, are still acceptable in many situations and, once again, form the bulk of single plots.
Beware Covenants
It's important to remember that while planning permission means that you may develop land, it does not say that you can — if there is a legal impediment in the form of a covenant (opens in new tab) against further development, it might render the consent inoperable. Covenants or burdens (as they're known in Scotland) attach to the title of a house and garden or land; details will be contained within the information held by the Land Registry (opens in new tab) or the Registers of Scotland (opens in new tab). They are usually put in place by a previous owner and they are binding on any owner and/or any future owners.
The covenant that is most likely to alarm a prospective self builder is a blanket restrictive covenant prohibiting any form of development of the garden or specifically excluding the building of a dwelling. If the covenant is 'live' and the beneficiaries are known then this really can be a problem.
The only way to remove it would be to either agree to some form of payment or to apply to the Lands Tribunal (opens in new tab) on the basis that the original purpose of the covenant had faded away over time. Such an application would, however, only have a slim chance of success.
A breach of covenant without consent may well result in an injunction. So, if you do hope to build on a garden with such a covenant attached, an agreement must be reached with the beneficiaries, which usually involves payment of up to one third of the uplift in value from 'useless' garden land to a developable plot. This is what is known as an uplift clause (opens in new tab).
On the other hand, if the covenant does not appear to have any traceable beneficiary, then the self builder is in a much better position. The simple way around this is not to seek to have the covenant removed but to purchase a single premium indemnity policy. This can be arranged through a solicitor and the premium will be established based on the likelihood of a beneficiary coming forward.
This self build in Sheffield (designed by Halliday Clark Architects) was built on a large driveway to an existing terrace home, after the homeowners, Tom and Emily Hunt, spotted the potential for a plot.
"The end-terrace property we chose to buy had a large driveway to one side, which had once contained two other terraced houses. These were condemned and demolished in the 1970s, but we hoped to get planning consent to build something else on the land," explains Tom. The couple remained living in the terrace during the build.
Potential Access Issues
Access may potentially be another issue (opens in new tab) to consider. Many homes share their drives or access with one or more other dwellings and the arrangements for this access can take many forms. If private access is/has been granted to a particular parcel of land, then the addition of a further dwelling will usually not run counter to the agreement. But if the access is granted on the basis of access to a named or numbered dwelling or specifically refers to a 'single' dwelling, then that access, and all its rights, may not automatically transfer to a subsequent dwelling. Once again, agreement might have to be made and a 'ransom' paid.
The same criteria could apply to services which run under or over land in the ownership of others or beneath a shared private drive. The utilisation of land or access without consent may well result in an injunction. On the other hand, an injunction is an expensive procedure and many aggrieved beneficiaries will fail to take matters that far. If you take advantage of this situation, do be aware that if you ever want to sell the new dwelling, you might then run into problems.
Will a New Home Impact on the Value of the Existing?
In most cases, the carving of a plot from a larger-than-average garden will have little or no detrimental effect on the original value of the existing home. As long as the original dwelling is left with an overall plot size of at least three times the building's footprint, it is unlikely that a diminution in value will occur.
What's more, any reduction in the value of the house will usually be vastly outweighed by the increase in value of the resultant plot.
Pete and Lot Clark bought their five-bed Victorian house in a Derbyshire village some 35 years ago, with a view to downsizing to a new home when their children grew up. Their existing two-acre garden provided space to build a new energy-efficient home that would provide them with low running costs during their retirement.
The Tax Rules Explained
If you obtain planning permission to build a new home in the garden of your existing home, your Principal Private Residence (PPR), and then decide not to build but sell off the plot instead, then, as long as the plot does not exceed 0.6 hectare (approximately 1.25 acres) in size, the gains from any sale are exempt from Capital Gains Tax (CGT). If you do build the new home and move into it, then the sale of the old home is, similarly, exempt from CGT. Once you have moved into the new home it becomes your PPR and is exempt from CGT in any subsequent sale, too.
If the 'garden' land that you build the new house on is divorced from your PPR, for example, a paddock or allotment on the other side of the village, then once the new home is finished, the sale of your old PPR will be tax exempt and the new dwelling will become your PPR from the date that you move into it.
However, a CGT liability will have occurred on the new dwelling, calculated on the basis of its uplift in value in terms of the planning and development of the plot during the time of your ownership up to the date of your occupation. This liability only occurs when the gain is realised in any future sale and will, therefore, lie dormant until or unless that situation occurs.
If you build the new property and then let it out, then CGT will be payable on any subsequent sale. Additionally, as the first supply was as a letting, you will not be able to reclaim the VAT (opens in new tab) paid out during the construction of the dwelling.
However, if you make a habit of building again and again on a garden or any other plot, skimming a little off the top to live on, with little or no demonstrable other form of income, then you will attract the attention of the tax authorities and it won't be CGT that you'll be liable for, but Income Tax.
If you build the new home in the garden and sell it off without ever living in it, then you will also be deemed to be trading, and Income Tax will become payable on the 'developer's profit' that you make, as well as the gain caused by the uplift in value of the plot when planning permission was obtained.
Funding the Build
In an ideal world we'd all have paid off our existing mortgages and have adequate savings available to fund the entity of a self build. There are, however, several different options available where this is not the case.
You may be able to raise money on the existing house in order to finance the build, paying it all off when the old home is sold, for instance. Alternatively, the increased value of the plot may mean that you can raise finance, sufficient to build the new home and/or pay off any existing mortgage on the old home.
When it comes to self build mortgages (opens in new tab), owning the land is a distinct advantage because an accelerator mortgage (such as that offered by BuildStore) will normally give you a percentage of the land value, plus a percentage of the build costs in staged payments. As you own the land already, your first tranche of money for the land will usually go a long way towards your build costs.
If, however, you have a very large mortgage on the existing home and your income won't allow you to secure additional lending, then you may be forced to sell the old home before commencing work. But the timing of that sale will be in your hands, allowing you to minimise the gap between homes.
In any event, it's essential to talk to a dedicated self build mortgage provider who understands the self build market, rather than a standard high street lender.
The author of Building Your Own Home, David is a serial self builder and has been building homes for 50 years. He has just finished his fourteenth self build project.
Homebuilding & Renovating Newsletter
Get the latest news, reviews and product advice straight to your inbox.
Thank you for signing up to Homebuilding. You will receive a verification email shortly.
There was a problem. Please refresh the page and try again.