How much electricity does a fridge use? Our guide to running costs
Asking 'how much electricity does a fridge use' is a concern for many in the current climate. Find out how you could cut energy (and costs) for this appliance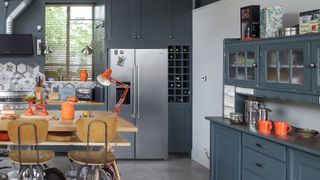 (Image credit: Simon Maxwell)
Many people will be asking the question 'how much electricity does a fridge use?' and other such appliance cost to run as the cost of living crisis continues to hit hard.
The sharp rise in energy prices means British households are keeping a keen eye on their electricity consumption and looking for energy saving tips — and it's easy to lose your cool over the energy expenditure of bulky items like refrigerators.
Our fridges are indispensable fixtures in the kitchen, keeping our food fresh and our drinks cold round the clock. But are these hard workers guzzling energy day and night? And does size matter? We looked at the numbers to help you keep a cool head when it comes to refrigeration.
We break down the costs of running your fridge, and offer ways to cut energy use from the experts.
How much electricity does a fridge use?
"An average fridge uses around 166kWh of energy per year," begins Ben Gallizzi, energy expert at Uswitch.com, " which costs around £53 a year under the Energy Price Guarantee."
However, not all models use the same amount of energy: factors such as size, age of the fridge, and (crucially) energy-efficiency rating will all impact on the amount of electricity your refrigerator uses.
As a rule of thumb, the older and larger the fridge, the more energy it is likely to consume: advances in technology mean that modern models are much more energy efficient than their predecessors. "The energy efficiency of fridges can vary a lot, with the most efficient using as little as 130kWh a year, while the least-efficient models guzzle 202kWh," Ben explains.
The Energy Saving Trust also points out that fridges typically have a lifespan of around 17 years, and advises: "the next time you're buying a new fridge or freezer, consider the smallest that meets your needs, as well as the highest rated one you can afford."
October saw UK energy electricity costs soar to an average of 34p per kWh, up from 28p per kWh previously. And with fridges and freezer together typically accounting for around 13% of a UK household's energy use, according to the Energy Saving Trust, and with fridges working 24/7, it's no surprise they can have a major impact on your electricity bill.
Ben has been the Senior Content Editor for Energy at Uswitch for three years, having previously spent time at marketing agencies and in the proptech industry.
Among other areas, he specialises in home energy use and electric vehicles, and is passionate about ensuring that energy customers get the information they need to make the right decisions for them in a challenging period for households across the country.
How do you work out how much electricity your fridge uses?
A smart metre will be able to tell you how much electricity your fridge is using in real time (if you are not running any other appliances at the same time), but if you don't have this set up, there is a simple calculation which should be able to provide a rough estimate.
You will need your fridge's energy consumption details (which will usually be detailed in the retailer's specification when purchasing your fridge or are available on the energy label supplied with the fridge) and electricity bill to tell you how much you're spending per kWh.
October saw UK energy price rises and electricity costs soar to an average of 34p per kWh, up from 28p per kWh previously. While you may be on a different tariff rate – perhaps a slightly cheaper fixed tariff – we will use 34p/kWh in this calculation.
You can simply multiple the annual energy consumption by 0.34p. So, an F-rated single fridge using 395kWh annually at a rate of 34p per kWh will cost £134.30 a year to run.
How much does it cost to run a fridge per day?
Below, we've estimate how much a new fridge freezer would cost to run at the current rate of 34p per kWh both per day and annually.
Swipe to scroll horizontally
| Fridge type | Electricity usage per year | Cost per year | Electricity usage per day | Cost per day |
| --- | --- | --- | --- | --- |
| D Rated Freestanding Fridge | 130kWh | £44.20 | 0.356kWh | £0.12 |
| F Rated Freestanding Fridge | 209kWh | £71.17 | 0.573kWh | £0.19 |
| A Rated Fridge Freezer | 111kWh | £37.85 | 0.305kWh | £0.10 |
| D Rated Fridge Freezer | 209kWh | £71.28 | 0.574kWh | £0.19 |
| F Rated Fridge Freezer | 276kWh | £94.06 | 0.757kWh | £0.25 |
| C Rated American-style Fridge Freezer | 225kWh | £76.50 | 0.616kWh | £0.20 |
| D Rated American-style Fridge Freezer | 253kWh | £86.02 | 0.693kWh | £0.23 |
| F Rated American-style Fridge Freezer | 405kWh | £137.92 | 1.111kWh | £0.37 |
Which fridge types are the most and least energy efficient?
Fridges with A ratings are the most energy efficient products on the market, while those rated G are the least efficient.
If your fridge is an older model on its last legs, it's well worth upgrading to a newer model, as decades-old fridges may be costly to run.
According to a September 2022 article in Which.co.uk, "the energy efficiency of modern refrigerators has improved hugely, compared with those made five to 10 years ago." These improvements also led to a new energy ratings system in 2021. Which explains: "But within the old energy rating system there was no room to reflect this improvement.
"Eventually, more than half of the products on the market were labelled A++ and A+++. The system was confusing and it was difficult for shoppers to identify which models were actually the most efficient."
Under the new rankings, any fridge rated D or above is energy efficient — equivalent to A+++ under the old system.
Size also matters when it comes to the energy efficiency of fridges. The Energy Savings Trust points out: "In general, appliances are categorised by their size. This means that two different sized appliances with the same energy rating might use different amounts of electricity. For instance, a G-rated 265-litre fridge freezer could cost around £100 a year to run (60kgCO2e), whereas a larger 424-litre fridge freezer with a better F rating could cost around £105 (65kgCO2e) a year to run."
If buying a new fridge, you should also consider:
Whether you want a standalone fridge or a fridge/freezer — it's usually cheaper to run one large household appliance than two, but if you require a lot of space for frozen food, then a chest freezer typically uses less energy than an upright model.
Cool water dispensers and ice makers can add to the running costs: do you really need them?
If you travel a lot, consider looking for fridges and fridge-freezers with a holiday mode option.
Still concerned? Find out what uses most electricity in houses with this handy guide.
How can I keep my fridge's energy consumption low?
Whatever type of fridge you have, there are steps you can take to minimise running costs. Ben Gallizzi says:
"Your fridge is on 24 hours a day, so keeping it in good working order can make a difference to your energy bill.
"It is recommended that you clean behind your fridge and freezer and regularly remove any debris to help keep them cool and working as efficiently as possible.
"Try not to keep the doors open for too long — not only will the inside light be on, it will also cause the temperature to rise, meaning your appliance will need to work harder to cool back down when the door closes.
"You should also aim to keep your fridge full if you can, as it will use less energy when it's well stocked. When it's empty, you can fill it with bottles of water, which will do the job equally well."
For more ways to reduce energy consumption, consider undertaking the government's home energy MOT which identifies solvable issues.
Does switching off a fridge save electricity?
Turning a fridge off at night or when away will not necessarily save electricity or money, as the temperature inside the fridge will reduce and more electricity will be required to get it back to the optimal temperature when turned on. Plus you'll need to factor in the cost of any wasted food inside.
Some modern fridges do however have a 'holiday' mode which minimises energy consumption whilst you're away.
Get the Homebuilding & Renovating Newsletter
Bring your dream home to life with expert advice, how-to guides and design inspiration, direct to your inbox.
Rachel Rigby started working as a financial journalist in 2000 and has used her financial experience to number-crunch for articles on DIY and housing. She has renovated three houses, including overseeing building an extension as well as a complete rewire. She enjoys doing a little DIY herself, although to varying success. Before this, she spent 12 years at Mergermarket before working in public relations, as well as stints at CTFN News as their UK and European correspondent, covering event driven investment topics with a focus on European commission competition rulings. Rachel has been a guest on CNBC and CNN and also written for Financial News, Media Week and previously Sunday Business and Breaking Views.