Building Company Gone Bust: 8 Ways to Minimise the Impact
By Bob Branscombe published
Building company gone bust? To stop your self build dream becoming a nightmare, learn how you can handle this scenario and still finish the job with our guide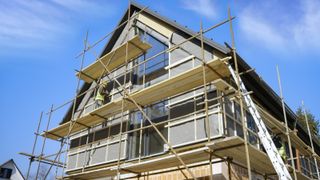 (Image credit: Getty Images)
Has your building company gone bust before completing work on your home? If so, it can feel like a nightmare, the end of days even! But is it, really?
Or, perhaps this is something you're worried about before embarking on a self build, extension scheme or major home improvement project?
When you find a builder to do undertake key works in and around your property, the expectation is that these will be finished. Unfortunately, if the builder you hire goes bust, it won't be possible, and there's no downplaying the seriousness of this scenario.
However, with the right preparation and vigilance, you can minimise the impact. Here, we set out how to minimise the risk of this scenario happening, how to spot the warning signs, and how to respond if a building company goes bust on your home renovation or self build project.
1. Prepare Well Before You Appoint a Builder or Tradesperson
Preparation is key to avoid there being a building company gone bust whilst working on your home. A bit of research before making any decisions about which tradespeople to hire can save you a lot of money and stress in the long run.
First things first, choose your builder wisely — look at not just the previous projects they've worked on, but also how long they've been in business, their turnover, and the number of projects they currently have on the go.
You want to ensure a building company has the experience, supply chain and robust financial resources needed to manage your project, no matter what its scale.
Also, be wary if your builder is a lot cheaper than the competition. This can often indicate that they are struggling, and are 'buying work' to get cash into their company as quickly as possible, without considering the profit requirement or need to cover costs.
Compare builder quotes early on, and make sure you steer clear of any companies whose projections seem too good to be true.
2. Pay Attention to Payment Terms
Agree payment terms and timings with your building company in advance. This will help protect you from 'front loading' (payments for items not yet built) and allows the builder to plan their cashflow, supplies and any supplier credit facilities around an accurate understanding of the timings of payments.
Get any upfront payments out the way before you start. If your kitchen requires a deposit, for instance, consider making this payment with the seller directly, rather than putting it through the builder's books. That way, if your chosen building company goes bust, the kitchen is still yours, paid for and waiting for you to collect.
Alternatively, if you must make an advance payment when you're ordering a manufactured item, look into vesting arrangements and insurance for the goods when the payment is made. If your building company goes bust, the vesting certificate will give you the right to collect your kit directly from the factory, where it should be labelled and set aside for your job.
Where possible, set up your contract documents to ensure that work is priced per item rather than in single stage payments, and then value and pay for the work as it is done.
If you're wondering how to pay a builder, remember that paying for work in arrears ensures that if the worst happens, the cost to complete is the same as the amount of money left in the budget.
Before appointing your builder, make sure they understand and are happy to work to this 'accrual' method, where for each valuation period the works are measured against the cost plan, and the amount to be paid accurately reflects the work carried out onsite.
3. Stay Vigilant Throughout the Building Process
Once building works are up and running, there is much more risk, because you will have a lot less control. A close watching brief is key here; you cannot prevent a firm going under or the threat of cowboy builders, but you can try to spot early warning signs, which might help mitigate the problem.
Be wary of frequent requests for money that fall outside your planned sequence of payments. If the payment cycles are monthly, and your builder is chasing additional payments a week into the process, underlying cashflow issues might be in play here.
Cashflow problems can slow down work, especially when it requires expensive kit, finishes or materials. They can also lead a builder to seek to minimise their expenditure while trying to still get valuations to release cash.
If a builder isn't answering their phone, or is generally hard to get hold of, this too might indicate problems. The more a builder encounters cash and resourcing issues, the harder it is for them to respond to questions and challenges from their client, so there is a tendency to hide away.
4. Try to Avoid Making Ad-Hoc Payments
Making single payments out of pressure to be helpful increases your risk — when you pay out money that is not based on actual work done, you are putting that cash on the line, and you won't get it back if you end up using a building company that goes bust.
It's better to offer to decrease the intervals between payments. Perhaps you could suggest moving to weekly valuations to assist the builder's cashflow. Obviously they would still have to do the work before you pay for it (paying in arrears is the golden rule, remember!), but they won't have to wait a month.
5. Keep Calm When Faced With a Building Company Gone Bust
Let's assume that your builder has gone bust, and they can't finish your project. If you have paid in arrears, and only for the works that have been finished, then the money left in your budget will still be available to finish the scheme (though there are always some costs that become apparent when re-procuring).
The next step will be to make sure you have all the paperwork that goes along with construction — test and completion certificates, drain test results, installation drawings for wiring, and so on.
If a tradesperson has gone out of business, it is tempting to think you don't have to pay them any more, but exercise caution and make sure you can get the records and information to guarantee that any work already completed is fit for purpose.
It is also good risk management (and good ethics) to consider the money owed to the builder, and whether you should pay this in return for all the pertinent documents, records and information they have amassed. You're not paying for anything that has not been built or installed in this instance, just securing your investment.
6. Prepare to Find a New Builder to Complete the Work
You should always ensure that everything matches up from a legal standpoint if your building company has gone bust.
Take time to visit the site and check that it's secure. Locks and codes should be changed, and all tools, including the builder's own equipment, should be kept safe and secure. For the latter, the insolvency specialists will want to understand the scale and scope of it.
Avoid side deals with the builder, such as ad-hoc cash payments to get them to finish the work. Firstly their insurance may well be invalid as they are insolvent, secondly they will have people who have not been paid and will consider you a source of cash.
They may also be devoting as much time to their resurgence as they are to your job. In practice, a new team is almost always the best way forward.
Schedule out the works remaining. While the work is halted, clean up the site, take stock, revisit your specification and works schedule, and write down everything left to be completed. This will shape the new schedule when you re-procure the works and provide a framework for how to get the best from your builder going forwards.
7. Take Your Time When Choosing a New Builder
Don't be impatient, don't panic, and don't necessarily go with the first builder you approach after the insolvency. You don't want to be seen as desperate or in trouble, otherwise you could attract opportunist firms offering inflated quotes.
Another thing to remember is to get in touch with any builders or trades who were due to be next on site and tell them what's going on, including the need for delay. You don't want the windows turning up on site when the walls are still only 500mm above ground level!
Be open and frank with the supply chain, too, rather than hoping everything will be fine and trying to catch up.
8. View the Situation as a Setback, Not a Crash
If you have set up your building scheme correctly, you'll know your cost to complete for every single day to date, and will have been managing work (and value engineering where necessary) to ensure that it is covered by your remaining budget.
In this case, builders disappearing is a challenge to timing and production schedules rather than a cost problem. Having a builder or contractor become insolvent is not a game stopper. There are always more builders, and always more than one option when the worst happens!
Bob is one of the UK's leading Chartered Surveyors and with over 30-years' experience in both self build and construction. A career spent with several main contractors and major surveying consultancies has helped reinforce his approach that cost-estimating and control are a fundamental tenet of self-building.
Homebuilding & Renovating Newsletter
Get the latest news, reviews and product advice straight to your inbox.
Thank you for signing up to Homebuilding. You will receive a verification email shortly.
There was a problem. Please refresh the page and try again.