The Winchester Mystery House: The World's Most Unusual Renovation?
By Claire Lloyd published
A house for the spirits? Behind the doors of the Winchester Mystery House, one of the world's longest and most tragic renovation projects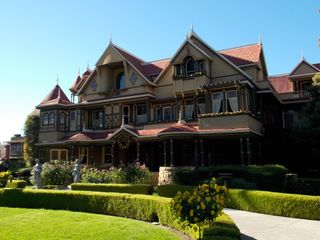 (Image credit: Getty Images)
'On time and on budget' is a mantra oft repeated by those renovating a house, but neither seem to have been a priority when this Californian property, now known as the Winchester Mystery House, was created over a century ago.
The owner, Sarah Winchester, transformed the former eight-bed farmhouse into 160-room mansion over a 38-year period. Work was rumoured to be have carried out day and night — and only ceased when Sarah passed away in 1922.
The resulting home cost $5.5million, and consists of an eccentric labyrinth of rooms and oddities such as bricked-up doorways and redundant staircases.
Even stranger still, perhaps, is the rumoured motivation behind the build…
A House for the Spirits?
At the age of 22, Sarah, a well-educated socialite, joined the wealthy Winchester dynasty (manufacturers of the Winchester repeating rifle), marrying William Wirt Winchester in 1862.
However, Sarah's happiness was short-lived when, in 1866, her daughter Annie died in infancy. This was followed by her husband's death 15 years later.
The grief-stricken widow was rumoured to have sought solace in a spiritualist. According to one urban legend, she was allegedly informed that she too would be struck down prematurely by the spirits of those killed by a Winchester rifle, unless she built – and never ceased to build – a house for the spirits.
So Sarah set to, employing builders and carpenters to undertake work around the clock. No formal architectural plans were ever found — the work was undertaken from drawings and plans Sarah produced by hand.
This ad-hoc build programme resulted in oddities and redundant features including walls built directly behind windows and rooms with no entrance. The house, a testament to Victorian engineering and design, would later be known as the Winchester Mystery House.
A Landmark Building

The Queen Anne-style mansion now stands four storeys high — after the 1906 San Francisco earthquake brought the seven storey observatory tower tumbling down.
Upon Sarah's death the property included some 10,000 windows, 2,000 doors, 47 stairways, 47 fireplaces, 13 bathrooms and six kitchens. (Now that's some cutting list.)
The Winchester Mystery House has had its fair share of fame over the years — it gained its 'mystery house' title following a visit from magician Harry Houdini on Halloween in 1924. And, almost a century on, the unusual property would become the subject of a Hollywood film, Winchester, released in 2018 (with Helen Mirren taking the lead role).
The landmark building is now open to the public to enjoy its truly unique Victorian architecture — or the paranormal activity that may lie within.
Claire is Editor of Homebuilding & Renovating and has been a member of the team for over 13 years. An experienced homes journalist, her work has also appeared in Real Homes and Period Living magazines. She has a particular interest in green homes, and interior design is also a passion; she has undertaken qualifications in this area. Claire has recently finished her renovation project — and is now onto the next.
Homebuilding & Renovating Newsletter
Get the latest news, reviews and product advice straight to your inbox.
Thank you for signing up to Homebuilding. You will receive a verification email shortly.
There was a problem. Please refresh the page and try again.