Stamp Duty: Rishi Sunak Reportedly set to Unveil 'Holiday' Proposal
Chancellor Rishi Sunak will reportedly introduce a stamp duty 'holiday' on Wednesday, which would be welcomed by self builders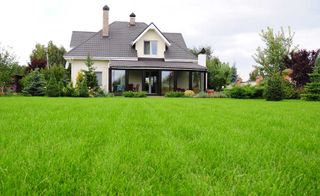 (Image credit: Getty Images)
Chancellor Rishi Sunak will reportedly reveal proposals on Wednesday which exempt most homeowners from paying stamp duty. 
The threshold at which people start paying stamp duty will reportedly be lifted from £125,000 to between £300,000 and £500,000. It is expected that the measure will be implemented for six months in a bid to boost housing market activity. 
Mr Sunak is expected to outline updates to the UK economy amid the coronavirus pandemic on Wednesday, and the 'stamp duty holiday' could be considered for the Autumn Budget. 
The proposal follows the government's Project Speed announcement last week, which made a series of homebuilding pledges to kick-start the housing market. 
The importance of introducing policies to combat the negative impact of coronavirus on the economy is clear. House sales fell in April to their lowest levels since records began, according to HM Revenue and Customs, and earlier this month Nationwide reported the first annual drop in house prices since 2012.
What is Stamp Duty?
Stamp Duty Land Tax (SDLT) is a lump sum payment homeowners are required to pay when buying property or a plot over a certain price. 
Most house buyers must pay stamp duty over £125,00, although first-time buyers in England and Northern Ireland are exempt and pay no stamp duty on properties up to £300,000, or £500,000 in London. 
Currently, property owners pay 2% on homes valued from £125,001 to £250,000, 5% on homes valued from £250,001 to £925,000, 10% between £925,001 and £1,500,000 and 12% above £1,500,000.
Stamp Duty Holiday: Will it Help the Property Market?
Housing experts have responded positively to the proposal, acknowledging that it could have immediate benefits to the UK economy,
Tom Bill, head of UK residential research at estate agents Knight Frank, said: "A stamp duty holiday would provide welcome financial relief for millions of people, including first-time buyers. The government understands that moving house has far-reaching benefits for the UK economy and this may form part of a wider re-think of property taxation that recognises this strategically important role. 
"However, it would need to be introduced immediately to prevent buyers from putting plans on hold and losing the momentum that has built since the market reopened."
Claire Lloyd, editor of Homebuilding & Renovating, agrees that time is of the essence, and that the sooner the stamp duty holiday is implemented, the sooner the benefit to the economy will be observed. 
"A stamp duty holiday will be very welcome news for many looking to move in 2020/21, including those buying renovation projects," she said. 
"However, if the holiday is not implemented until the Autumn Budget, as speculated, then this could in fact have a negative impact on the housing market over the summer months — with many prospective buyers, particularly families and individuals looking to buy within the upper thresholds of the proposed £300k-£500k limit, tempted to hold off until the holiday comes into effect."
Stamp Duty: How This Could Affect Self Builders?
Unless you already own a building plot, self builders looking to buy plots need to set aside a sum for the cost of buying a site, as well as legal fees and stamp duty. 
(MORE: How Much Does It Cost to Build a House?)
The tax threshold self builders are required to pay for a plot is the same that property owners have to pay when buying a new home. Fortunately, self builders only pay stamp duty on the plot and not the finished value of the house which will sit on that plot.
Jason Orme, managing director of Homebuilding & Renovating says the new proposals could open the door for more aspiring builders to begin a self build project.
Orme said: "Self builders have traditionally benefited owing to the fact that they only pay SDLT on the price of the plot rather than the finished house value, but even so this proposal gives a further incentive to people looking today to purchase plots and reduce initial cash outgoings. It's hugely welcome news for self builders."
Homebuilding & Renovating Newsletter
Get the latest news, expert advice and product inspiration straight to your inbox.
Thank you for signing up to Homebuilding. You will receive a verification email shortly.
There was a problem. Please refresh the page and try again.