Planning Reforms Could be Revolutionary For the Self Build Industry
The government's new white paper on planning reforms has been praised for its pledges to help more people self build their own homes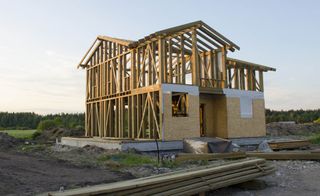 (Image credit: Getty Images)
The government has proposed a series of planning reforms that could be game-changing for the self build industry. 
The Planning for the Future white paper, published on Thursday 6 August, is now open for consultation until 29 October, and proposes major reforms to the planning permission system in England. It has been described by experts as the most ambitious planning reforms since the Town and Country Planning Act was founded in 1947.
To simplify the role of local planning authorities, a form of zone planning will be introduced which will classify land for either growth, renewal or protection. Land in growth areas will benefit from automatic permission, while land in urban renewal areas will be granted permission in principle. 
(MORE: How land will be designated)
How the Planning Reforms Support Self Build
The self build industry is referenced several times in the white paper, with the government reiterating its intention to support self builders. The pledges include:
Allowing local planning authorities to identify sub-areas in their Growth areas for self and custom build homes, so that more people can build their own homes
Local authorities should also identify enough land to meet the requirements identified in their self build and custom housebuilding registers
To explore how disposal of publicly owned land can support small and medium-sized enterprises (SMEs) and self build sectors
To maintain the exemption of self and custom build development from the newly-announced Infrastructure Levy (which will replace the Community Infrastructure Levy). 
What do These Pledges Mean?
While these are strictly proposals during the consultation period, and the details are yet to be mapped out, these pledges could be revolutionary for the self build industry, and individuals hoping to build their own homes.
The pledge to identify sub-areas in growth areas could mean that any self build plots within land for these growth areas will automatically receive planning permission. This is a seismic development for those hoping to build their own homes, and could see more self build plots coming to market, too.
The proposals have been praised by self build industry body the National Custom and Self Build Association (NaCSBA). Andrew Baddeley-Chappell, NaCSBA's CEO, said: "NaCSBA warmly welcomes today's Planning Consultation Paper, the most ambitious planning reform since the foundation of the modern planning system in 1947.
"The specific support for custom and self build and community-led housing including, for the first time, the allocation of land; plus greater use of public land will transform the quality, sustainability, and value of new homes in this country. 
"Access to suitable permissioned land remains the key constraint to the growth of our sector.  These proposals now need to be combined with ensuring the existing Right to Build legislation operates as intended and that the manifesto commitment to a 'Help to Build' scheme is delivered."
(MORE: 5% Increase in People Who Want to Self Build Their Homes, NaCSBA reports)
What Else Has Been Announced?
Housing secretary Robert Jenrick has proposed new measures throughout the year to transform the planning system, which have now been put forward in the white paper. These include:
New online planning proposals so that local communities will be consulted from the very beginning of the planning process
Ensuring all councils have a local plan for housing - currently only 50% of local areas have such a plan
To build homes quicker, local housing plans will be developed and agreed in 30 months - down from the current average of seven years
A new national charge for developers called the Infrastructure Levy will replace the existing Section 106 agreements and the Community Infrastructure Levy, to prevent delays. This will be a nationally set, value-based flat rate charge
A fast-track planning system will be introduced for "beautiful buildings" (which could be beneficial to self builders)
All new streets will have to be tree-lined.
The government has also confirmed that from September prior approval will be required in order for homeowners to extend their home by up to two storeys through Permitted Development.
"Where we are taking forward existing schemes to expand the scope of permitted development through upwards extensions and demolition/rebuilding, we also intend to legislate so that prior approval for exercising such rights takes into account design codes which are in place locally (or, in the absence of these, the National Model Design Code)," reads the white paper.
Better Quality Homes
Housing secretary Robert Jenrick says the sweeping changes to England's planning system will help build better quality homes, and at a faster pace. 
Mr Jenrick told BBC Breakfast: "We have a major housing challenge but also a major economic challenge and a lot of people's jobs depend on this industry. We think our new system will still be democratic, it will still have local engagement but it will be much faster and help us to meet the needs of the next generation."
The changes are expected to only impact on England, as planning policy is devolved to the administrations in Scotland, Wales and Northern Ireland.
Homebuilding & Renovating Newsletter
Get the latest news, expert advice and product inspiration straight to your inbox.
Thank you for signing up to Homebuilding. You will receive a verification email shortly.
There was a problem. Please refresh the page and try again.