House Prices Hit New Record, But Market Set to Cool
By Jack Woodfield published
House price growth will likely slow down later this year, but for now the record highs keep on coming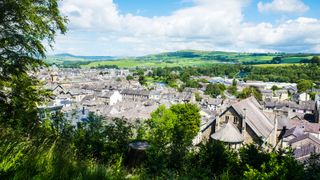 (Image credit: Getty Images)
House prices have hit a fifth record high this year, but the pace of growth is set to slow in the second half of 2022, Rightmove says.
Latest Subscription Offer
The property website's new house price index shows the average asking price reached £368,614 in May, a fifth consecutive rise - and up 9.3% on this time last year - but the smallest monthly increase (+0.3%) since January.
Rightmove says that amid the cost of living crisis and continuing interest rate rises, the pace of the red hot housing market is easing, which would be welcomed by first-time buyers and those looking to buy before renovating a house.
"After a very strong first half of the year, it is likely that the housing affordability crunch will have a greater impact on market behaviour in the months ahead, with further interest rate rises anticipated during that period," said Tim Bannister, Rightmove's Director of Property Science.
"This, alongside more choice coming on to the market for buyers and the usual seasonal variations we would expect, means there are likely to be some month-on-month price falls during the second half of the year."
When Will House Prices Drop?
Rightmove expects that the annual rate of price growth will be slashed almost by half from its current 9.7% to about 5% by the end of this year. However, this doesn't necessarily mean that prices are set to drop anytime soon.
The housing market is still much busier than pre-pandemic norms, Zoopla said in its April house price index. Both the proportion of sellers reducing their asking price and the time taken to sell a home have increased.
But Zoopla agrees there are signs of a market slowdown. Annual house price inflation decreased 9% in March to 8.4% in April, and Zoopla expects this to fall to 3% by the end of the year.
However, in a separate analysis conducted by economic forecasting group the EY Item Club, house prices will enjoy "continued growth" this year and a market crash or slowdown is "unlikely".
The group based its findings on the Treasury's model of the UK economy, and predicts that house prices will end the year 8% higher (a cost of £283,000) than they were at the end of 2021. This would be 23% higher than the pre-pandemic average asking price of £231,000 during the first three months of 2020.
Significantly, the group also expects house prices rise – 1.8% and 1.2% – in 2023 and 2024 respectively.
Why Have House Prices Been so High?
The primary reasons behind house price growth, which surged during the Covid pandemic, included the stamp duty holiday and the new mortgage guarantee, as well as the 'race for space' which saw more people looking for bigger properties following the move to working from home.
Detached homes have increased by £68,000 since the start of pandemic, a 22% rise, Nationwide said in April, with people working from home seeking out bigger properties.
Moreover, demand is outstripping the number of homes for sale. Buyer demand is more than double (+113%) the pre-pandemic five-year May average, Rightmove says, although this measure was down by 8% in May compared to April.
Yet, the impact of soaring inflation, energy price rises and increasing interest rates could yet prove influential and make it more expensive to buy a house. The Bank of England has increased interest rates five times since December, and this could eventually impact the housing market.
Supply is on The Rise
One of the key consequences of the demand to make the most of the stamp duty holiday, and to push through deals before the stamp duty holiday extension expired, was a staggering shortage of available properties. This became a principal reason for asking prices rocketing up.
But the number of listings is finally starting to rise. According to analysis by Knight Frank in May, there was a 19.2% increase in the number of new listings between January and April this year in England and Wales.
Notably, supply is building much more quickly in rural areas than in urban markets. The growth in new properties for sale in Wales jumped by a third in this period, but there was an increase of only 5.7% in London (the smallest rise).
But Rightmove has warned of a "conveyancing logjam" which means those looking to sell a property need to come to market this summer to be in with the best chance of moving before Christmas.
On average it is taking 150 days to complete a purchase after agreeing a sale – 50 days longer than during the same period in 2019, Rightmove says.
Where are House Prices Rising the Most?
Wales has seen the highest rate of growth so far in the UK in 2022, with April's asking price increase of 11.6% representing the 15th consecutive month of house price growth, Zoopla says.
The clamour to live in Wales follows a stellar 2021 for the country, where it was the regional asking price hotspot, according to Rightmove. Moreover, Mountain Ash in Wales was the place in the UK where house prices rose the most in 2021.
London, meanwhile, has been the weakest performing region in 2022 with house price growth of 3.6% in April, according to Zoopla.
First-Time Buyers Face Financial Struggle
Raising a deposit remains the biggest issue for first-time buyers, despite the number of first-time buyers increasing by 93.2% in the last decade, according to research from Stipendium.
First-time buyers need a 112% larger deposit compared with 10 years ago, Rightmove says, and that's before they've even begun to pay back their mortgage.
Mortgages are on their way to being as unaffordable today as they were during the financial crash of 2008, says Octane Capital, which calculated that based on the average house price being £276,019 and a 3-year fixed-rate mortgage having a 75% LTV, an aspiring buyer would currently be looking at a loan amount of £207,014 once a 25% deposit (£69,005) had been accumulated.
The UK currently has one of the least affordable housing markets in the world, according to a money.co.uk study.
Jack has worked in journalism for 11 years and is the News Editor for Homebuilding & Renovating, a role he has had since 2019. He strives to break the most relevant and beneficial stories for self builders, extenders and renovators, including the latest news on the construction materials shortage and hydrogen heating. In 2021 he appeared on BBC's The World at One to discuss the government's planning reforms.
He enjoys testing new tools and gadgets, and having bought his first home in 2013, he has renovated every room and recently finished a garden renovation.
Homebuilding & Renovating Newsletter
Get the latest news, reviews and product advice straight to your inbox.
Thank you for signing up to Homebuilding. You will receive a verification email shortly.
There was a problem. Please refresh the page and try again.