House Prices Soared to All-Time High in November
Here's what you need to know about house prices if you're looking to buy or sell in 2021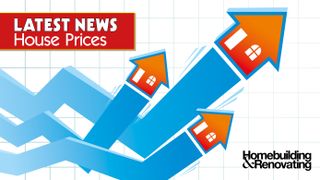 (Image credit: Future)
House prices in the UK hit an all-time high of £250,000 in November, according to the Office for National Statistics (ONS).
Average house prices increased by 7.6% in the year to November 2020, up from 5.9% in October. And the average price of a house in London passed £500,000 for the first time. 
The ONS findings echo similarly healthy reviews of the housing market in recent months. Halifax reported earlier this month that house prices were 6% higher in December compared to one year prior, and in December Rightmove predicted a 4% rise in house prices in 2021. 
There are already signs of the market slowing, however. Halifax reported that prices rose by 0.2% from November-December, the slowest monthly rise of the last six months. And analysts generally expect prices to fall in 2021. 
So if you're planning to sell or buy a home in the new year, or buy before renovating a house, here's what you need to know.
Will House Prices Drop in 2021?
House prices soared in the second half of 2020, but analysts predict this will drop off in 2021. 
Russell Galley, managing director at Halifax, said: "With the pace of the UK's economic recovery expected to be constrained by the renewed national lockdown, and unemployment widely predicted to rise in the coming months, downward pressure on house prices remains likely as we move through 2021."
Ross Counsell, chartered surveyor and director at Good Move, added: "As the world hopefully resumes some normalcy this year, we do not expect 2021 to follow 2020's footsteps with the staggeringly high house prices, and we therefore expect 2021 to be a solid year for buyers."
House Prices Impacted by Stamp Duty Holiday
The stamp duty holiday announced in July played a key role in the housing market strengthening in 2020. The tax break exempts the first £500,000 of all property sales from the tax, and expires on 31 March 2021. 
There was a frenzied rush throughout the second half of the year to push sales through in time, and this helped to keep house prices high, amid widespread predictions that widespread job losses and the economic downturn as a result of the pandemic would lead to the market cooling. 
House prices could drop if the tax break expires in March, as planned. But a petition for a stamp duty holiday extension last week hit 100,000 signatures, triggering a debate in parliament about whether it should be extended until September. 
There are now fears that a logjam could see 325,000 homeowners miss out, and the looming end date has been considered a salient factor for why house prices could prospectively drop, with homeowners repricing their homes to ensure they agree a sale in time.
But this hasn't been reflected in recent house price indexes from Halifax, Nationwide and Rightmove, and data indicates that demand for property remains high, and prices could remain resilient.
Tim Bannister, Rightmove's director of property data, said: "There's likely to be a lull in quarter two unless the stamp duty holiday is extended, but for many buyers its removal will not be make or break, though may lead them to reduce their offers to a degree to compensate for the higher tax, and indeed many sellers may be prepared to help to mitigate their buyer's financial loss."
Uncertainty Over Brexit and the Pandemic
Both are salient issues regarding the trajectory of house prices. 
Experts had been concerned that a no-deal Brexit could result in a short-term hit to house prices, but the trade deal announced over Christmas should provide the housing market with stability. 
Meanwhile, the housing market remains open despite a third lockdown, but a drop-off in demand is expected in 2021 after a surge in pent-up demand following the first lockdown.
While some experts suggest that house prices could rise because of the impact of Brexit, others are more optimistic. 
Joshua Elash from MT Finance, said: "The longer-term effects of the pandemic are yet to be borne out, but with vaccines being rolled out, and a Brexit deal on the table, we have a more positive outlook and now don't expect that there will be a significant correction in house prices in 2021."
Unemployment to Rise
Unemployment is forecast to rise to 7.5% this year, from a current rate of 4.8%. And when the government's furlough scheme ends in April, there could be 2.6 million people unemployed by the middle of the year. 
This combined with the economic downturn is expected to drive down house prices this year.  
Homebuilding & Renovating Newsletter
Get the latest news, expert advice and product inspiration straight to your inbox.
Thank you for signing up to Homebuilding. You will receive a verification email shortly.
There was a problem. Please refresh the page and try again.