House Prices: July Rise is Biggest Single-Month Increase in 11 Years
House prices rebounded in July after a notable drop in June, but forecasters have warned that uncertainty remains, especially in the long term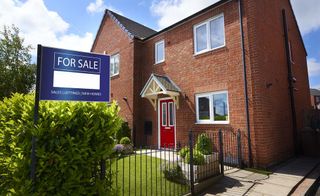 (Image credit: Getty Images)
House prices rose 1.7% in July on average in the UK, the biggest single-month increase since August 2009, Nationwide reports.
These findings will reassure the housing industry following a turbulent four months, especially after prices dropped by an average of 1.6% in June. But uncertainty remains over house prices in the long term, which could impact first-time buyers looking to get a rung on the housing ladder, and those who are planning to buy before renovating a house.
Asking prices had reached an all-time high of £309.339 earlier in the year, but the Covid-19 pandemic led to a housing market freeze, and prices now remain 1.6% lower than in April, when the average house cost £311,950. 
However, the upturn in July means that prices are now 1.5% higher than they were in July 2019, and this 1.7% monthly increase means that this is the biggest single-month increase in 11 years. 
The value of the average UK home jumped by £4,533 in July, Nationwide says, reaching £220,936.
Will House Prices Keep Rising?
Nationwide has warned that while this level of housing market activity is better than expected - attributed to a surge in pent-up demand amid lockdown restrictions easing - there is a risk that the rise in house prices could be a false dawn. 
"The bounce back in prices reflects the unexpectedly rapid recovery in housing market activity since the easing of lockdown restrictions," said Nationwide's chief economist Robert Gardner.
"However, there is a risk this proves to be something of a false dawn. Most forecasters expect labour market conditions to weaken significantly in the quarters ahead as a result of the aftereffects of the pandemic and as government support schemes wind down."
Gardner noted that unemployment is forecast to rise sharply later this year when the government's Coronavirus Job Retention Scheme ends on 31 October, and this could ultimately impact house prices due to fewer people being able to afford to move homes. 
(MORE: House Prices: 300% Increase Reported in Past 20 Years)
Stamp Duty Holiday
Gardner credited the recently announced stamp duty holiday as helping to boost market activity, and this could push prices up in the short-term.
"These trends look set to continue in the near term, further boosted by the recently announced stamp duty holiday, which will serve to bring some activity forward," he added. 
The stamp duty holiday means that homebuyers will not pay tax on the first £500,000 of any property purchase until 31 March 2021. A petition has since been launched to backdate this tax break throughout the entirety of the coronavirus pandemic. 
(MORE: House Prices: Stamp Duty Holiday Leads to 'Mini Boom', Rightmove Says)
House Prices: The Long-Term Picture
Forecasters believe the government needs to employ long-term measures to ensure that any downslide in house prices later in the year is limited, 
Ross Counsell, director at Good Move, said: "We expect to see a continuous boost in house prices across the UK, increased by measurements the government have put in place to support the market including the stamp duty holiday.
"However, one important thing to note is that the government must employ long-term measures to help the market truly recover."
Jeremy Leaf, an estate agent and former residential chairman Royal Institution of Chartered Surveyors agrees that long-term planning could prevent short-term disruption.
"These numbers are not surprising to us as they reflect what we are seeing on the ground as pent-up demand continues to be released and new listings pick up since the housing market reopened," he said.
"Activity has been given added impetus by the stamp duty holiday and continued low interest rates. However, concerns remain as to the longer-term prospects for recovery bearing in mind the risk of further Covid spikes and rising unemployment as furlough support falls away."
Homebuilding & Renovating Newsletter
Get the latest news, expert advice and product inspiration straight to your inbox.
Thank you for signing up to Homebuilding. You will receive a verification email shortly.
There was a problem. Please refresh the page and try again.