House Prices: First Annual Drop Reported Since 2012
Market volatility could continue throughout the year, according to Nationwide, which reports negative annual growth in house prices in June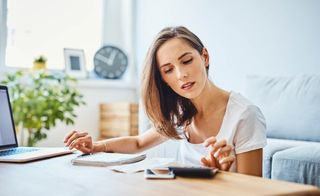 (Image credit: Getty Images)
UK annual house prices have fallen for the first time in eight years, due to plummeting sales and viewings during the coronavirus lockdown, Nationwide has revealed.
While this is concerning for those in the midst of selling their homes, it could be reassuring for first-time buyers looking to get a rung on the housing ladder, and for those who plan to buy before renovating a house.
Property values were 0.1% lower in June than the same month one year ago, as annual house price growth ground to a halt in the wake of the housing market freeze earlier this year.
This is the first time annual house price growth has been in negative territory since December 2012. The month-on-month fall of 1.4% from May to June reported in the Nationwide Housing Index means that the average UK house price is now £216,403.
Robert Gardner, chief economist at Nationwide, said: "It is unsurprising that annual house price growth has stalled, given the magnitude of the shock to the economy as a result of the [coronavirus] pandemic.
"Economic output fell by an unprecedented 25% over the course of March and April — almost four times more than during the entire financial crisis. Housing market activity also slowed sharply as a result of lockdown measures implemented to control the spread of the virus."
(MORE: Build, Build, Build: Boris Johnson Pledges to Deliver More Homes to Kick Start the Economy)
House Prices: Will They Fall?
Nationwide said the outlook for the housing market remains "highly uncertain" throughout 2020.
While viewings, sales and transactions have resumed across much of the UK, uncertainty over job security and incomes will inevitably prompt some to rethink their plans.
However, there have been bubbles of high activity too. Annual price growth picked up in the North West by 4.8%, and Nationwide previously reported that house prices rose in April by 3.7%.
"Much will depend on the performance of the wider economy, which will in turn be determined by how the pandemic and restrictions on activity evolve," said Gardner.
Highly Uncertain
"Nevertheless, the medium-term outlook for the housing market remains highly uncertain," said Robert Gardner.
House sales are currently at half the levels of this time last year, but the further easing of lockdown in England will likely result in increased housing market activity.
The housing market reopened in Scotland earlier this week, and in Wales a few weeks ago. This lifting of restrictions and movement between counties could prove instrumental.
There is still a long way to go, however, before the economy shows signs of recovery, and with the UK reportedly moving into a recession, the housing market could be volatile for months to come.
Ross Counsell, chartered surveyor and director at Good Move, said: "As lockdown measures begin to ease, we expect house prices to bounce back fairly soon. However, this is thoroughly dependent on how the wider economy performs and the raft of policies put in place by the government to support the economy and protect businesses, jobs and incomes. These factors should help limit long-term damage to the UK housing market."
Homebuilding & Renovating Newsletter
Get the latest news, expert advice and product inspiration straight to your inbox.
Thank you for signing up to Homebuilding. You will receive a verification email shortly.
There was a problem. Please refresh the page and try again.