Homebuilding Insight: Hundreds of Self Build Projects and Developments Blocked in Herefordshire
Herefordshire Council says it is pursuing avenues to lift its housing moratorium, which has restricted self builders for more than 10 months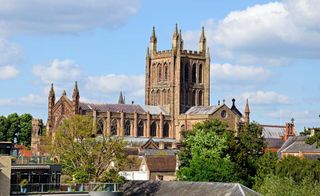 (Image credit: Getty Images)
Self builders in Herefordshire are facing planning delays and obstacles as a result of a housing moratorium on new development due to phosphate contamination in the protected River Lugg catchment area. 
Herefordshire Council issued the moratorium, which covers about 40% of the county, in October 2019, citing concern that allowing new housing (including self build) would contravene European Habitat legislation due to failing water quality as a consequence of high nutrient loads. 
Ten months on, the council and the various agencies sitting on the Herefordshire Nutrient Management Board have struggled to find a solution. Homebuilding in Herefordshire has ground to a halt, and this impasse is preventing new plots coming to market.
Planning permission applications for over 1,100 homes are on hold, which dates back to the months prior to the moratorium, and this figure is reportedly rising weekly.
The Importance of Nutrient Neutrality
Nutrient neutrality generally refers to the balance of nitrogen and phosphorus found in river water. These nutrients typically come from:
Agricultural fertiliser run off
Animal waste 
Building new homes
Discharges from sewage treatment works
If the nutrient levels are too high for a long period of time, an area cannot be classified as favourable and the protected environment is deemed by Natural England to be at risk. This is especially significant in designations such as Special Areas of Conservation (SACs), which are areas protected by European Habitats Directives (and will be carried over after Brexit).
A major consequence of phosphate pollution is seasonal algae bloom, which restricts the growth, distribution and variety of food and oxygen for native bird species and marine life. 
If the pollution affects a protected designated habit site - and there are 82 EU designated SACs in England - then new development in the area cannot be approved until favourable conditions are restored to the water, and a functioning Nutrient Management Plan (NMP) is in place. The NMP must be judged to be scientifically certain of maintaining favourable conditions by a stated time.
In 2019, Natural England advised some councils with failing SACs to consider if their NMPs were fit for purpose, and not to approve housing schemes which were not able to demonstrate nutrient neutrality.
Impact of the Moratorium 
Both existing and new self build planning applications in Herefordshire were suspended in October 2019, and self builders with land who had not yet started building faced the prospect of not being able to get drainage planning conditions (such as council permits for off-mains drainage solutions) approved.
Merry Albright, creative director at Border Oak and co-chair of the recently formed Herefordshire Construction Industry Lobby Group, told Homebuilding & Renovating: "Herefordshire is a massive self build county - custom and self build projects contribute a huge amount to the local economy and rural communities, but all planning approvals for new homes in a large part of the county have been stopped since late last summer.
"This means there is a huge shortage of new plots which is very troubling when we already have a housing deficit, but we are also worried about sites with planning already approved, where the permission will run out if a solution cannot be found quickly."
Herefordshire Council reports that there were 591 people who had signed up to the self build or custom build registers in the county as of December 2019, but it is likely that this is just the tip of demand in a county with a long and successful legacy of self build and small developments.
(MORE: Right to Build)
Ten months on, the situation remains unresolved for many self builders and those who work in the market. 
How are Self Builders and Renovators Affected?
It is estimated that there are over 150 potential self build plots currently stuck in the planning process at Herefordshire Council. 
The impact of this upon self builders, and those who offer services to self builders - from architects to builders' merchants, tradespeople to package home companies - is catastrophic.
Self builders who've already purchased plots with existing planning permission in the moratorium zone can only go ahead with their project under one of two conditions:
If they already have made a technical start with all their planning conditions relating to drainage already discharged
If the permission is subject to the local authority issuing a Habitats Regulation Assessment (HRA) - which essentially states that building will not harm the damaged environment further
Herefordshire Council is not currently not issuing HRAs for the vast majority of new home applications. And only a handful of approvals have been able to utilise the criteria.
This is because while Natural England has provided a set of development criteria to help some applications show that there will be no additional phosphate contribution by means of specific drainage circumstance, this can only be applied to a minority of sites which do not have mains drainage and where the slope of the site and underground geology meets specific tests. This is reportedly very difficult to prove. 
Those looking to convert or restore buildings into dwellings will have the same issue and not be able to secure an HRA, thus preventing approval or the commencement of work. 
The moratorium had previously held up extension projects too, but Herefordshire Council relaxed its interpretation for extensions earlier this year, and now many are passing through. 
Herefordshire Council's Response
Five months after issuing the moratorium, Herefordshire Council offered a position statement on housing development in the River Lugg catchment area. 
It said: "Natural England has advised that for any plans or projects in the River Lugg catchment which require an appropriate assessment, the effects are currently uncertain. This is because there is reasonable scientific doubt as to whether the NMP provides adequate mitigation and can be relied upon to underpin a conclusion of no adverse effects on integrity." 
The council concluded that the NMP would likely need to be reviewed, "in order to provide an increased level of certainty and allow it to be relied upon as mitigation in an appropriate assessment again". Moreover, the council confirmed that it was seeking legal advice on how to best proceed.
At the time the moratorium was enforced, it was reported that Herefordshire Council was unable to process around 130 applications for 1,100 homes. But with the moratorium ongoing it is widely expected that the backlog of applications will keep growing. 
What Action Has Been Taken?
Herefordshire Council signed off a cabinet member decision on 10th August to allocate £2m from its New Homes Bonus Reserve to construct up to eight integrated wetlands, which will serve to remove phosphate from small village sewage works that do not benefit from phosphate stripping.
This, the council says, combined with the purchase of agricultural land to be used to offset phosphate should serve to create the headroom needed through phosphate credits to lift the moratorium.
A spokesperson for Herefordshire Council listed two other avenues the council is pursuing:
Finalising a memorandum of understanding paper with its regulatory partners
Commissioning an 'Interim Report' on the current status of phosphates in the River Lugg and how this is best mitigated
No set time frames have been revealed as to when these plans will be actioned. 
Are Other Counties Affected?
Nutrient pollution has been a significant problem for Hampshire as well. Portsmouth City Council (PCC) was among the local authorities that initiated a moratorium on new housing development in June 2019, while it sought legal advice on how to adhere to Natural England guidelines. It moved to solve the problem by adopting an interim nitrate credit system, and subsequently lifted its moratorium in November 2019.
Herefordshire Council confirmed that its Interim Report is going to explore this method of prospectively ending the impasse. 
What Can Self Builders Do?
For those who've bought a self build plot with planning permission but cannot build, the council has this advice: "Take advice from a reputable consultancy on what alternative drainage measures could be put in place or what alternative proposal could be put forward to mitigate the expected impact from the phosphates from their development."
What If I've Not Bought my Plot Yet?
Craig Alexander, a chartered architect at Oakwrights, said: "Research your plot very carefully before purchasing. Even if a site has planning permission, there can be hold-ups discharging reserved matters, planning conditions or amending designs.
"Research on-site mitigation measures, for example, if it can be demonstrated that your site will be 'neutral' for impacts on the relevant compound."
Homebuilding & Renovating Newsletter
Get the latest news, reviews and product advice straight to your inbox.
Thank you for signing up to Homebuilding. You will receive a verification email shortly.
There was a problem. Please refresh the page and try again.