Heat Pumps Suitable for All Types of Homes, New Project Finds
By Jack Woodfield published
A government-funded project says there is no "particular type or age of property" that can't have a successful heat pump installation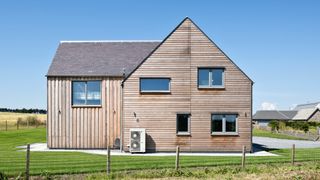 (Image credit: Allan Corfield Architects)
Heat pumps are suitable for all property types and architectural eras, according to a new government-funded study.
The Electrification of Heat (EoH) project, funded by the Department for Business, Energy and Industrial Strategy (BEIS), successfully installed heat pumps in Victorian mid-terrace homes to pre-WWII semi-detached houses, as well as a 1960s block of flats.
Air source heat pumps and ground source heat pumps are seemingly the government's preferred low-carbon heating system to help the UK reach net zero by 2050. But there are many factors which can determine whether a heat pump is suitable for your home. For example, you'll need to have space for an air source heat pump to be attached to a wall or fitted on the ground, with space around it to ensure a good airflow.
Energy Systems Catapult, which was appointed to lead the Management Contractor consortium of the EoH, says that suggestions some home archetypes are 'unsuitable' for heat pumps are not supported by this project.
"The project has not identified any particular type or age of property that cannot have a successful heat pump installation," the group said.
Heat Pumps Will Become the 'Obvious Choice'
The EoH was a demonstration project which tested a large-scale rollout of heat pumps into existing UK homes. These findings are from the first report on the project experience and data, which includes data on the numbers and types of heat pumps installed, and on vs. off gas grid installation.
In total, 742 heat pumps were installed in three regions across the UK between June 2020 and October 2021. Air source heat pumps, ground source heat pumps and hybrid heat pumps were installed in a wide range of housing types and socio-economic groups, with some solar batteries installed too.
There was a shortfall in the number of installations achieved in pre-1945 properties, which suggests that there are still challenges with older homes, but the study team says this "was within planned tolerances".
Around 80% of installations occurred in properties that were previously connected to the gas grid and where the primary heating system had been fuelled by mains gas.
Energy minister Lord Callanan said of the report: "Heat pumps powered by clean, renewable energy will be key to warming UK homes in a net zero future.
"This trial demonstrates that low carbon heating systems are an effective alternative for homes of all types and ages. As technology continues to improve and costs plummet over the next decade, they will become the obvious, affordable choice for consumers."
What Happens Next?
The EoH project will now move on to monitoring the performance data of the heat pumps, to assess whether they are performing to expectations for energy efficiency, as well as the experiences of households.
The aim of the project is to "get homes heat pump ready", according to Energy Systems Catapult, and the next stages will be particularly interesting when it comes to the running costs of heat pumps, and how they vary between households.
Multiple factors can impact running costs, such as the efficiency rating of the heat pump, the level of demand for central heating, and whether a home is sufficiently insulated.
The government is launching the Boiler Upgrade Scheme in April 2022 to help homeowners get grants of £5,000 or £6,000 towards the cost of heat pump installations.
Jack has worked in journalism for 11 years and is the News Editor for Homebuilding & Renovating, a role he has had since 2019. He strives to break the most relevant and beneficial stories for self builders, extenders and renovators, including the latest news on the construction materials shortage and hydrogen heating. In 2021 he appeared on BBC's The World at One to discuss the government's planning reforms.
He enjoys testing new tools and gadgets, and having bought his first home in 2013, he has renovated every room and recently finished a garden renovation.
Homebuilding & Renovating Newsletter
Get the latest news, reviews and product advice straight to your inbox.
Thank you for signing up to Homebuilding. You will receive a verification email shortly.
There was a problem. Please refresh the page and try again.