Fluctuating House Prices and Need for Space Drive Desire for Countryside Living, Experts Report
Homeowners chase their countryside dream home as house prices fluctuate and lifestyle requirements change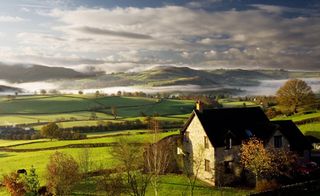 (Image credit: Getty Images)
More homeowners want to live in the countryside amid uncertainty over house prices and the desire for more space, industry experts suggest.
Both Halifax and Nationwide have reported that house prices increased in August, but forecasters expect a drop again later this year as the UK economy continues to battle the impact of Covid-19.
These peaks and troughs will be of keen interest to first-time buyers looking to take their first step onto the housing market, as well as those looking to buy before renovating a house - but could a countryside move appeal?
An August survey from real estate agents Savills shows that 48% of people want to live in a village, up from 39% in April. Similarly, 53% said they find the countryside an appealing place to live, up from 41% in April.
Data from Rightmove confirms that the call to the countryside is spreading. Estate agents saw a 126% rise in enquiries for countryside homes during June and July compared to the same period in 2019.
Moving to the countryside offers several advantages, not least the peace and tranquility of moving out of the city or suburban areas, but it could make more financial sense for homeowners looking to gain more space in the wake of lockdown, especially given the uncertainty of projections for house prices throughout the rest of the year.
What to Expect from House Prices
2020 has been a turbulent year for house prices. January began with industry optimism as Rightmove reported that asking prices reached a near all-time high of £309.339, on average. But the Covid-19 pandemic led to a market freeze which saw prices drop.
Meanwhile many homeowners have had to adapt to new ways of living due to working from home and subsequently investing in home improvements designed to make the most of their space.
Chancellor Rishi Sunak announced a stamp duty holiday in July to bolster the housing market, and house prices soared in the wake of easing lockdown restrictions (which meant house viewings could resume) and the government's announcement.
Since the pandemic started, house price forecasts have ranged from falls of between 3% and 15%, and further instability is expected due to the UK entering recession in August.
But property agents Zoopla believes that the stamp duty holiday will delay house prices falling until next year, and that pent-up housing demand will continue to grow.
"We expect the current momentum in market activity to continue into the last three months of the year," said Richard Donnell, Zoopla's research and insight director.
"The next important milestone for the housing market comes in September when schools reopen and the UK starts to get back towards a full reopening of the economy."
(MORE: How Will House Prices be Affected by the UK Recession?)
However, the government's Coronavirus Job Retention Scheme ends on 31 October, and unemployment is a chief concern for how house prices will hold up for the rest of the year.
Lucian Cook, from Savills, said: "The momentum we have seen over the summer will continue into the autumn, but in the fourth quarter it will be more difficult to sustain."
Weighing up a Countryside Move?
With working from home here to stay for many, estate agents believe homeowners are weighing up their options to see whether now is the best time to move to the countryside.
"The lure of a new lifestyle, one that is quieter and has an abundance of beautiful countryside and more outdoor space, has led to more city dwellers choosing to become rural residents," said Miles Shipside of Rightmove.
Savills recently reported the strongest July of activity in the prime regional and country house markets since 2007, and a rural move could make sense to many if it's financially viable.
"Financially, some people are starting to view countryside properties as offering better or good value-for-money compared to flats and houses in city locations," says Jessica Sellick from Rural Services Network.
Telegraph writer Peter Stanford agrees that the countryside is where the value lies as homeowners plan life after lockdown. "Right now, there is such a disparity between property prices in cities and in the countryside, you can get so much more for your money both in terms of space and lifestyle."
Countryside Costs Could Rise
With demand increasing, estate agents believe that prices are concurrantly rising for homes in some locations near the coast and in the country.
According to estate agent Hamptons, the average home sold in the countryside in the last four months went for 97.9% of its asking price, the highest share in three years. Additionally, 16% of countryside homes were sold for more than the asking price.
Frances Clacy, an analyst at Savills, believes that this demand could lead to competition for countryside homes, a trend which she doesn't expect to go away any time soon.
"Many predicted that the immediate shift in priorities seen in April was just a response to lockdown, and would be short-lived, but our latest survey highlights greater commitment from people to make real changes.
"But, while reports of competitive bidding become widespread, buyers are keeping their feet on the ground in terms of what they're willing to pay in the current economic climate.
"Keeping buyer and seller expectations on pricing aligned will be key to maintaining the summer momentum through the autumn and beyond."
Homebuilding & Renovating Newsletter
Get the latest news, expert advice and product inspiration straight to your inbox.
Thank you for signing up to Homebuilding. You will receive a verification email shortly.
There was a problem. Please refresh the page and try again.