A renovation bargain? Houses in old coal mining town go on sale for £5k each
Horden and its residents has been referred to as a "ghost town" after the area failed to recover after the closure of the local mine in 1987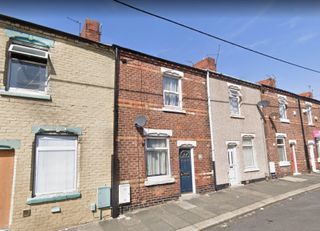 (Image credit: Google)
A former mining area in north-east England has terraced houses going up for auction with a starting price of just £5,000.
Horden is a village on the coast of County Durham and has seen its population plunge since a nearby colliery (coal mine and its associated buildings) closed in 1987.
The low prices in the area may present an opportunity for anybody thinking of renovating a house for a bargain price.
Five terraced homes up for grabs for £5k
A total of five two-bedroom houses have a guide price of £5,000, while others in the surrounding streets are going for between £10,000 and £45,000.
The five properties all appear to need varying degrees of renovation and have energy ratings of D and E.
The Rightmove mortgage repayment calculator estimates monthly repayments for these properties are just £27 a month over 25 years.
You can check them out on Rightmove here.
Houses just 2% of average price for UK home
The terraces cost a fraction of the average price of a UK home, which was £296,000 in October 2022, £33,000 higher than the same time last year.
They are worth just 1.69% of the price of an average UK home where the average cost of a two-bed property is £255,172 – 50 times as expensive.
For comparison, the properties cost less than a 2012 Vauxhall Astra hatchback that has done 65,000 miles.
The number of empty properties is starkly illustrated by the town's population dropping from 15,000 in 1951 to just 6,807 in the 2021 census.
Town was built around large coal mine
Horden used to have cinemas, sports pitches, and a bowling green thanks to the employment opportunities presented by the colliery, which opened in 1904.
YouTuber David Burnip visited the town for his channel Wandering Turnip, where he shares videos of some of the UK's cheapest homes.
He said: "Four thousand people were working at the coal mine, living here, spending their money, and bringing up families. And all those workers had to go elsewhere to find work."
Fake doors and windows to boost look of street
Mr Burnip also talked about the fake doors and windows the local council has painted on some of the plywood boards covering up the doors and windows of the empty houses.
He said: "I love them. You really think it's a door or a window. They look so good and they do make the houses look so much better than boarded-up houses."
A former miner he spoke to said: "It's gone down the banks since the collieries finished. It was better then because everyone took pride in what they had. Now they don't bother."
Get the Homebuilding & Renovating Newsletter
Bring your dream home to life with expert advice, how-to guides and design inspiration, direct to your inbox.
Sam is based in Coventry and has been a news reporter for nearly 20 years. His work has featured in the Mirror, The Sun, MailOnline, the Independent, and news outlets throughout the world. As a copywriter, he has written for clients as diverse as Saint-Gobain, Michelin, Halfords Autocentre, Great British Heating, and Irwin Industrial Tools. During the pandemic, he converted a van into a mini-camper and is currently planning to convert his shed into an office and Star Wars shrine.