6,700% Increase in Heat Pump Training Enquiries Reported in One Day
The surge in demand came on the day the government unveiled the Boiler Upgrade Scheme, which will subside the cost of heat pumps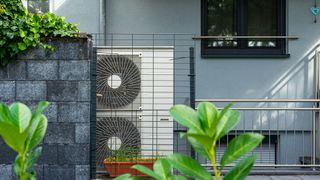 (Image credit: Getty Images)
There was a 6,700% increase in demand for training courses in the installation and maintenance of heat pumps in one day in October, a new study reveals.
The surge in demand came on the day the government unveiled the Boiler Upgrade Scheme as part of its Heat and Buildings Strategy. The scheme, launching in April 2022, will offer grants of £5,000 and £6,000 for 90,000 households to have low-carbon heating systems installed such as air source heat pumps and ground source heat pumps.
Logic4training, a building services training provider, says that demand for heat pump training has skyrocketed since. It experienced a 6,700% year-on-year increase in online enquiries on the day of the announcement. It also experienced a 433% week-on-week increase in traffic to its training courses web page.
The study also reveals that Google experienced the highest-ever search interest in 'heat pumps' following the announcement, with 100,000 searches on Tuesday 19 October.
There's Still a Shortage of Heat Pump Installers
Demand for heat pumps has soared this year, even prior to the Boiler Upgrade Scheme being announced, with more homeowners striving to be eco-friendly and embracing the benefits that come from installing heat pumps, such as lower long-term energy costs.
Therefore, the rocketing number of tradespeople looking to upskill in heat pumps is encouraging to help meet the government's target of installing 600,000 heat pumps in homes per year by 2028. However, there is uncertainty among experts that there will be enough qualified installers by 2028 to meet this target.
Last month the Heat Pump Association (HPA) warned that an estimated 60,000 workers will be needed by 2028, but only 1,800 people currently have the right training.
Phil Hurley, chairman of the HPA, has called for further incentives to encourage tradespeople to retrain, including vouchers and new apprenticeships that focus solely on green heating systems.
He said: "Clearly it is going to be a big challenge, but we do not think it is an insurmountable one. We are ready to respond by scaling up training and there is already a highly-skilled workforce out there, so the question now is really how we train them to install all of these heat pumps."
Jack is News Editor for Homebuilding & Renovating, and strives to break the most relevant and beneficial stories for self builders, extenders and renovators, including the latest news on the construction materials shortage and planning reforms. Having bought his first home in 2013, he and his wife have renovated almost every room and recently finished a garden renovation.
Homebuilding & Renovating Newsletter
Get the latest news, reviews and product advice straight to your inbox.
Thank you for signing up to Homebuilding. You will receive a verification email shortly.
There was a problem. Please refresh the page and try again.