Best LED Bulbs: Energy-Efficient Models to Light up Your Home
These are the best LED bulbs that combine energy efficiency and brightness to match your requirements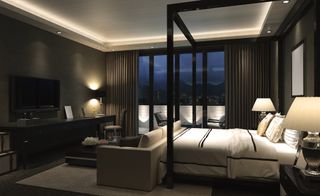 (Image credit: Getty Images)
LED (light-emitting diodes) lights are a smart solution for lighting our homes, and the best LED bulbs help us save energy (and therefore money) in the long term. 
LED lights consume far less energy than traditional light sources (such as incandescent or compact fluorescent light bulbs), but they are able to emit the same brightness. This is because of their excellent thermal efficiency, removing heat through heat sinks to prolong the life expectancy of the bulb.
Their versatility means you can integrate LED bulbs into your smart home, use them to create an intimate party atmosphere, and use them as night lights for your children. 
We've tracked down the best products available whatever your requirements are - here are six of the best LED bulbs for your home.
Best LED Bulb Links
Which is the Best LED Bulb?
1. TP-Link Smart Wi-Fi LED Bulb
Brightness: 600 lumens | Bulb fitting: E27 screw | Energy rating: A+ | Best for: Smart home
Great dimmable settings
Smart home integration
No remote controls
The best dimmable LED bulb around, the TP-Link Smart Wifi LED Bulb connects to your home's Wi-Fi through the free Kasa app - from there you can easilt manage your lights with your smartphone or tablet. 
The quality of the white bulbs are superb, and they are compatible with Alexa, Google Assistant and Cortana. The only negative is that it has no remote controls available, so the main method of using the lights is the app. 
Buy the TP-Link Smart Wi-Fi LED Bulb now
2. TECKIN Smart LED Bulb
A smart bulb designed to last
Brightness: 800 lumens | Bulb fitting: E27 screw | Energy fitting: A+ | Best for : Smart home
Remote control
Long-lasting
Could be sturdier
TECKIN's Smart LED Bulb is the smart choice for integrating into your home. 
Once paired with Alexa or Google Assistant you can turn it off and on with your voice, which is convenient for turning the bedroom light off without getting up, for example. You can also control it via the remote control provided.
It contains over 16 million colours, so you can set the mood for parties or relaxing nights. It's also really easy to use, install and maintain. 
Plus, it is long-lasting. It has a life-proof design of over 30,000 hours, or 27 years, if used three hours a day, meaning it is built to last. 
Buy the TECKIN Smart LED Bulb now
3. AmazonBasics LED
There's nothing basic about this LED bulb
Brightness: 806 lumens | Bulb fitting: E27 screw | Energy rating: A++ | Best for: Any room
Remarkably long-lasting
Not dimmable
This is an efficient LED bulb from Amazon, which provides vivid white colour, and requires no waiting time to warm up to full brightness. 
You won't have to worry about replacing these bulbs any time soon. With a lifespan of 15,000 hours, the bulbs will last over 13 years (based on three hours of use per day). 
Buying in bulk is a great way of setting the bulbs up around the house and not worrying about replacing them for a long time.
Buy the AmazonBasics LED bulb now
4. Philips Hue White and Colour Ambiance Starter Kit
A standout product for your smart home
Brightness : 800 lumens | Bulb fitting: E27 screw | Energy rating: A+ | Best for: Smart home
Easy set-up
Smart home integration
More expensive than competitors
Phillips' smart lighting systems have dramatically evolved over the years, and now their LED bulbs can be used to overhaul your entire lighting system to make it internet connected. 
You can buy the White Ambiance Starter Kit or Colour Ambiance Starter Kit separately, but buying them together increases your options - even if it's a bit pricier.
The Philips Hue White and Colour Ambiance Starter Kit includes the required Zigbee-powered Hue Bridge, which connects lights to your home network, plus three LED bulbs. It's really easy to set up. 
The LED bulbs offer good integration with Alexa and other home assistants, and have a spectacularly bright output with 16 million colors.
Buy the Philips Hue White and Colour Ambiance Starter Kit now
5. Genixgreen C7 LED Bulb
The best night light for yours and/or your children's bedrooms
Brightness: 50 lumens | Bulb fitting: E14 screw | Energy rating: A++ | Best for: Night lights
Economical to run
Creates a relaxing environment
Not dimmable
This amber LED bulb from Genixgreen helps to create a relaxing atmosphere and works brilliantly as a night light. It's perfect for toddlers, relaxing in bed, or setting mood lights. 
It is also extremely economical to run, featuring a long life span that provides over 25,000 hours of brightness and low power consumption.
What's more, this 25-pack is now on offer at Amazon (click below).
Buy the Genixgreen C7 LED Bulb 25-Pack Now
6. Integral LED 11w Classic Globe
One of the best all-rounders
Brightness: 1060 lumens | Bulb fitting: B22 Bayonet | Energy rating: A+ | Best for: Living rooms, hallways, kitchens
Cost-effective
Energy-saving
Not dimmable
For a cheap LED bulb you can use in the main rooms of your house, you won't find much better than Integral's Classic Globe GLS (General Lamp Shade) LED bulb. 
It is quite simply a powerful white light, with a brightness of 1060 lumens which is thermally efficient and includes multiple everlight LEDs. The only slight downside is that it is not dimmable. 
Buy the Integral LED 11w Classic Globe now
How to Choose the Best LED Bulb
Before you begin to shop for an LED bulb, it's important to consider which rooms you want to install them in, and to review the specifications of bulbs to make sure they're suitable for your home. 
Brightness
The brightness of LED bulbs is measured in lumens, or Lm. The higher the number of lumens, the brighter the bulb. This measurement exists because LED energy-efficient bulbs use considerably fewer watts than traditional light sources, so the lumens measurement helps to solely review brightness.
As a rough guide, around 350-450 lumens would be suitable for a bed-sized table lamp, whereas for a larger-size living room you'd be looking for between 2,000 and 3,000 lumens. 
Fittings
LEDs are available to fit most fittings, but you'll need to shop around if the bulb you want does not come in your required fitting. 
Costs
LED lights can cost more in the short-term, but they're a far more cost-effective investment in the long-term. Not only will they help to reduce your energy costs, but using LED lights cuts carbon emissions through using less energy than you would with incandescent or compact fluorescent light bulbs (CFL) bulbs. 
Jack is News Editor of Homebuilding & Renovating and strives to break the most relevant and beneficial stories for self builders and renovators. Having bought his first home in 2013, he and his wife have renovated almost every room and recently finished a garden renovation. Jack reports on all of the latest news that could affect your project.
Homebuilding & Renovating Newsletter
Get the latest news, reviews and product advice straight to your inbox.
Thank you for signing up to Homebuilding. You will receive a verification email shortly.
There was a problem. Please refresh the page and try again.