What is The Cost to Replace a Gas Boiler With a Heat Pump?
By Jack Woodfield published
The cost to replace a gas boiler with a heat pump isn't universal - here's the lowdown on what you can expect to pay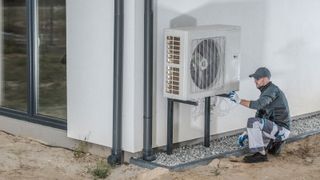 (Image credit: Getty Images)
The cost to replace a gas boiler with a heat pump depends on factors such as the heat pump type, the size of a property but also, importantly, the existing pipework, emitters, the position of the existing boiler and much more besides. It is a significant decision to take, but it is one that can be worthwhile.
Air source heat pumps and ground source heat pumps are the government's seemingly preferred technology to heat our homes in the push towards net zero, and while the cost of installation can be significant, they can help to lower your long-term running costs.
Plus, the recent introduction of the Boiler Upgrade Scheme and the VAT cut on retrofit measures (such as installing heat pumps) means that financial assistance is now in place to help homeowners adopt low-carbon heating systems.
If your boiler is nearing the end of its service and you're considering replacing it with a heat pump, here's what you need to know about how much it might cost.
What Types of Heat Pumps Are Available?
Weighing up heat pumps vs gas boilers for your home? If you're completely new to heat pump technology then here's a quick runthrough to help you understand the differences:
Air source heat pumps collect heat from the ambient air then release it into your home through your radiators or underfloor heating
Ground source heat pumps collect heat from the ground through a network of water pipes before transferring it into your home
Hybrid heat pumps change between two different heat sources (such as a boiler and a heat pump) according to predetermined settings.
Check out our guide on 'how do heat pumps work?' for a full explanation on the different systems available.
What's the Cost to Replace One Gas Boiler With Another?
On the face of it, it is a much cheaper option to replace one gas boiler with another. A standard combi boiler costs between £1,000-£2,000, depending on the make and model, while installation will cost approximately another £1,000.
In total, this will likely set you back between £2,500 – £4,000 on average, depending on your brand of choice; a stark difference to the cost of installing a heat pump, as we'll see later in this article.
This doesn't tell the full story, however. Heat pumps provide longer-term financial benefits because you will likely see a reduction in your heating bills due to increased energy savings.
Heat pumps also have a longer life expectancy of between 10-15 years whereas condensing boilers have an average life expectancy of around seven years. There is no field trial to corroborate these figures but these are the figures that are batted about.
What's the Cost to Replace a Boiler With an Air Source Heat Pump?
Air source heat pump costs can vary depending on the cost of the unit, and the cost of installation.
The main factors which influence the cost of a heat pump unit include its size, the brand and quality, additional elements such as heating controls and a hot water cylinder and the complexity of the installation. But unit costs aren't as high as you might think.
For example, you might only need to pay around £4,000 for a small fan unit of around 5kW output, which includes a heating cylinder and controls. While the total unit costs for larger fan units around 16kW can be around £8,000.
The primary expenditure with air source heat pumps in existing homes is installation, and it is much pricier to install one into an existing property rather than a new build property.
Energy expert David Hilton and contributor to Homebuilding & Renovating says: "Expect to pay between £8,000 to £16,000 for an air source heat pump installation on a new build property and up to nearly £28,000 on an existing property."
The main factors which influence installation costs include the amount of work which may be required to the existing system and whether you need to make fabric improvements to your home.
One reason why it costs so much to replace a boiler with a heat pump in an existing property is that homeowners might need to buy new radiators and replace pipework. This can require fabric improvements that optimise the performance of a heat pump and improve the thermal performance of a house, such as improving insulation and airtightness, so that low flow temperatures can be used in the emitter circuits.
Radiator pipework may need to be changed to larger bore pipework and the radiators themselves may need to be replaced with low flow models. This can require disruptive changes such as lifting floorboard or excavating concrete floors.
What's the Cost to Replace a Boiler With a Ground Source Heat Pump?
A basic ground source heat pump unit costs between £2,000 to £15,000, depending on size and brand. But the quality of the heat pump equipment can add a significant amount to the cost of materials, effectively doubling it in some cases.
Hilton explains: "Top end ground source heat pumps can have higher quality components and complex on-board software for controlling and monitoring all aspects of the heat pump operation, and also more costly alloys are used in the construction of the cases and components."
With regards to installation, a pertinent consideration is that you will need to drill boreholes, also known as vertical ground collectors, whereby pipework will be installed underground to collect and circulate energy to the heat pump.
The initial cost of installation can range between £14,000 to £25,000, but this will be higher if you require a large borehole collector. Moreover, the ground loop and installation of complementary systems such as underfloor heating and radiators can substantially increase the price.
The cost of retrofitting the heat pump can rise above this figure when you include replacing pipework and radiators and moving things about. This can potentially take your ground source heat pump costs towards the £40,000 mark in total.
The government launched the Boiler Upgrade Scheme earlier this year to provide homeowners with grants of £5,000 towards the cost of an air source heat pump, and £6,000 for a ground source heat pump.
Furthermore, the recent announcement to cut VAT on retrofit measures means you could save between 5% and 20% depending on the extent of the installation and how you purchase the heat pump.
How Much to Replace a Gas Boiler With a Hybrid Heat Pump?
Hybrid heat pumps can be beneficial for homes with high heat demand, making them a good way to deliver a large percentage of the heat load to your home.
Some pre-manufactured hybrid products - a single product that includes a heat pump and a boiler all in one box - can cost around £5,000 for the materials. And installation of these systems can range from anywhere between £5,000 to £10,000, according to Boiler Guide.
Jack has worked in journalism for 11 years and is the News Editor for Homebuilding & Renovating, a role he has had since 2019. He strives to break the most relevant and beneficial stories for self builders, extenders and renovators, including the latest news on the construction materials shortage and hydrogen heating. In 2021 he appeared on BBC's The World at One to discuss the government's planning reforms.
He enjoys testing new tools and gadgets, and having bought his first home in 2013, he has renovated every room and recently finished a garden renovation.
Homebuilding & Renovating Newsletter
Get the latest news, reviews and product advice straight to your inbox.
Thank you for signing up to Homebuilding. You will receive a verification email shortly.
There was a problem. Please refresh the page and try again.