What Happens After I've Submitted my Planning Application?
By Ken Dijksman published
What happens to your planning application once you've clicked submit? Planning consultant Ken Dijksman sets out the process step-by-step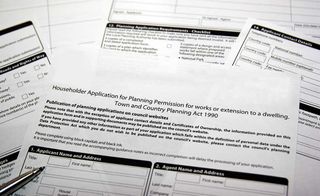 (Image credit: getty images)
Once you have gathered together all you need for your planning application there will be a general order of events that follow.
Here's what you can expect.
1. The Application is Submitted and Payment is Made
The application is uploaded (usually by your architect or your planning agent) onto the Planning Portal.
You pay the fee online and the application is sent to your local planning authority — which is typically your local council, unitary authority or perhaps national park.
At the moment, it's likely to sit in a queue for a week or two because they're extremely busy.
2. Your Application Goes to the Registration Team
The registration team will then check your submission for errors – for instance, where architects fail to marry up windows in elevations and on floorplans – and they often spot them.
If it's all okay they issue a registration letter which tells you the target determination date for the application. The registration letter usually includes the name of the case officer and their number and email address, too.
If it's not okay you'll get an email explaining what corrections or additional documents are needed. This is not a rejection of the application as such, this is about procedure, so the solution is to supply those missing documents as soon as you can and the completed application can then be registered, and allocated to a planning officer.
3. You Enter the Consultation Period
The first thing the local planning authority does is consult the parish or town council, immediate neighbours and various internal experts (relevant to the contents of your application) such as the tree officer, the council ecologist, the highways officer, the drainage officer and possibly the conservation officer who will consider the Heritage Impact of what you're proposing.
This consultation period lasts 21 days, and usually red or yellow site notices are put up on the site to draw attention to the application. It's highly likely that some of these internal and external consultations will not receive responses within that period. There is no point in getting hot under the collar about this, the case officer will not be in a position to make any judgments until those consultations have been received — you just have to be patient.
It's particularly important that there are no technical grounds for refusal of your application because it may mean you have to withdraw and then resubmit with more information.
As an example, you may have failed to provide adequate information about ecology, impact on trees, the provision of a safe access, or foul/surface water drainage provision. Some planning officers will allow you to extend the time period beyond the initial weeks to enable you to deal with concerns raised. This is called an 'extension of time' and I would always recommend agreeing to it — as it's better to have a slow approval than a quick refusal.
4. Your Application Goes to the Planning Officer
In the unlikely event that all the consultations have been received once the 21-day period is over, the planning officer will then metaphorically pick up the file and look at the scheme.
I recommend you don't harass them or hassle them for an immediate response, they are ridiculously busy and yours is one of many applications in front of them. Planning officers are under a lot of implicit pressure to refuse things, it is a well-known principle in planning that no planning officer ever got into trouble for saying no.
If the case officer has any concerns about the height, the design and materials the siting, or whatever, my advice is work with them not against them. They hold pretty much all the cards and it's better to get a planning approval for close to what you want than to be left with nothing.
Once you have a permission you can then review the situation and perhaps decide to reapply and argue the toss about the issues you have compromised on.
5. The Planning Officer Passes Their Decision
So you may have worked with your planning officer to ensure potential issues (such as overlooking or overshadowing neighbouring properties, or adjusting the position of the access to ensure it is safe) have been avoided; now comes the decision.
Most small-scale applications, including single houses, are determined under delegated powers. This means they do not go to a planning committee; rather, they are dealt with by the planning officers. Only if the planning officers want to approve something against the wishes of significant numbers of neighbours (or perhaps the parish or town council) will the application end up being put to the planning committee.
Local authorities have different rules for these procedures, but planning committees are made up of local councillors and they are therefore subject to political pressures that don't tend to influence planning officers. This can be unhelpful if people are opposing your application, or helpful if you have pals on the committee.
If your application goes to a planning committee, you'll normally have the opportunity to speak, and so too will those who object to your proposal. However, there is nothing stopping you talking to members of the planning committee in the weeks before the meeting and explaining your side of things. They won't be interested in your personal circumstances; this is about the planning impact your proposal, so things like overshadowing, overlooking, parking and design tend to feature heavily.
Quite a few applications go to planning committee having been recommended for approval but are then refused by the committee for often political reasons. In these circumstances it is often worth going back to negotiate an approval or if necessary, submitting a planning appeal, because the planning officers were convinced it was acceptable.
6. You Will Be Advised of Any Conditions to the Approval
If approved, the Planning Decision Notice will contain planning conditions that need to be dealt with before you can start development.
These may require an agreement to be reached on the external materials used, or – a common one – further drainage details (even though they've already submitted them). It is vitally important that you do not start the development before discharging the pre-commencement conditions and submitting the necessary information if the conditions state that no development shall commence until that information is agreed.
If you start the development without clearing the pre-commencement conditions it will be unlawful which could lead to all sorts of problems further on down the line.
Submitting details to discharge conditions is another formal process which normally takes as long as the planning application itself. So when you are discussing your application with the case officer try and agree as many details as possible during the consideration of the application to avoid the need for pre-commencement conditions.
The planners are obliged to show you pre-commencement conditions for your agreement before issuing their decision so try and change those conditions to ones that need clearing prior to occupation, or prior to construction above slab level. This will enable you to get on with your build in parallel with sorting out those details.
7. If Your Application Has Been Refused...
If, despite your best efforts, the council are going to refuse your application, it's very important to remember that you can withdraw your application at any point prior to the issuing of that refusal notice. My advice would be to keep in touch with the planning officer and request in writing that you are notified of the recommendation before the decision is made.
The last thing you want is a refusal landing unexpectedly in your inbox. I would also generally advocate that you withdraw your application rather than get a refusal. This will allow you to resubmit your application once you've tried to deal with the planning officer's concerns.
If the LPA's objections are against the principal of the development you might need to go to appeal — this takes between nine months and a year. You will need professional planning advice to decide whether or not to appeal and if so, to do a proper job. The planning or technical advice you are looking for should provide you with an understanding of the likelihood of winning the appeal.
In other words, you need to know just how contrary to policy your proposal is and how problematic technical issues might be.
As an example, there is no point in going to appeal if you have a blind and dangerous access which would be hazardous to additional traffic movements. Equally there is rarely any point in going to appeal if the land floods and you have no way of solving that problem.
Very often planning policies are quite black-and-white, building a house in the middle of a field in the middle of nowhere is very unlikely to be successful however long you bang your head against a brick wall. On the other hand if a refusal is wholly subjective because the planning officer doesn't like the style of your new home but it's similar to ones in the vicinity, it's probably worth going to appeal.
Continue reading this article
One-off payment: £4.99 for six months full access to The Planning Hub
The Planning Hub offers in-depth guides to planning permission in England, brought to you by Homebuilding's planning experts
Instant access to planning permission information, vital to the success of your project

Independant advice from leading Homebuilding & Renovating planning experts

Discover what you need to know to get your plans approved with minimum hassle

Get to grips with complex planning rules with our easy-to-read guidance
Continue reading this article
One-off payment: £4.99 for six months full access to The Planning Hub
Ken, a former planning officer, is a planning consultant and owner of Dijksman Planning LLP. He is also the author of The Planning Game.
Homebuilding & Renovating Newsletter
Get the latest news, reviews and product advice straight to your inbox.
Thank you for signing up to Homebuilding. You will receive a verification email shortly.
There was a problem. Please refresh the page and try again.