Advertisement Feature
Waterproofing Bathroom Installations: Everything You Need to Know
By Sponsored Content published
There are two main ways of waterproofing bathroom tiles, and your method of choice will depend on a number of factors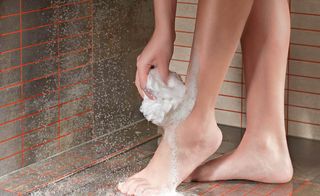 (Image credit: Mapei)
CONTENT SUPPLIED BY MAPEI
Waterproofing (or tanking) your bathroom installation is an essential element of a renovation or self build project, but deciding on your method of choice depends on several factors. These include the floor tiles you plan to use, and whether you're able to do this yourself or require professionals for installation.
Bathrooms are, by nature, wet spaces, but you need to waterproof beneath a tiled installation to ensure there are no leaks, which could damage the fabric of your home.
(MORE: Wetroom: An Installation Guide)
There are two main ways of waterproofing bathroom tiles:
Use a flexible liquid membrane
Use tile adhesives and waterproof grout
Whichever system you, your builder or your bathroom installer opts for, ensure you follow the manufacturer's instructions very carefully as these can vary considerably.
Using a Flexible Liquid Membrane
A roll-on liquid plastic membrane acts as a waterproof layer over the substrate below in areas such as the shower, bath or sink.
One of the salient benefits to using a liquid membrane is that it can save considerable time on a self build, DIY or renovation project, particularly if your bathroom is sizeable.
Membranes are generally self-adhesive, although be sure to confirm with your supplier whether the membrane you plan to use can then have the tiles of your choice installed over it.
(MORE: Bathroom Flooring: Which Should I Choose?)
Using Tile Adhesives and Grout
Tile adhesive and grout is used for bonding down and finishing a tiled floor or wall, and is the preferred option if you're working in smaller-sized bathrooms.
First trowel the adhesive to the substrate using a suitable, notched trowel, and then grout with a water resistant or waterproof grout, once the adhesive has cured.
Floor adhesives tend to be cementitious in nature, whilst wall adhesive can be both cementitious and ready-mixed. Grout can also be purchased in many different colours to match with your tiles.
Once you've applied the adhesive, you need to grout the tiles. Grout can be either cement-based or an epoxy resin material and is available in a large number of colours to complement your tiles.
A cement-based grout will provide a water-resistant joint, whilst an epoxy resin grout is waterproof. A suitable sealant should then be applied to all internal corners and at the interface between substrates such as the wall and floor and/or shower trays.
Expert advice can be crucial if you aren't sure of which adhesive should be used with which tiles. For example, different adhesives are often needed for natural stone tiles compared to porcelain and ceramic tiles, while timber floors may need to be overlaid with a tilebacker board or plywood of a suitable thickness and flexible adhesive before your chosen flooring can be laid.
Manufacturers often sell these waterproofing products as complete kits, which typically include a primer, tape (to seal corners and junctures between walls and floors) and the tanking layer.
It is worth taking advice from your tile supplier as to what adhesive they recommend. Don't just choose the first one you see or the cheapest; there will be a specific adhesive and grout for the type of tiles you are using, the subfloor, etc. Visit mapei.co.uk for expert advice on your project.
Homebuilding & Renovating Newsletter
Get the latest news, reviews and product advice straight to your inbox.
Thank you for signing up to Homebuilding. You will receive a verification email shortly.
There was a problem. Please refresh the page and try again.