Advertisement Feature
Top Staircase Design Trends for 2020
By Sponsored Content published
As the centrepiece of your home and the visual rise and fall of your interior, the staircase is a beautiful and elegant structure. Here are the design trends you can expect in 2020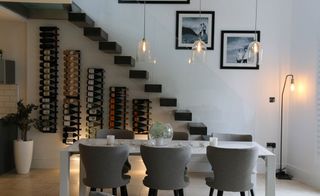 (Image credit: Canal Architecture )
CONTENT SUPPLIED BY CANAL ARCHITECTURAL (opens in new tab)
Over the past few years, natural woods and soft, neutral shades graced the trends of staircase design as homes across the country were filled with muted calm and peacefulness.
In 2020, however, the trends are richer and heavier; pronounced metals with many variations of finish such as brass and antique bronze, as well as glass panes lined with leather and dark, glossy wood. The modern home is evolving into an urban serenity, bringing the dark beauty of the outside world right through our doorways.
Zig Zag Designs
Gone are the days of straight, simplistic staircases. The intricate and sharp nature of the zig zag staircase makes it an incredibly popular selection for homes of multiple floors or high rise buildings.
Carved from a beautifully intricate wood, or customised with lashings of leather or a glass balustrade, the pattern of the staircase is a decorative feature in any open, minimal space.
This trend is a particularly fashionable choice for 2020, as well as a solid, sturdy structure that can be customised right down to the very last bolt.
Helical Staircases
Every light-heavy space needs a delicate soft curve. Shaping the light and enlarging the space it encompasses, a helical staircase is an essential trend of 2020.
Encouraging clean lines and easy visibility on descent, the helical design allows for a bespoke choice of materials and styles, pairing perfectly with the existing interior decor of your home. The lack of supporting column allows the staircase to be freestanding or attached to the wall, depending on preference, with endless design possibilities.
This alone is already making the design increasingly popular for unique or bespoke home owners.
Cantilever 'Floating' Staircases
A growing trend of 2020, the cantilever staircase is a uniquely intelligent piece of architecture and engineering.
For the homeowner whose tastes are sharply on-trend and modern this particular design, with its tasteful lines and almost monochromatic style, is a staple for the new year. The beauty of the design as a concept, however, lies in its ability to curve and twist around any space in the house – from a half turn around the wall, to a seamless quarter-turn for bespoke design.
Crafted from a potential range of beautiful natural woods and materials, the cantilever style adds a modern twist to any aged property.
Open Riser Staircases
In 2020, as the design world becomes increasingly enamoured with minimalist Scandinavian styles, the open riser staircase soars gracefully into fashion.
Loose, open stairs, with thin bespoke handrails, the shallow depth of each material makes for a light and refreshing take on a modern staircase.
For even a small or narrow room, the open riser stairs illuminate the available space, making it feel larger and breathable – perfect for those with delicate interior features.
Homebuilding & Renovating Newsletter
Get the latest news, reviews and product advice straight to your inbox.
Thank you for signing up to Homebuilding. You will receive a verification email shortly.
There was a problem. Please refresh the page and try again.