Advertisement Feature
4 Tasteful Ways to Create a Colourful Bathroom
By Sponsored Content published
We've come a long way since the avocado bathrooms of the 1980s…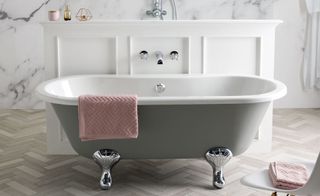 (Image credit: BC Designs)
Content supplied by BC Designs
It seems like British homeowners have been on a mission over the last 20 years or so to rid their homes of avocado (or a similarly bilious colour) sanitaryware in favour of clean and simple white alternatives.
Perhaps in a fit of rebellion, homeowners appeared intent to remove all colour from the bathroom, instead opting for an almost clinical environment of shiny white tiles and enamel with maybe a touch of chrome on the taps and heated towel rail for contrast.
But in recent years, homeowners have been getting bolder with their decorating choices in kitchens, living rooms and bedrooms, often keen to create envy-inducing, individual and Insta-friendly homes. Now it seems that bravery with colour is heading towards the bathroom – but how can homeowners bring colour back into the bathroom in a way that is not only stylish and tasteful, but also adaptable to future trends?
1. Take it Slow
If you are a little colour-shy, the simplest way to inject a bit of colour into your bathroom is to start off adding pops of colour with soft furnishings or maybe a feature wall. This is a non-committal and inexpensive way to test out bolder, brighter shades, while still keeping your trusty shiny white bathroom suite.
2. Opt for Balance
Show Your Colours
BC Designs has launched Colourkast – a collection of eight colourways which will be available across all of its Cian® baths and basins. Shades include Gunmetal, Khaki Green, Mushroom, Powder Blue, Light Fawn, Industrial Grey, Satin Rose and Powder Grey.
Cian® is a solid surface piece of engineering that is seamless, durable and one material throughout – unlike other gel-coated alternatives.
If you want to make more of a style statement, then it is well worth considering a coloured bathtub or basin (but fear not, this doesn't mean a return to the coloured enamel suites of the past). For a tentative step back into the world of bathroom colour, it is worthwhile considering adding a coloured bathtub or basin. By choosing just one item to turn into a colourful focal point, you will avoid the sense of overpowering the space.
Through-coloured items are available, but if you are reluctant to completely move away from crisp white enamel, then you could consider going for a freestanding bathtub with a painted exterior. This two-tone look, especially on a freestanding tub screams luxury and will create a real sense of wow-factor in your bathroom. Some manufacturers offer a painting service but if you choose to do this yourself on your existing tub, always follow manufacturer instructions and advice.
If you are a fan of keeping up with home interior trends, you could update the paint colour on your bath's exterior relatively frequently.
3. Choose the Right Colours
Painting Service
BC Designs offers a bath painting service on its traditional boat baths. In addition to Farrow & Ball and Little Greene Paint Company paint colours in an eggshell finish, homeowners can also choose from a range of RAL Classic or British Standard colours.
Baths are mechanically keyed, then coated with a water-based primer/sealer, followed by a minimum of three coats of the chosen paint colour.
Earthy, pastel or neutral tones are going to stand the test of time better than any on-trend colour when it comes to your bathroom furniture, so it's best to opt for these if you are looking for longevity.
These 'go-with-everything' hues will keep the bathroom looking stylish, and can be complemented by various pops of trendy colour in your soft furnishings. Going for a darker shade of these tones will create a bolder look, while lighter shades will create a softer feel (and can also be a great way of making a small bathroom feel larger).
On-trend colours may look great, but could date your bathroom quite quickly so bear this is mind when making your colour choices.
4. Add Texture for a Timeless Look
Range of Finishes
BC Designs brassware is available in a range of finishes including: Chrome, Brushed chrome, Nickel, Brushed nickel, Gold, Brushed gold
Get more expert advice for your bathroom from BC Designs (opens in new tab).
Adding texture can be a great way of adding contrast and visual interest into your bathroom. You could go for a concrete tub or add metallic finishes to your tub to add character and these can look great in both traditional and more contemporary bathrooms.
Opt for a metallic coating on a freestanding, claw-foot bath for a real style statement, or create a more subtle look with new brassware in your choice of finish.
Lead image: The Elmstead Bath with Feet Set 1 has been painted in Farrow & Ball's Plummett Grey
Homebuilding & Renovating Newsletter
Get the latest news, reviews and product advice straight to your inbox.
Thank you for signing up to Homebuilding. You will receive a verification email shortly.
There was a problem. Please refresh the page and try again.