Advertisement Feature
4 Signs You Need More Natural Light in Your Home
By Sponsored Content published
Natural light is essential to a happy and healthy home. Here are four signs you need to add more of it to your property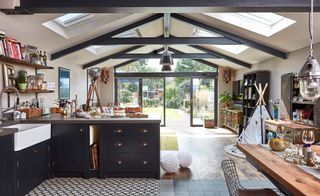 (Image credit: Kloeber)
CONTENT SUPPLIED BY KLOEBER
As homeowners, it can seem like there is an ever-growing wish list of improvements to make our homes more aesthetically pleasing and better suited to our lifestyles. While some issues will scream for your attention, there are others that may not register on your radar, but could be causing a bigger problem than you think.
Here are four signs that you need to introduce some more natural light into your home.
1. Rooms Seem Dark and Small
If parts of your home seem small and dark, then it is likely that inadequate glazing (opens in new tab) and ineffective internal layouts are to blame. Dark rooms, often at the centre of the floorplan, can lead to an over-reliance on artificial lighting options in order to make the space usable, which can lead to higher energy bills.
Consider removing an internal wall or two, or a more drastic internal remodel to help natural light flow more freely throughout your home.
2. You're Unhappy and Stressed
There are many health benefits associated with natural light that include reduced stress levels, improved focus and alertness as well as better sleep and overall psychological wellbeing. Consider larger windows (opens in new tab), bi-fold doors, rooflights or lanterns in the spaces where you spend the most time, like the living room and kitchen, to reap the benefits of some additional vitamin D.
3. You Can't See Your Garden
Bringing the outside in not only allows you to enjoy the results of your efforts in the garden, but is also a great way to add a bit of wow-factor to your home. Add a bank of bi-fold (opens in new tab) doors in your kitchen or living room to bring in plenty of natural light year-round but to also allow you to create indoor/outdoor living spaces in the warmer months.
4. Ventilation is Poor
Natural light and natural ventilation go hand-in-hand. If your home doesn't feature an MVHR system, then it is likely that if you are suffering from a lack of natural light in your home, then your ventilation could do with some improvement too. Again, opening up the internal layout could help, but it would also be worth considering improved or alternative glazing options, whether that is the addition of a rooflight (opens in new tab) or set of bi-folds.
For more information on how to improve the glazing in your home, contact Kloeber (opens in new tab).
Homebuilding & Renovating Newsletter
Get the latest news, reviews and product advice straight to your inbox.
Thank you for signing up to Homebuilding. You will receive a verification email shortly.
There was a problem. Please refresh the page and try again.