Popular Types of Roof Lanterns to Brighten Your Home
By Sponsored Content published
The best type of roof lantern for your build will depend on a number of factors, and one of the most pertinent considerations is shape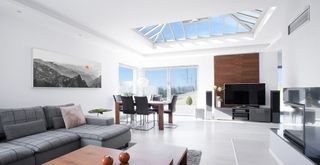 (Image credit: Aliwood)
CONTENT SUPPLIED BY ALIWOOD
Roof lanterns offer a great way of bringing in extra light into your renovation, conversion or extension. Distinguishable from skylights by their custom design, roof lanterns enable natural light to enter from above deep into your floor plan, maximising light in your new area.
Roof lanterns can be designed in a variety of shapes and sizes – they are commonly made from timber, aluminium, UPVC or a combination of materials. The best type of roof lantern for your build will depend on a number of factors, and shape is a pertinent consideration.
There are benefits to each roof lantern shape, depending on the function of your room and its architectural design, and knowing what to consider will help you make the most suitable choice for your home.
Square Roof Lanterns
Square roof lanterns are perfect for use in smaller or square-shaped rooms. Not only do they add a wow-factor – especially when installed in the middle of a room – but their perfect symmetry helps to add a neat, contemporary feel.
You can also utilise a square roof lantern to draw attention to specific areas (such as a kitchen island where food is prepared) or dining room in a larger open-plan room.
Rectangle Roof Lanterns
Rectangle roof lanterns are derived from Victorian glasshouses and orangeries: they're a classic. They're also the most prevalent roof lantern shape, perfect for very long rooms, such as hallways or living rooms, or for defining pathways in larger spaces.
Octagonal Roof Lanterns
Visually breathtaking, octagonal roof lanterns often look like a dome, and add an elegance to both circular and polygonal rooms.
With eight glazed sides reflecting sunlight down into your room below, they are functionally optimal for north-facing properties. Enabling intricate designs, octagonal roof lanterns can transform a space and the architectural style of your build.
A Combination of Shapes
If you feel just one roof lantern isn't sufficient, you could double or even triple up with multiple lanterns joined together.
Not only does this allow for complex interiors, helping to elevate a room's aesthetic benefits, but a combination of roof lanterns can help to separate different areas of living space, such as a living room, kitchen and dining room under each lantern.
It's more work, and of course more expensive, but multiple shapes offer an attractive solution when a single roof lantern might obstruct a window on the first floor of your home.
Pick the Shape For You
There are benefits to each common roof lantern shape, but remember to consider the architecture of your entire home before committing to a shape.
Ultimately, a well-designed roof lantern should complement the architecture of your home, blending in and appearing like it was always meant to be there.
Homebuilding & Renovating Newsletter
Get the latest news, reviews and product advice straight to your inbox.
Thank you for signing up to Homebuilding. You will receive a verification email shortly.
There was a problem. Please refresh the page and try again.