How to Clean Paint Rollers and Keep Decorating Tools Pristine
By Steve Jenkins published
Here's our advice to clean paint rollers and keep them in great condition after using water or oil based paints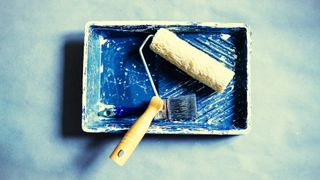 (Image credit: Getty Images)
Replacing individual decorating tools can add up, so finding out how to clean paint rollers properly will help to keep them looking fresh and give a high-quality finish next time you pick up the roller.
As soon as the paint dries on a roller it is really difficult to restore it to its former glory. So make sure you check out our easy to follow expert tips on how to keep your roller clean and ready for reuse after painting a wall.
Keeping your paint rollers in tip top condition means that you are not only saving money, helping save the planet, but also ensuring that you are going to get the best finish on your next paint project — making the time and effort spent on cleaning so worth it.
What is the Best Way to Clean Paint Rollers?
For water-based paints all you need to clean the roller sleeve is a constant water flow from a tap, and a method or tool to remove excess paint. For oil-based paints you will need a suitable solvent such as white spirit and a few containers to wash the roller sleeve in.
If you have been cutting in before using paint rollers, ensure you clean paint brushes that are covered with paint at the same time.
Do I Need to Clean a Paint Roller Every Time I Use it?
You do need to clean a paint roller every time it is used, but, you don't need to clean your paint roller if you are only going to leave it for 15 mins or so. Emulsion paint dries pretty quickly so you should plan ahead to ensure you are doing your painting in one go and then you can clean your roller at the end of the session.
The alternative is to get a plastic bag and seal it up with painters' tape to keep the roller moist. This is ideal if you are waiting for one coat to dry before you put on another coat of emulsion.
The same principle applies to oil-based paint like gloss. They should be cleaned after every use, but can be covered for a few hours by a bag to stop them drying out.
How to Clean Water-Based Emulsion off a Paint Roller
1. Remove excess paint
Start the cleaning process by removing as much of the paint on the roller as possible. Get a newspaper or magazine and roll out as much paint as you can. To save wastage use a paint scraper/putty knife. Hold the roller upright over the paint tin or container and push down the paint into the tin using the edge of the scraper or a specialist roll and brush cleaner.
2. Start washing
The next step is to clean under a running tap. Run the water before putting on some rubber gloves and squeezing the roller to remove more paint. Now hold the roller horizontally under the running water. This will start the roller spinning, move along the length of the roller until the water runs clear.
Now squeeze again and repeat the process until no paint is coming out of the roller. Finally, squeeze and remove as much of the water as possible. Now remove the sleeve and place on its end – not on the pile – to let the water drain off and the roller dry.
3. Clean the frame
The roller frame and handle will to be cleaned as well. Get a kitchen scourer/sponge and some warm soapy water and scrub the handle and frame clean and then rinse under the tap and leave to dry.
How to Wash Oil-Based Paints Off a Roller
1. Remove excess paint
The first step is to remove as much of the paint as possible. Wear rubber or disposable gloves before you start. Use a paint scraper or a specialist rush and roller cleaner tool and scrape into the paint can it came from.
2. Roll in solvent
Get a container that is big enough to fit the roller and fill with white spirit or specialist brush cleaner — roughly to the depth of the roller. Now place the roller in the container and roll back and forth for 15-20 seconds to loosen the paint. Take out the roller and remove paint with scraper and repeat the process.
3. Change to fresh solvent
Empty the old solvent into a container and add new solvent and repeat the previous step. This should get rid of most of the paint. Again pour the used solvent into a container and keep. The paint will settle in the bottom and you can move the solvent to a new container to use again.
4. Wash and dry
To remove any traces of solvent wash the roller in warm soapy water and squeeze dry. To finish, run the roller under a tap to get rid of any soap residue. Squeeze dry and place on its end to air dry. Finally, remove the sleeve and wash the frame in solvent and wipe clean with a rag or paper towel.
How to Get Hard Paint off a Roller
If you have left your roller out for a few hours or past the drying time of the paint, the paint will have most likely hardened to a point where it's very difficult to remove.
You can try soaking in water or a solvent for an hour or two if the paint on the roller isn't completely dry and then washing in warm soapy water. But once a roller has reached a stage where the paint has dried you are better off buying a new roller. So, it pays to take particular care of your best paint rollers.
How to Clean a Paint Tray
Start by draining any leftover paint back into the tin (to limit waste, calculate how much paint you need ahead of time). Use the end of the roller or a brush to push the paint into the tin. If using water-based paint, get a kitchen scrubber/sponge and wash out the tray with warm soapy water – washing up liquid is ideal – until most if not all of the paint is removed. Turn upside down and leave to dry in a suitable area.
For oil-based paints add white spirit or brush cleaner to the paint tray and work around with a brush to loosen the paint. Dispose of the paint and solvent — empty into a jar to use again. Now get a bucket of warm soapy water and a kitchen sponge/scrubber and wash clean.
To avoid cleaning your paint tray altogether you can invest in disposable tray liners. You insert these into your paint tray and remove and throw away when finished. No mess, no fuss.
Steve is an avid DIYer with over 20 years of experience in transforming and renovating homes. He specialises in painting and decorating, but has strong all-round building skills, having previously worked in the industry for 10 years.
Homebuilding & Renovating Newsletter
Get the latest news, reviews and product advice straight to your inbox.
Thank you for signing up to Homebuilding. You will receive a verification email shortly.
There was a problem. Please refresh the page and try again.