Homebuyers Survey: Does Your New Property Need One?
By Rob Keal published
A homebuyers survey can help shed light on the condition of your potential new home. Learn about inspection processes, costs and more with our guide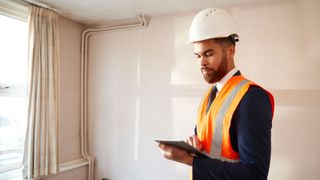 (Image credit: Getty Images)
Arranging a homebuyers survey helps ensure the smooth purchase of any new property. As you look set to complete, checking that everything is as it should be with the dwelling becomes increasingly important. A homebuyers survey can help with this, and much more besides.
A mid-level survey, which is less in-depth than a full building survey (or Level 3), a homebuyers survey, also known as RICS Home Survey - Level 2, should provide a clearer picture of the ins and outs of the property you're moving into, and whether or not it's worth the risk.
From its purpose to the costs, our guide will show you why a homebuyers survey is so important and what to think about when organising one.
What Is a Homebuyers Survey?
Unlike a mortgage valuation, which is carried out chiefly so the lender can check that a property is actually worth the money you've offered for it, a homebuyers survey helps assess the overall condition of the property itself.
Commissioning a homebuyers survey early in the buying process will warn you about any unforeseen problems with your property purchase ahead of time, such as structural damage, subsidence, mould/rot, etc., all of which could result in costs to put right.
As the homeowner guidance experts at Cloudy2Clear explain: "A homebuyer survey is a mid-level survey of your home that helps to identify any obvious issues — such as damage to walls or windows.
"If any issues are flagged, it allows you to negotiate a price with the seller more easily and may save you thousands in the long run."
Scott Clay, distribution development manager at specialist lender Together, also iterates: "A homebuyer survey is an important part of the homebuying process, whether you're a first-time buyer or scaling up the ladder.
"It's crucial to organise for this type of visual inspection once you've confirmed your interest in a property. This will allow you some leverage on the price if there are any issues with damp, central heating, subsidence, or larger structural and electrical issues.
"An inspector will go through each room and note any visible areas where damage or maintenance is required, giving you a sense of the overall condition of the property and rough guide on the costs to fix any problems."
How Much Does a Homebuyers Survey Cost?
Budgeting around £350-£500 is a good idea. Compared to other house survey costs, such as those for building surveys, a homebuyers survey is at the lower end of the scale in terms of price.
"A homebuyers survey typically costs from £350," advises Brian Murphy, Head of Lending at Mortgage Advice Bureau. "However, factors such as the location, size and age of the house will impact the cost of your survey," he continues.
For example, if you're planning to buy in or around London, it's likely that the cost of a homebuyers survey will be higher than if you were looking in a less metropolitan area.
At the same time, if you're purchasing a large detached house, you may find the cost of a homebuyers survey increased due to the amount of living space needing to be checked.
Considering the information it provides potential new property buyers, the advantages of getting one done far outweigh the risk of proceeding with a purchase uninformed.
How Long Does a Homebuyers Survey Take?
Much like the cost of a homebuyers survey, how long the surveyor spends on their inspection will vary from property to property.
A compact home may require less time to survey, but there could still be recurring issues throughout the dwelling that a surveyor needs to flag individually.
On the flip side, a large, five-bedroom home constructed in the last 10 to 15 years won't likely have as many issues to report, but its size alone might take a homebuyers survey longer to complete.
Scott Clay of specialist lender Together, clarifies: "The survey will vary in length depending on how extensive you'd like these to be.
"For example, a basic homebuyer survey usually takes an hour or so, whereas other properties might require a full day."
Reports usually take several working days to return, but can take longer, particularly in the current climate.
It's best to commission a homebuyers survey early on in the homebuying process, in case the survey flags major issues with property and you need to go back to the seller to renegotiate the purchase price.
Building Survey vs. Homebuyers Report — Which Should You Choose?
A homebuyers survey is typically appropriate if the property you plan on buying is less than 100 years old and in good or reasonable condition.
However, if you are interested in buying a property in need of renovation, a home more than 100 years old, a house built of standard construction or listed building, for instance, you may require more extensive checks. In this case, a more in-depth survey, typically referred to as a building survey, would flag any issues and recommend appropriate repairs prior to habitation.
"A building survey is the most detailed form of survey," explains Brian Murphy, Head of Lending at Mortgage Advice Bureau.
"A surveyor investigates every nook and cranny for serious and minor problems in a property. It's a good choice if you're buying an older property – particularly if it's listed – or a home that you already believe requires a significant amount of work.
"This type of survey will not only list any defects the surveyor finds, but will provide detailed advice on the repairs required. It will also include the surveyor's opinion on any potential hidden defects or areas of the property that may require attention in the future.
"Due to the level of detail included, this is the most expensive form of survey. Prices generally start at around £500 but can run significantly higher, depending on the size of the property and its value."
An RICS surveyor should be able to advise on which survey to undertake.
What Does a Homebuyers Survey Cover?
According to the RICS, a homebuyers survey will cover any combination of the following:
All major indoor features of a property, including ceilings, walls, roofs and bathrooms
All permanent outbuildings and outdoor features, including garages and conservatories
Property background information and location
Quality of damp-proofing, insulation and drainage
Functionality checks on heating, drainage, electricity and gas supplies
Any signs of subsidence, structural damage and/or other major faults that may require further investigation by a specialist
Any immediate problems that require specialist attention, e.g. faulty wiring, a gas leak, etc.
Any problems that might affect the property's resale value
Of course, this will vary depending on the surveyor, but regardless of who inspects your intended property, you should still come away with a greater understanding of its overall condition.
If your homebuyers survey does flag any major issues, your first step will be to renegotiate the original offer with the seller. With the survey findings as evidence, you should be able to get a reduction that covers most, if not all, of the required repairs.
Is a Homebuyers Survey Worth It?
Purchasing a property is perhaps the biggest financial commitment you will ever make. You must thoroughly understand what you're paying for in advance, and a homebuyers survey can help provide that information.
Think about all the potential fixes that could leave you out of pocket. No new homeowner wants to face the nightmare of urgent or costly repairs, nor should they have to.
"Ideally, any large unforeseen issues identified at the survey stage will be reflected in the purchase price — that said, re-negotiating the purchase price in today's buoyant housing market, can be difficult," says Claire Lloyd, editor of Homebuilding & Renovating. "However, this shouldn't put you off undertaking a survey — to be forewarned is to be forearmed."
So, the small expense of a homebuyers survey prior to completion can be worth the cost in the long run.
Rob Keal is the Content Editor at Homebuilding & Renovating. With a background in content marketing, he began his career back in 2016 as a freelancer, before honing his craft at various digital marketing agencies. Looking to specialise in DIY and homes, he joined the team in February 2022.
Renovation has been part of his life since he was nine years old, when his parents bought a medieval cottage and completely revived it, introducing him to kitchen remodels, loft conversions, landscape gardening, and much more besides along the way. A bedroom extension and patio refurbishment are among his next planned projects. He is also passionate about interior design and landscape gardening.
Homebuilding & Renovating Newsletter
Get the latest news, reviews and product advice straight to your inbox.
Thank you for signing up to Homebuilding. You will receive a verification email shortly.
There was a problem. Please refresh the page and try again.