Advertisement Feature
Give Your Extension the Best Start in Life
By Sponsored Content published
3D laser scanners are now available for residential surveys, which can have some impressive benefits for the rest of your project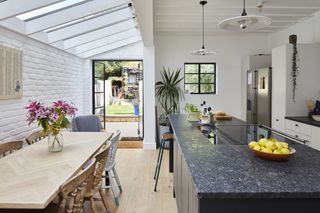 (Image credit: Resi / HPH London)
[Content supplied by Resi]
Often the first step of your project, measured surveys are vital as they gather up all the measurements and photographs your architect, planning officer, contractor (and much more!) will use throughout the journey.
So, given how important this step is, it makes sense that you want the best service possible, right?
(MORE: Get a Quick Quote on Your Project (opens in new tab))
New Technology Hits the Market
Commercial grade 3D scanners are a new way a surveyor can measure up your home. Rather than simply measuring the dimensions of your property, these lasers convert the entire space into millions of data points - essentially create a digital twin of your home.
This like-for-like model of your home can be a game-changer for a project. Now each professional you bring on board can explore your home in detail without the need for another site visit. Even more exciting is that this model can help your architect design in 3D.
The Joys of 3D
"As a designer, I love working in 3D," says Nick Stockley (opens in new tab), Head of Design at Resi.co.uk. "Homeowners can really appreciate designs when they're not just flat, 2D lines on a screen. Using their online Dashboard, Resi customers can take a virtual tour of their future spaces at their leisure, so they're sure their project is heading in the right direction. What's more, my team can use the digital models to double-check measurements without the need for another site visit."
However, it's not just architects who are fans of this new technology. Contractors love having a 3D model to hand during the tendering stage. Not only can they troubleshoot potential site issues, but they can also put together a more accurate quote for you to consider.
Are These Surveys Right for me?
Though the technology has reached the market, 3D laser surveys aren't widespread across the UK. The scanners themselves do require a large purchasing investment and many surveying companies are unwilling to make this commitment for small-scale residential projects.
However, there are options out there and they don't have to break the bank either. Some companies, such as Resi.co.uk, an all-in-one home improvement platform, offer 3D scanning at prices similar to those of traditional surveys.
"Because of the time savings and the quality they produce, we're able to offer 3D laser surveys at a cost-effective price. Essentially because it makes our lives much easier for the rest of the journey," Lisa Westmacott, Head of Pre-Design at Resi, explained. "Because we look after everything from architectural design, building regulations, to helping our customers find a contractor, we want to make sure we understand every facet of a property, right from the very start. Ultimately, what's good for the customer is good for us too!"
To learn more about 3D laser scanning, architecture and more, visit Resi.co.uk to book a free consultation or click to book an advice call (opens in new tab).
Homebuilding & Renovating Newsletter
Get the latest news, reviews and product advice straight to your inbox.
Thank you for signing up to Homebuilding. You will receive a verification email shortly.
There was a problem. Please refresh the page and try again.