Advertisement Feature
Get the Look: Transform Your Home's Exterior with Modern Materials
By Sponsored Content published
Add another dimension to your house with beautiful and durable timber-look cladding or smooth render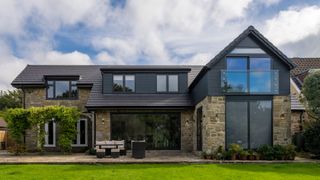 (Image credit: Hundven-Clements Photography)
Content supplied by James Hardie
How do you take a house from bland to beautiful? The best place to start is on the outside. First impressions count, and just because your property is a basic or aging brick that gives away the decade it was built in, it doesn't have to stay that way.
Instead you can create a frontage that has the period presence of Tudor, the fresh coastal chic of New England, the grace of Georgian or the sharp lines and dramatic contrasts of modern contemporary.
The secret to transforming a home completely is simple, and it lies in cladding and render.
Cladding
Cladding involves laying another material on the façade to insulate, protect and improve the look of the house beneath. The most familiar material for cladding is wood, used as far back as the 5th century in Britain.
Today cladding still comes in timber, but also many other more modern materials, such as metal, brick, vinyl, composite or recycled materials or even fibres of wheat/straw. An excellent substitute for wood is fibre cement weatherboard. It gives the natural look of timber, but is durable, weatherproof and low maintenance.
Render
Render is a plastered finish sprayed onto walls made of brick or block so it appears smooth and clean. It has its roots back in a time when clay was used to fill in cracks and crevices in a lattice of woven wood – a technique known as wattle and daub.
Lime was used later, but it wasn't until Portland cement was developed in the 19th century that this coating became truly weatherproof and able to withstand our rainy weather.
The Art of Transformation
Adding another material or skin to the exterior of your home can make it seem like it comes from another era or belongs on another continent.
Mock Tudor
Beams were originally used as support in Tudor buildings, but left exposed so people could appreciate the patten they made. In a mock Tudor design, boards that look like beams can be attached to the walls in simple designs, most often on the first floor or at the apex. The brick beneath can be left exposed or covered with a pale render that lets the 'timber' stand out.
New England
Timber cladding has become synonymous with traditional New England homes. Overlapping planks, known as clapboard, cover part or even the whole of the building in a style familiar on the east coast, for an effect that seems as American as white picket fences.
Colonial Style
This developed from the architectural styles that Europeans took with them when they settled abroad. It is similar, though perhaps a little grander, than the design of New England homes. Again wooden planks, or siding, can cover the whole of the building for an effect that was cooler in the hotter, more tropical climates that these emigrees found themselves living in.
Modern Contemporary
In modern contemporary exterior design, different claddings and renders can be used together on the outside of buildings, creating a striking contrast in materials, laying patterns and colours. Natural wood or wood-look planks might be laid over one section and next to it large metal panels that give an industrial edge, or a pale render will frame a picture window. The mix of materials adds different dimensions to the house and emphasises individual parts, adding interest to otherwise flat walls.
Georgian Style Ashlar
Render can be used to create the elegance of Georgian buildings. Ashlar stonework was much favoured by architects of the period. Influenced by classical Greek design, they replicated it in square cut stone and deep cuts of parallel lines on the façades of the town houses of the wealthy. However, the stone was expensive, so builders would use plaster instead and draw lines into it before it set, making it look like the pricey stone. The same effect could be achieved today on render.
HardiePlank® Product Family
HardiePlank cladding by James Hardie (opens in new tab) is a versatile, low-maintenance weatherboard that looks like natural cedar or larch. It comes pre-made in an array of durable, fade-resistant finishes with a choice of 21 colours and two textures (smooth and natural cedar mill). The colour is actually baked on in the factory so it won't be affected by the weather. The new HardiePlank VL fibre cement board is an easy to fit interlock weatherboard with a chic design and timeless flat finish. Beautiful and durable, it can be installed horizontally or vertically, perfect for a contemporary design.
The HardiePlank product family provides the ultimate design flexibility, opening a world of possibility to update traditional housing styles with modern, long-lasting materials.
Homebuilding & Renovating Newsletter
Get the latest news, reviews and product advice straight to your inbox.
Thank you for signing up to Homebuilding. You will receive a verification email shortly.
There was a problem. Please refresh the page and try again.