Advertisement Feature
A Truly Modern Kitchen: The Move Towards Built-in Appliances
By Sponsored Content published
A truly modern kitchen is characterised by chic, stylish and sophisticated design. Not only when it comes to the décor, but also when it comes to your choice of appliances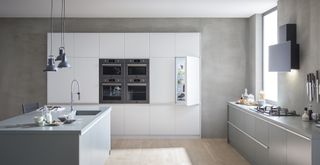 (Image credit: Bertazzoni)
Content supplied by Bertazzoni
If you're about to embark on turning your dream kitchen into a reality then vision is everything. Picture not only how you want the room to look, but how you want the space to make you feel and how you want to use it in your day-to-day life.
Benefits of Built-in Appliances
Built-in appliances are increasingly popular in kitchen renovations thanks to their sleek appearance. A wall of banked appliances, whether vertical or horizontal, can add real wow-factor to a kitchen and make using the space for cooking easier than ever before.
The Modern Series offers a rich and sophisticated style that is both current but timeless. The clean lines of the appliances are maintained through touch controls on the most advanced models, revealing an unparalleled vision for seamless integration.
A Touch of Technology
Product performance must match that of aesthetics and when it comes to cooking and Bertazzoni Assistant (opens in new tab) facilitates exactly that.
Available on selected ovens in the Modern and Professional Series, it uses the very latest in smart technology to help you to produce perfect dishes again and again.
Digital sensors are placed throughout the oven cavity that control the entire cooking process with precise temperature control. The food probe constantly monitors the temperature at the heart of a dish for supremely accurate cooking.
This function pilots the oven through the most appropriate sequence of functions, temperature and time for the type of food being prepared. There is no need to manually change any settings during the entire cooking process, as the Assistant takes care of all adjustments based on data collected.
The Professional Series is Bertazzoni's signature style and offers impressive capacity, flexibility and usability. With designer controls and coordinated design, built-in models are available in high-grade stainless steel or carbonio finishes.
Choosing Complementary Products
While cooking appliances often take centre stage in any kitchen space, having the right complementary fridge freezer (opens in new tab) and dishwasher (opens in new tab) are of paramount importance to the running of the kitchen.
Just because an appliance is hidden behind cabinetry doesn't mean it can't be impactful. As a brand with design at its core, Bertazzoni prides itself on making its appliances beautiful both inside and out and offers a range of integrated dishwashers and fridge freezers which can be coordinated to any of Bertazzoni's four series.
Proving that style doesn't have to be left at the door, Bertazzoni built-in refrigerators are built to last forever, with metal and glass inside and out for better temperature management.
The lateral airflow system, with dual compressor and evaporator for refrigerator and freezer, reduces cold air loss when opening doors and allows for category-leading interior depth.
The internal configuration is designed for maximum flexibility thanks to its FlexMode technology which enables you to switch the bottom compartment between freezer and refrigerator with just one touch.
So, if you are setting out on creating your own truly modern kitchen then look no further than Bertazzoni (opens in new tab).
Homebuilding & Renovating Newsletter
Get the latest news, reviews and product advice straight to your inbox.
Thank you for signing up to Homebuilding. You will receive a verification email shortly.
There was a problem. Please refresh the page and try again.