Advertisement Feature
8 Ways Smart Appliances can Revolutionise Your Laundry
By Sponsored Content published
The latest smart washing machines aren't just clever for the sake of it, they're designed to help meet your family's specific laundry needs, while also being great for the environment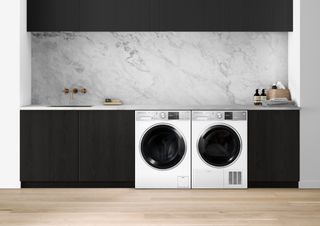 (Image credit: Fisher & Paykel)
CONTENT PROVIDED BY FISHER & PAYKEL
Your washing machine really is the workhorse appliance of your home. For busy families, it's used multiple times per day and with school uniforms, your work wardrobe and even muddy football kits all depending on it, it's a vital component of keeping your household running.
With that in mind, there's no other appliance then that should benefit more from the latest smart features and technology to streamline the laundry process and reduce your home's ecological footprint with energy and water efficient cycles.
Fisher & Paykel might not be known for their laundry appliances, but that's about to change, with a new raft of washing machines packed with time-saving, eco-friendly features.
Take a look in more detail and find out more about their range of washing machines through the Fisher & Paykel website (opens in new tab).
Refresh Clothes with a Steam Cycle
Not only is the Steam Refresh function useful for refreshing clothes without running a full wash, you won't have to wait hours for your clothes to dry either. What's more, a steam cycle uses far less water than a standard washing cycle, meaning you're reducing your water usage.
There are also fast wash cycles as quick as 15 minutes which still offer powerful cleaning.
Eco-friendly Cycle Options
While we may be aware that washing on a lower temperature is better for the environment, it may also not be as effective in removing tough dirt and stains. Fisher & Paykel's Eco option takes the guesswork out of washing on low temperatures, as it automatically reduces the wash temperature by 5°C while increasing the wash time by 10 minutes and reducing the rinse water level to 4000 to save water.
'Add a Garment' in Mid-Cycle
Running a laundry cycle when you realise you've left out something you need to be urgently washed? We've all been there. The 'Add a Garment' feature allows you to quickly add or remove any garment mid cycle. Simply press the Add a Garment button and the door will unlock. If the drum water is too high, just enough will be drained out before the door is unlocked.
Intelligent Cycles
Using ActiveIntelligence™ technology, Fisher & Paykel laundry appliances can determine the size and soil level of your laundry load and adjust the cycle time and amount of detergent dispensed accordingly. This Detergent Auto-dosing is a great way to minimise wastage and reduce detergent residue.
Pair Up with a Smart Assistant
If you rely on a smart assistant to run your household, Fisher & Paykel washing appliances work with Google Assistant and Amazon Alexa, for simple voice-activated operation.
Interior Light for Easier Unloading
It's the little details that make a real difference to everyday tasks, and the inclusion of an interior light in the drum will make unloading the machine easier and prevent odd socks being left behind.
Quiet Cycle Settings
Whether you're working from home, have an open-plan space or just want a washing machine you can run during the night without waking up the kids, the inclusion of a quiet cycle is a very welcome idea. This cycle reduces spin speed to 800 RPM, and also automatically turns off the end of programme beep.
Simple Graphic Control Panel
With all these added features, you'd expect your washing machine to be even more difficult to operate, but actually the opposite is true. The control panel uses simple graphics to ensure it's easy for anyone to learn how to use.
Homebuilding & Renovating Newsletter
Get the latest news, reviews and product advice straight to your inbox.
Thank you for signing up to Homebuilding. You will receive a verification email shortly.
There was a problem. Please refresh the page and try again.