Advertisement Feature
5 Reasons to Choose a Roof Lantern for Your Single Storey Extension
By Sponsored Content published
A roof lantern provides a practical, yet beautiful finish for a single storey extension. Here's why it may be the perfect choice for your project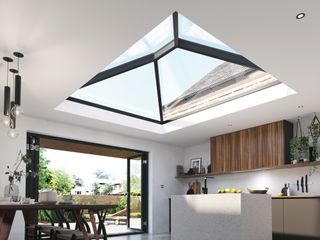 (Image credit: Korniche)
CONTENT SUPPLIED BY KORNICHE
When it comes to choosing the glazing for a flat roof extension, a roof lantern should be high up on your list to consider. As well as bringing a sense of elegance and grandeur to your project, roof lanterns are increasingly the smart option for delivering vast quantities of natural light, while remaining a practical, functional choice.
Take a look at five of the key reasons you should weigh up a roof lantern for your single storey extension.
1. Bring Natural Light into Your Home
When planning a new extension, it's the perfect time to address a less-than-perfect relationship with natural light in your home.
While some extension designs rely on light from windows and doors alone to reach the furthest corners of your single storey extension, the smart approach is to embrace natural light from overhead for a more consistently light and airy feel throughout the day.
2. Roof Lanterns can be Built Bigger
The structure of roof lanterns gives them one big advantage when it comes to delivering masses of natural light into your space – they can be built much bigger than rooflights.
This is because roof lanterns are made from separate panes of glass set within a frame, whereas rooflights are formed of a single pane. However, when it comes to roof lanterns, some systems benefit from larger available glass spans than others.
3. Create an Architectural Statement
Roof lanterns add character to both the interior and exterior of a single storey extension. For flat roof extensions, this is particularly important to avoid your new addition looking too boxy.
While roof lanterns have traditionally been influenced by the ornate styles of period properties, new designs, such as Korniche's Aluminium Roof Lantern (opens in new tab), offer a more modern look while, in Korniche's case, retaining character with a subtle ogee profile to ensure they're sympathetic to older homes too.
4. Enjoy Increasingly Slim Sightlines
While there's undoubtedly a roof lantern to suit every property, the current trend in glazing leans towards finer frames to allow as much light to enter your home as possible.
Roof lanterns have followed suit, with slimmer sections and designs optimised to ensure the largest glass spans and fewest rafters in between, while retaining the strength of the structure.
5. No Need to Sacrifice on Practicality
For those who have historically lived with roof lanterns, there may be some concerns over their practicality. However, rooms that are too hot in summer, too cold in winter due to roof lanterns are largely a thing of the past thanks to the high performance glazing now used.
Korniche's Aluminium Roof Lantern (opens in new tab), for example, offers complete roof U-values of 1.2w/m2K, with particular attention given in the design of the aluminium frame to eliminate cold-bridging. The result? An ambient room temperature all year round.
While many window cleaners are used to dealing with roof lanterns, especially on single storey extensions, many modern roof lanterns also utilise self cleaning glazing to reduce the build up of organic matter and debris to reduce the need for regular maintenance.
Homebuilding & Renovating Newsletter
Get the latest news, reviews and product advice straight to your inbox.
Thank you for signing up to Homebuilding. You will receive a verification email shortly.
There was a problem. Please refresh the page and try again.