Advertisement Feature
5 Best Flat Roof Extension Ideas
By Sponsored Content published
Still think of flat roof single storey extensions as old fashioned, poorly insulated eyesores? Think again — today's flat roofed extension are anything but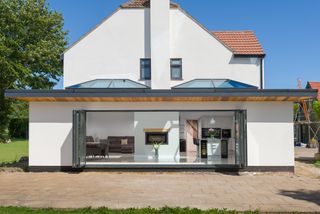 (Image credit: Korniche)
Content supplied by Korniche
Planning a flat roof single storey extension? Look no further, we give you the very best ways to get the design right, from super stylish roof lanterns that will flood the space with natural light, to roof coverings that become an extension of your garden space.
1. Invest in a Beautiful Roof Lantern
Building a flat roof single storey extension presents the perfect opportunity for incorporating a roof lantern into your home design. Roof lanterns look great both from the inside as well as from outside and can be as simple or as elaborate as you wish.
Light brought in from above is completely different from that coming in through standard windows, being very clear and bright and installing a roof lantern overcomes all kinds of potential overlooking issues that may otherwise rear their heads when extending.
Choose a design with a slimline profile to allow maximum light to enter the space below. Aluminium is a great material for the frame, being lightweight and maintenance free.
2. Create a Green Roof
Green roofs have some great benefits. They provide a level of insulation that can help to cool a building in summer, absorb CO2 and provide a valuable habitat for wildlife.
Green roofs need to be installed on roofs that are pitched at no more than 30˚ so a flat roof is ideal and they really add to the visual appeal of a single storey extension.
There are several different types of green roof, including intensive, extensive and semi-extensive, each of which has different construction methods and requirements.
3. Build a Balcony
A flat roofed extension creates the perfect opportunity for building in a balcony to your house design — somewhere to step out and enjoy views, sunshine and a breath of fresh air.
It can actually be quite straightforward to create a balcony on top of a flat roof, although in the case of old traditional flat felt roofs an upgrade is likely to be required.
Bear in mind that the roof will be required to take loads not expected of it before so it is advisable to enlist the services of a structural engineer and qualified builder to advise on its construction.
4. Go Contemporary
Flat roofs suit contemporary extensions really well, providing clean, sleek lines, and are the perfect pairing for crisp render and swathes of horizontal timber cladding.
Pop sleek aluminium roof lanterns into the mix and you have the perfect combination for contemporary style.
5. Frame a View
Aluminium sliding doors fitted into a flat roof extension can really bring it to life, not to mention being the perfect way to create a connection to the outdoors and frame any outstanding views.
Combine sliding doors with a roof lantern in order to really flood the new extension with natural light — the space is sure to become the area of the home to which everyone congregates.
The Korniche lantern's slimline profile and aluminium structure provide unrivaled light and elevation for flat roof extensions. Korniche recently won 'Best Rooflight Supplier' in the Homebuilding & Renovation Awards 2020.
Unlike other roof lantern products, the Korniche uses no silicone in its construction or installation and can be constructed on-site due to central solid aluminium bosses, single bolt fixings, factory fitted Q-Lon gaskets and injection moulded seals. It can be installed in minutes and glazed in seconds. With various glazing options available, the Korniche can be constructed as square or rectangular in sizes up to 6x4m.
For further information visit the Korniche website.
Homebuilding & Renovating Newsletter
Get the latest news, reviews and product advice straight to your inbox.
Thank you for signing up to Homebuilding. You will receive a verification email shortly.
There was a problem. Please refresh the page and try again.