Advertisement Feature
5 Beautiful Cladding Ideas
By Sponsored Content published
Your choice of cladding material will have a huge impact on the appearance and performance of your home — we give you five of the best options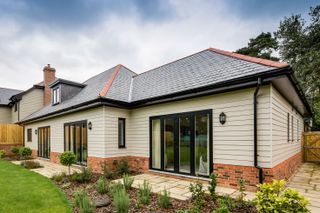 (Image credit: James Hardie)
Content supplied by James Hardie
Not only will the type of house cladding you choose determine its appearance, it will also have a big effect on the maintenance required in your home's upkeep. Here, we give you five of the best cladding options, looking at aesthetics, durability and cost.
1. Natural Timber Cladding
There are many different types of timber house cladding, including softwoods, hardwoods and engineered.
Softwood cladding, such as that made from pine, lies at the lower end of the price scale. However, bear in mind that it will require priming, painting and a fair amount of regular maintenance to keep it looking its best, meaning its initial low price can be deceptive.
Hardwoods, such as oak and cedar, can be left unstained to weather naturally and are a durable option, although they will cost you more than softwood.
2. Fibre Cement Cladding
Fibre cement cladding offers a durable beauty, that is low maintenance and flexible in the way it can be used.
It comes in a huge variety of pre-painted colours, two textures and can be installed horizontally, vertically or even diagonally. It can also be supplied as a traditional shiplap design, open joint or hit and miss effects, meaning it suits a range of house styles, from New England style homes and classic designs to contemporary houses.
As well as being diverse in its uses, fibre cement cladding is also non-combustible, comes pre-primed and factory painted and can withstand everything the British weather may throw at it, as well as resisting fire, pests and rot to boot.
3. Shou Sugi Ban Cladding
Offering a striking and characterful cladding option, shou sugi ban is timber that has had a blowtorch run across its surface to give a charred, blackened look. This is an ancient Japanese method of treating timber and is certainly a choice worth considering for those after an individual, visually striking option for their home.
4. Tile Hung Cladding
Those after a traditional finish might want to consider tile hanging as a cladding option. In some areas, tile hanging is a large part of the local vernacular too.
This is a relatively expensive option, particularly if you opt for handmade clay tiles, but certainly adds a wealth of character in the right setting and on the right house.
It is often used only for the upper storey of a house, with brick below.
5. Render
Render is a popular option for self-builders and renovators alike.
Standard cement-based render does require some maintenance in the form of regular painting and patching up.
However, for an extra cost many people opt for through-coloured render that requires no subsequent painting.
Combining Cladding Materials
Don't feel as though you have to use just one type of house cladding — combining two or more materials adds interest and breaks up the design of a house. Here, low-maintenance fibre cement cladding has been combined with brick, perfectly complementing the traditional design of the house.
Request a sample (opens in new tab) of HardiePlank by James Hardie (opens in new tab) to see how your self build or renovation project could benefit.
Homebuilding & Renovating Newsletter
Get the latest news, reviews and product advice straight to your inbox.
Thank you for signing up to Homebuilding. You will receive a verification email shortly.
There was a problem. Please refresh the page and try again.