Trades Fear Construction Apprenticeships "Mess" Amid Skills Shortage
By Jack Woodfield published
The government has been urged to tackle declining construction apprenticeship rates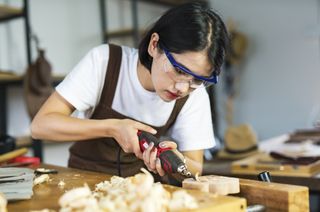 (Image credit: Getty Images)
Declining construction apprenticeships combined with the departure of EU workers means the industry is facing a skills shortage, and as it becomes harder for some people to find a builder, tradespeople warn the government must intervene to ensure the situation doesn't worsen.
In his new podcast Build It (opens in new tab)*, Andy Stevens, builder and consultant with Eclipse Property Consultants (opens in new tab) and contributor to Homebuilding & Renovating magazine, addresses the ongoing skills shortage and warns that not enough young tradespeople are progressing into the industry.
It is an issue that is particularly concerning in light of research published in January by the Construction Products Association, which revealed the number of EU-born workers in the UK construction industry dropped by more than a quarter in 12 months.
There were 127,000 EU-born workers within UK construction in the third quarter of 2020, down from 176,000 recorded in the same period in 2019.
Apprenticeships could be a vital way of filling these gaps, but there has been a year-on-year decline (opens in new tab) in construction apprenticeships, as reported in the Department for Education's apprenticeship and traineeship data in January, with 35,000 fewer started this year compared with one year ago.
Stevens warns: "We've got to sort out building apprenticeships in this country. We're not getting any youngsters to come through. It's a mess."
Why Have Apprenticeships Dropped Off?
Beth Skinner, a bricklayer who recently passed her apprenticeship at Hull College, believes media coverage is an inhibiting factor for youngsters getting into construction.
On episode 3 of Build It, she told Andy: "A lot of it falls down to the media and the way the construction industry is portrayed. I think apprentices are seen as the idiots of the industry."
Stevens responded: "In Germany and other countries in Europe tradespeople are classed near enough on the same level as doctors and solicitors. But here in the UK, it's 'well, you failed at school, go and dig a hole or learn a trade'. And that needs changing."
Charlie Mullins, chairman of Pimlico Plumbers, believes that employers are hindered by government policies on apprenticeships. Speaking on episode 1 of Build It, he said: "The government should be encouraging apprenticeships and giving business incentives to take apprentices on, and not penalise them with tariffs."
In 2017, the government introduced the Apprenticeship Levy (opens in new tab) for employers to pay which have an annual wage bill of more than £3m, while all companies must adhere to the government's apprenticeship funding rules (opens in new tab) and guidance for employers.
Campaigners are Vying for Change
Industry professionals have warned that skills and training in key sectors such as construction will be pivotal as the UK emerges from the coronavirus pandemic, and the Federation of Master Builders (FMB) has long campaigned for government action to reverse the sharp fall in construction apprentices.
"As local builders train 71% of apprentices in the industry, they must be at the heart of plans to bring in the next generation of tradespeople, in a sector already facing a well-documented skills shortage," said FMB chief executive Brian Berry.
The FMB is calling for the government to make it easier for SMEs to take on apprentices, and to provide training for their existing workforce. Additionally, it wants to see:
Greater investment in vocational education, especially colleges
Stronger links between colleges and the local SME community to help create and support successful apprenticeships
Greater flexibility in the Apprenticeship Levy so that it works for business
A new general builder apprenticeship standard.
Last week, UK construction leaders including the Construction Leadership Council called for employers to boost apprenticeships and help young people into work.
The CLC encouraged employers in England to post their new apprenticeship offers on the UK Government's National Apprenticeship Service (opens in new tab). Employers in Scotland can use Apprenticeships.Scot (opens in new tab), and Welsh firms can use the Welsh Government's Find an Apprenticeship (opens in new tab) site.
* NSFW if you have children nearby
Jack has worked in journalism for 11 years and is the News Editor for Homebuilding & Renovating, a role he has had since 2019. He strives to break the most relevant and beneficial stories for self builders, extenders and renovators, including the latest news on the construction materials shortage and hydrogen heating. In 2021 he appeared on BBC's The World at One to discuss the government's planning reforms.
He enjoys testing new tools and gadgets, and having bought his first home in 2013, he has renovated every room and recently finished a garden renovation.
Homebuilding & Renovating Newsletter
Get the latest news, reviews and product advice straight to your inbox.
Thank you for signing up to Homebuilding. You will receive a verification email shortly.
There was a problem. Please refresh the page and try again.