Stamp Duty Holiday Will Not be Extended, as Report Warns 325,000 Homebuyers Could Miss Out
The stamp duty holiday has caused a boom in house sales, but delays mean some deals won't get over the line in time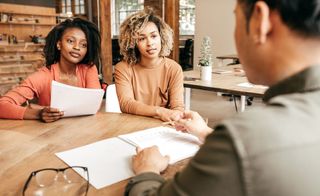 (Image credit: Getty Images)
Around 325,000 homebuyers could miss out on the stamp duty holiday even if they agree to purchase homes before the end of the year, research shows.
The housing sector is under increased pressure due to pent-up demand following lockdown, and industry professionals including homebuilders Barratt, and the Conveyancing Association, have campaigned for an extension of the stamp duty holiday, to help more homebuyers benefit. 
The stamp duty holiday announced in July exempts the first £500,000 of all property sales from the tax until 31 March 2021, and was welcomed for its potential to help those considering renovating a house, who can reinvest the savings into their project. 
But housing minister Christopher Pincher confirmed this week that the government does not plan to extend the stamp duty holiday beyond its deadline of March 2021.
"The temporary increase in the Stamp Duty Land Tax nil rate band was designed to provide an immediate stimulus to the property market, where property transactions fell during the Covid-19 lockdown," said Pincher.
"The government does not plan to extend this relief and will continue to monitor the property market."
Buyers Could Miss Out on Stamp Duty Holiday
New research from property market analysts Twentyci reveals a series of delays which are preventing deals from getting over the line sooner.  
Buyers are facing rising interest rates on mortgage deals, and a boom in house sales since lockdown means that there are delays in getting searches done and completing the necessary legal paperwork.
As a result, it is taking an average of more than five months from agreeing a sale to completion, Twentyci says, which means sales agreed before the end of the year will not go through before March 2021, when the stamp duty holiday ends. 
The researchers identified that the number of homes placed on the market between July-September was up 36% compared to the same period last year, while sales were up 53%.
This means an estimated 325,000 property owners with sales agreed between September and January may fail to complete in time.
Buyers Face Mortgage Challenges
House prices have surged over the summer, at least in comparison to the drop experienced during lockdown, and this upturn has led to lenders and solicitors struggling to cope with the demand. 
Lenders have reportedly opted for caution in their approach to mortgages, with nearly a third of prospective home buyers refused a mortgage since the stamp duty holiday announcement. 
A 12-year high in mortgage applications has led to some banks pulling their higher-risk products, meaning the total number of mortgage deals available has dropped 55% since January, according to analysts Defaqto.
For potential homebuyers, doing your research is pivotal to access the best mortgage deals, Hanley Economic Building Society has warned, adding that economic uncertainty will continue to affect the accessibility of mortgages in the coming months.
Homebuilding & Renovating Newsletter
Get the latest news, expert advice and product inspiration straight to your inbox.
Thank you for signing up to Homebuilding. You will receive a verification email shortly.
There was a problem. Please refresh the page and try again.