Planning News: Architect Fined £2,000 for Giving Extenders Poor Advice
By Jack Woodfield published
A London-based architect was ruled to have caused undue delay on the extension project, and apologised for his actions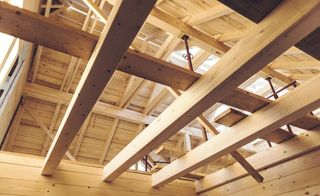 (Image credit: Getty Images)
A London architect has been fined £2,000 by the Architects Registration Board (ARB) for giving poor planning advice and causing undue delay on an extension project.
Toyin Adetola Oduse, an architect with SE2 Creative Ltd, was ruled to have failed to warn a client when they needed planning permission, which delayed their project for over two years.
The ARB's professional conduct committee (PCC) issued Mr Oduse with a £2,000 penalty order for unacceptable professional conduct.
Following the PCC's decision, Mr Oduse accepted he had fallen short of his professional obligations, apologised and said he had learned lessons from the hearing.
(MORE: Building an Extension: A Beginner's Guide)
What Happened?
The owners of a two-bedroom family home had been looking to build an extension, based on another architect's planning application and design, which was expected to take four months to complete.
In 2014, the clients obtained planning consent for two more bedrooms to accommodate an expanding family, but did not have the funds to proceed. In January 2017, once the clients were in a position to afford the extension, they arranged for SE2 Creatives' architect Mr Oduse to build the extension on a fixed-price contract.
It was later agreed with Mr Oduse that an extra payment would be required to make the extension 1m longer at the rear, and wider. This was so that the build could extend to the boundary to the adjoining property.
However, the changes did not have planning consent, and the clients' neighbours objected once the work began in January 2017. In March 2017, a council planning investigations officer visited the site, and one month later Mr Oduse submitted a planning application to regularise the position. The work then continued while the application was being reviewed.
This application was subsequently rejected in July 2017, and work stopped immediately. An appeal was also refused in December 2017, although this was not submitted by Mr Oduse; it was submitted by the original architect. The original architect then submitted a new planning application 12 months later, which was accepted, and Mr Oduse was required to return and finish the work.
By September 2019 the extension had not been finished, and at this point Mr Oduse had been paid £44,950 against a fixed price of £35,000, plus £2,400 for the larger extension. The client then complained to ARB.
What the PCC Said
Mr Oduse was alleged to have not provided his client with adequate planning advice, and did not deliver a professional service without due delay.
Upon reviewing the allegations, the PCC highlighted a series of delays during the project, most notably from December 2017 to October 2019. The PCC concluded that Mr Oduse had a professional obligation to explain the risk of building without planning consent, and that it was unprofessional to rely on a contractual omission of obligation.
The PCC ultimately found both allegations proved, and concluded that Mr Oduse should pay a penalty order of £2,000.
When Do You Need Planning Permission?
Planning permission is the consent of your local authority on a proposed building project. You do not need planning permission for every home improvement project, but where you do, building without planning permission can cause problems.
(MORE: 20 Things You Can Do Without Planning Permission)
Consequently, if you fail to get consent for your project, then the local planning authority can take action to have your work altered or demolished.
While it is possible to make a retrospective planning application, and if this is refused you can appeal the decision, it can prove very costly if you lose.
In England around 75% of applications are granted. If your application is rejected, you can either amend and resubmit having dealt with the reasons for refusal, or you can make an appeal to the planning inspectorate. Around 40% of householder applications that are refused are later granted at appeal.
Jack has worked in journalism for 11 years and is the News Editor for Homebuilding & Renovating, a role he has had since 2019. He strives to break the most relevant and beneficial stories for self builders, extenders and renovators, including the latest news on the construction materials shortage and hydrogen heating. In 2021 he appeared on BBC's The World at One to discuss the government's planning reforms.
He enjoys testing new tools and gadgets, and having bought his first home in 2013, he has renovated every room and recently finished a garden renovation.
Homebuilding & Renovating Newsletter
Get the latest news, reviews and product advice straight to your inbox.
Thank you for signing up to Homebuilding. You will receive a verification email shortly.
There was a problem. Please refresh the page and try again.