New Heat Pump Design Could Improve Efficiency and Cut Running Costs
By Jack Woodfield published
Engineers in Scotland have developed a new heat pump prototype that may revolutionise the technology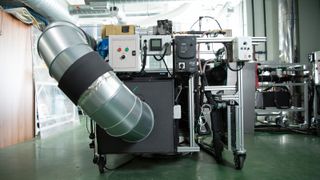 (Image credit: University of Glasgow)
A new heat pump prototype could pave the way to making heat pump technology cheaper for families to run.
It is hoped this could boost uptake of the technology in homes across the UK as the Government aims to make all heating systems low carbon by 2035.
The new prototype, developed by University of Glasgow engineers, works by introducing heat storage into a heat pump's design. This was achieved by adding a small water tank and a coil of copper tube to a conventional air source heat pump.
The engineers, who have patented the design, claim this could make heat pumps up to 10% more energy efficient than current machines.
The revolutionary new design works by storing excess thermal energy during normal running of the machine. When the stored heat is warmer than the outside air in cold weather, the machine can use this rather than relying on a backup power source.
Existing models also consume power to run defrost cycles when temperatures drop. This can interrupt the heat supply while still consuming electricity.
When the prototype was compared to current-generation heat pump designs, it was shown to be around 3.7% more efficient than traditional designs, with a relatively low heat supply temperature of 35°C.
And increasing the supply temperature to 65°C could make the system up to 10% more efficient than current heat pump designs, the researchers say, due to the amount of energy recovered and power saved.
Lead author Zhibin Yu, Professor of Thermal Energy at the University of Glasgow's James Watt School of Engineering, said: "Our flexible heat pump solves many of the problems with the current generation of heat pumps, making them capable of delivering improved performance while using less power."
'This Could Improve Take-up of Heat Pumps'
Describing their research in the journal Communications Engineering (opens in new tab), the Glasgow team highlight the need for new technology to address the high operational cost of heat pumps, which remain 3-4 times more expensive than a gas boiler in the UK.
The government has pledged to ensure 600,000 heat pumps are installed in UK homes per year in 2028, and launched the Boiler Upgrade Scheme in April to provide homeowners with grants up to £6,000 to install a heat pump. Although it's been reported that this grant will not be enough to meet demand.
Making heat pumps cheaper is necessary to encourage uptake of the technology. "That urgency is being particularly keenly felt at the moment, where energy prices are rising and many households are facing rapidly escalating bills," added Prof Yu.
"The cost of a small water tank heat storage is marginal, but the power saving is significant. It can be widely applied for all kinds of heat pump applications. We believe that this could help drive improved take-up of heat pump technology in homes across the UK."
The Glasgow team has acquired a patent on the technology and now plans to work with manufacturers and energy suppliers to begin the process of making these heat pumps available to homeowners.
Jack has worked in journalism for 11 years and is the News Editor for Homebuilding & Renovating, a role he has had since 2019. He strives to break the most relevant and beneficial stories for self builders, extenders and renovators, including the latest news on the construction materials shortage and hydrogen heating. In 2021 he appeared on BBC's The World at One to discuss the government's planning reforms.
He enjoys testing new tools and gadgets, and having bought his first home in 2013, he has renovated every room and recently finished a garden renovation.
Homebuilding & Renovating Newsletter
Get the latest news, reviews and product advice straight to your inbox.
Thank you for signing up to Homebuilding. You will receive a verification email shortly.
There was a problem. Please refresh the page and try again.